printer friendly version
Focus on what's relevant to you
November 2016 CCTV, Surveillance & Remote Monitoring, Products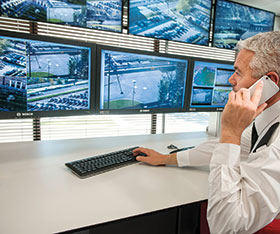 Escalating demand for highly detailed, 24/7 video images produces colossal amounts of data, which requires extensive transmission and storage capacity as well as time-consuming monitoring and assessment. With this in mind, Bosch has announced the rollout of video analytics inside its cameras, which means at the edge, as a standard feature. By enhancing their existing and future IP cameras with this technology, Bosch will enable users to effortlessly search through large amounts of video data and to pinpoint the information that matters most to them.
Over the next 12 months, Bosch's complete range of IP cameras, as of the IP 4000 series, will come fully equipped with video analytics at the edge. Bosch's starlight family will be the first to feature a full suite of 15 of its new Essential Video Analytics, starting with the DINION IP starlight 6000 fixed box and FLEXIDOME IP starlight 6000 fixed dome cameras. All top of the line IP 7000 and IP 8000 starlight cameras will come equipped with Bosch's Intelligent Video Analytics offering up to 17 different analytic possibilities.
Add sense and structure to video data
Video analytics inside of the camera create an intelligent video security system, using metadata which already means adding sense and structure to video data already at the point of capture (at the edge) and enabling each camera to operate independently. Decentralising intelligence in this way eliminates a single point of failure (central analytics server), meaning that if one camera or encoder fails, the system maintains full performance. With built-in (edge) analytics, each camera in the network can then interpret captured video data and alert users of potential security threats in real time based on configurable triggers.
Video analytics at the edge will allow users to instantly and easily retrieve specific footage from hours of stored video. Also, by focusing on the point where data is captured and only streaming the data that is needed, network strain and storage requirements are significantly reduced. Data streamed can include all image data, or the metadata alone, depending on the specific application requirements. The results are relevant, immediate alerts and key statistics, enhancing the accuracy of the video security system and reducing the margin of error that comes with 24/7 human live monitoring and in a much more efficient way.
All Bosch video analytics algorithms are developed in-house together with the automotive division to deliver the most reliable and robust solution for automotive applications, like autonomous driving, as well as network video security solutions.
Essential Video Analytics
Small and medium businesses, large retail stores, commercial buildings and warehouses will benefit from Essential Video Analytics. This suite of video analytics delivers 15 different video analytics algorithms that can be used for smart movement detection as well as business analytics. It allows a single camera solution to be used to enforce health and safety regulations, intelligent intrusion and idle-object detection; as well as to perform crowd density assessment. It also provides useful business metrics for various applications, like retail, such as people counting and crowd density information.
Intelligent Video Analytics
Cameras equipped with Bosch's Intelligent Video Analytics have the added capacity compared to Essential Video Analytics, to deliver the highest level of accuracy for mission critical applications such as perimeter protection for airports and critical infrastructures, ship tracking and traffic monitoring. Enhanced with 17 different video analytics algorithms, Intelligent Video Analytics stands out through its ability to differentiate between genuine security events and known false triggers such as challenging environments where snow, wind, rain, water reflections and distance could make images even more difficult to interpret. This ensures that costly false alarms are minimised and enables users to focus on what is most relevant to them.
Use case scenarios
Bosch's Essential Video Analytics and Intelligent Video Analytics offer the same intuitive interface to help users configure rules, based on applications and security needs. Here are some use cases for security and non-security scenarios:
Perimeter security: Intelligent Video Analytics automatically triggers alarms for someone climbing a fence or objects left in the vicinity and also allows for intelligently tracking moving objects (cars).
Retail environments: Ward off shoplifters and detect unwanted behaviour, obtain perform-ance metrics by counting customers, tracking times of day with the most footfall and analysing in-store behaviour.
Traffic management: Count traffic, detect cars stopped in emergency lanes and trigger alarms for cars parked in restricted areas.
Crowd control: Count people; monitor irregular crowd activity in protected areas or assembly of crowds in critical zones.
Forensic search: Powered by metadata, Essential Video Analytics and Intelligent Video Analytics provide event recognition during playback of recorded video, even for events not originally set up as alerts. With forensic search, users can review archived video using new detection criteria.
For more information contact Bosch Security Systems – South Africa & sub-Saharan Africa, +27 (0)11 651 9600, security.systems@za.bosch.com, http://africa.boschsecurity.com
Credit(s)
Further reading:
Olarm launches the Olarm LINK
Olarm Perimeter Security, Alarms & Intruder Detection News Products
Building on the success of smart-enabling, monitoring and controlling alarm panels and electric fences, Olarm has a new solution for customers to integrate gates, garage doors, pumps and other electrical products with the Olarm APP and Olarm PRO communicator.
Read more...
---
Ultimate smart monitoring and reliability
Olarm Perimeter Security, Alarms & Intruder Detection News Products
Olarm is gearing up to unveil its latest product, the Olarm MAX, set to be available in late 2023, which will redefine smart monitoring by offering unparalleled connectivity options and functionality.
Read more...
---
Cloud-based or on-premises access control
Salto Systems Africa Access Control & Identity Management Products
Choosing between cloud-based and on-premises access control solutions can be a difficult decision, however, the best solution for your organisation, property, or building type will depend on a range of factors.
Read more...
---
New distributed acoustic sensors in EMEA
Perimeter Security, Alarms & Intruder Detection Products
OPTEX introduces new EchoPoint Distributed Acoustic Sensors (DAS) for advanced point location intrusion detection, using intelligent detection algorithms to provide point detection of +/- 6 m in a range of up to 100 km.
Read more...
---
AI technology to empower vertical markets
Dahua Technology South Africa Mining (Industry) CCTV, Surveillance & Remote Monitoring Products
Dahua WizMind is a full portfolio of solutions comprising project-oriented products that use deep learning algorithms to provide more business value to its global customers and deliver reliable and comprehensive AI solutions for vertical markets.
Read more...
---
Improved security health check tool
Gallagher Access Control & Identity Management Products
Gallagher Security has streamlined its free Security Health Check tool, making it easier than ever to protect against potential system risks and improve business efficiencies.
Read more...
---
Maximum fire protection for the most dangerous places
Securiton Fire & Safety Mining (Industry) Products
Africa's heavy mining and resource processing industries are some of the continent's leading economic lights. They also present some of its toughest fire safety challenges on the planet.
Read more...
---
Elvey partners with HALO
Elvey Security Technologies News CCTV, Surveillance & Remote Monitoring
Elvey Group has partnered with HALO Europe to provide Africa's first body-worn solution with zero upfront costs. This includes an IP68-certified body camera and a 4G-connected device.
Read more...
---
RDC expands its production capabilities
Radio Data Communications Perimeter Security, Alarms & Intruder Detection Products
Local electronics manufacturer, RDC, recently acquired a new SMT (surface mount technology) machine to boost its manufacturing output and meet the needs of its global customer base.
Read more...
---
Suprema showcases integrated security solutions
Suprema Access Control & Identity Management Products
Apart from being an access terminal that supports multiple credentials such as facial recognition, RFID, mobile and QR codes, the BioStation 3 also supports VoIP Intercom and real-time video monitoring features to make it a truly multi-functional reader.
Read more...
---