printer friendly version
The body language of a property
November 2016
Security Services & Risk Management
The interpretation of body language has been the topic of many discussions, debates and studies. A person's gestures, motions, stance and facial expressions, no matter how minute, can either support what they are saying or prove it to be false. Sometimes, these unintentional signals have more bearing and meaning than the actual words coming from the speaker's mouth.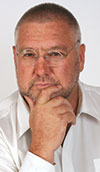 Andre Mundell, Alwinco.
Part of the Risk Assessor's arsenal is a form of body language interpretation. We do not only listen to what is being said during site investigations by various parties, but we must also observe and draw conclusions. The difference here, other than the traditional understanding, is that body language does not only pertain to people. We also interpret the body language of the property. This is applicable to corporate buildings, estates, homes, shopping malls, hotels and any other type of building or property. There are certain aspects which give a good reflection of the truth of security.
Examples of these clues would be the overall maintenance of the site, general appearance, the upkeep of various elements, and the health and functionality of the various security components. In the case of the property line, an unkempt and dysfunctional electrical fence indicates that there is not money for repairs or that the owners just don't care. A fence that has been cut and is shoddily repaired shows that someone has already gotten in or out of the property at that point. This, in turn, gives the idea that security may not be as important as other facets of the company.
This concept is covered by the Broken Windows Theory* which states that bad maintenance and the lack of renovations and repair work will draw the attention of undesirables. Some unrelated security factors, such as the garden or condition of the buildings, will also create a bad impression. If the owners do not look after the property properly, it cannot be expected for outsiders to show any form respect for their belongings.
A public property, like a shopping mall, restaurant or hotel, can be judged on something like the restrooms. If these areas are dirty, smelly, have no toilet paper or even if the locks on the doors or the hand dryers are broken, it reflects badly on the entire establishment or centre. Again, the conclusion can be drawn that there are not sufficient funds for proper upkeep. Management is judged as lax and uncaring. The correlation is drawn between the state of facilities, lack of budget and ineffective management, which ultimately discolours the image and value of security.
When budgets are cut, the first areas that are usually affected are security, general maintenance, repair work and cleaning. What is not realised is the impact these decisions have on the image of the property and the security status as a whole. Even employees and visitors to the site will subconsciously notice these things. They may even innocently talk about this. A criminal that overhears this would consider this information as an indication that this property could be an easy target.
Body language does not only mean the physical state of the property. Procedures such as shift changes, the arrival and departure of inhabitants or employees, general security awareness and daily routines are also part of the clues that are noted.
We have been contracted before to conduct penetration tests by various companies. This is where we are actually asked to assess the security of the site and gauge the effectivity of the security component. At times, we are literally asked to break-in to the site – with full permission. As a security professional, the first clues as to how easy it may be are determined through the reading of the property's body language. These factors are also used to determine a plan to get in and to get out.
All these signs will draw the attention of the criminal. He will look twice at the property as an opportunity is created in the criminal mind. The idea that there is an opportunity is only the start of their evaluation of the site by lawbreakers, syndicates and informants. Remember, most criminals scout and observe their target for some time prior to an attack. Once they have established the window when the target is at their most vulnerable, they will strike.
Seasoned criminals can easily tell whether or not an electric fence is working or if a security vehicle is approaching. The criminal is not stupid and should not be underestimated. He makes use of this very same information gathered through the property's body language to aid his cause.
* "Broken Windows" by George L. Kelling and James Q. Wilson was an article published in The Atlantic Monthly in 1982. In 1996, a book, Fixing Broken Windows by Kelling and C.M. Coles was released which explores this concept in more detail.
For more information contact Alwinco, +27 (0)62 341 3419, andre@alwinco.co.za, www.alwinco.co.za.
Credit(s)
Further reading:
Sustainability School opens for enrolment
Education (Industry) News Security Services & Risk Management
Three-part programme, first developed for Schneider Electric employees, is now available for free for companies worldwide. Attendees learn how to future-proof their businesses and accelerate their decarbonisation journeys.
Read more...
---
Success in business process best practices
Technews Publishing Kleyn Change Management Editor's Choice Integrated Solutions Security Services & Risk Management
This month we commandeer time with the woman who is spearheading our national conversation on Women in Security, Lesley-Anne Kleyn, to get to know the lady herself a little better.
Read more...
---
Security awareness training
Training & Education Security Services & Risk Management
It is critically important to have a security awareness solution that uses the limited time available to train effectively, and one that provides targeted education that is relevant to users.
Read more...
---
Technology to thwart solar panel thieves
Asset Management, EAS, RFID Security Services & Risk Management Products
A highly efficient industrial network is coming to the rescue of the solar industry, as solar panels, inverters and batteries are being targeted by thieves and threaten to destabilise the industry.
Read more...
---
Banking the unbanked comes with security risks
Financial (Industry) Security Services & Risk Management
As grim as it was, the pandemic of recent years and its resultant global economic crisis were a prime catalyst for record number of first-time bank users, the previously unbanked.
Read more...
---
Security is like infinity
Alwinco Security Services & Risk Management
Security needs constant attention, dedication and input. The scary thing is that most people think that security is something that you buy, install, and then forget about.
Read more...
---
Vulnerabilities in industrial cellular routers' cloud management platforms
Industrial (Industry) Cyber Security Security Services & Risk Management
Research from OTORIO, a provider of operational technology cyber and digital risk management solutions, unveils cyber risks in M2M protocols and asset registration that expose hundreds of thousands of devices and OT networks to attack
Read more...
---
SAFPS to launch a platform to combat fraud
Editor's Choice News Security Services & Risk Management
In response to the growing need for a proactive approach to fraud prevention, the SAFPS is developing a product called Yima, which will be a one-stop-shop for South Africans to report scams, secure their identity, and scan any website for vulnerabilities.
Read more...
---
End the scourge of solar panel theft
Guardian Eye IT infrastructure Security Services & Risk Management
Modern solar installations are designed so they can be put together very quickly, but this means they can also be dismantled very quickly, and so there has been a massive spike in the theft of solar panels from roofs.
Read more...
---
Troye and Arctic Wolf join forces
News Cyber Security Security Services & Risk Management
Troye has announced a strategic partnership with Arctic Wolf to enable Troye to provide customers with enhanced cybersecurity solutions and services that help protect their businesses from advanced cyber threats.
Read more...
---