printer friendly version
IT security drives business growth
November 2016 Editor's Choice, Access Control & Identity Management, Cyber Security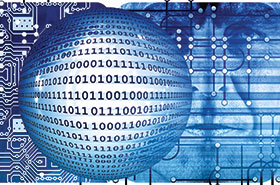 Some 54 percent of South African organisations polled in a new global study, The Security Imperative: Driving Business Growth in the App Economy, commissioned by CA Technologies, report improved customer retention owing to their IT security practices. The research, conducted by Coleman Parkes among 1770 senior executives, including more than 100 CSOs and CISOs, reveals that South African organisations specifically record a 32 percent increase in customer satisfaction, a 30 percent increase in revenue from new business through improved IT security, and a 33 percent increase in operational efficiency.
In the app economy, security needs to do more than just protect the business; it also needs to help build the trusted relationships critical for competing and growing the business. The majority of South African survey respondents endorsed this expanded view of security:
• 71 percent said identity-centric security is critical to the business.
• 73 percent said they need to balance strong security with enabling the business to get into new markets.
• 72 percent of respondents said that security is critical to protecting the brand and can be viewed as a competitive differentiator.
• 75 percent said that security needs to be frictionless and not over burden the user.
• More than 60 percent of respondents are using metrics such as customer experience, satisfaction and retention; business growth; and digital reach to measure the impact of security on the business.
"This data shows that identity-centric security is the killer app for digital transformation," says Michael Horn, security business unit manager, CA Southern Africa. "In the application economy, customers want failsafe security and a frictionless experience. Identity-centric security applies consistent security measures across channels, allowing organisations to improve how they protect and support business operations while driving customer confidence and business growth."
Identity-centric security helps ensure an organisation's security practices do not infringe on the overall user experience. It requires organisations to implement more adaptive identity and access management (IAM) controls and to take a more proactive and predictive approach to preventing and detecting data breaches.
South African organisations also experience improvements in other areas of the business through improved security:
• 77 percent confirm that their security practices help them attract and retain talent – the third highest EMEA score after the UK and France.
• 69 percent have increased digital reach.
• 62 percent have improved the customer experience.
• South African organisations report a 33 percent increase in employee productivity.
Data breaches remain a concern
According to the study, 39 percent of South African organisations reported an increase in IT security breaches over the last 12 months, while nine percent saw a decrease. Proactive and predictive processes can greatly enhance an organisation's ability to detect and prevent data breaches. However, only six percent of respondents can anticipate breach risk before it occurs and just six percent use controls that are adaptive based on risk.
Advanced use of identity-centric security pays off
The study also examined EMEA organisations' current security postures in three areas of identity-centric security: the end-user experience, identity and access management and data breaches. This information allowed CA Technologies and Coleman Parkes to create a maturity model for identity-centric security, categorising respondents as advanced, basic, or limited.
Overall, the EMEA results categorised the majority of respondents as basic users of identity-centric security (68 percent), with a focus on core capabilities such as password management, single sign-on and some analysis and reporting. Nineteen percent were categorised as advanced users, engaging in capabilities such as adaptive security and behaviour analytics, and consistent omni-channel security support. The analysis showed that advanced users in EMEA report significant improvements over basic users in areas of customer experience, business operations, and security:
• Advanced users saw a 34 percent improvement in business growth and new revenue compared to 29 percent for basic users.
• 93 percent of advanced users reported increased customer retention compared to 75 percent of basic users.
• 89 percent of advanced users experienced improvement in customer experience versus 66 percent of basic users.
• In terms of security, 34 percent of advanced users of identity-centric security have seen a reduction in data breaches compared to 24 percent of basic users.
Effective identity-centric security: a roadmap
The study closes with seven critical actions South African organisations need to take to adopt an identity-centric approach to security, and ensure the strategy improves performance and drives growth. Organisations should:
• Make identity the perimeter of the organisation.
• Treat security as a business enabler.
• Focus on creating trusted digital relationships.
• Protect experiences, not just data.
• Take an adaptive approach to IAM.
• Be proactive and predictive.
• Never compromise security for speed.
Download the report and infographic:
• The Security Imperative: Driving Business Growth in the App Economy.
• The Security Imperative Infographic.
Further reading:
Insights from the 2023 Cloud Security Report
News Cyber Security
Increased costs, compliance requirements, hybrid and multi-cloud complexities, reduced visibility, and a lack of skilled practitioners cause organisations to slow or adjust their cloud adoption strategies.
Read more...
---
New algorithm for OT cybersecurity risk management
Industrial (Industry) Cyber Security News Commercial (Industry)
OTORIO's new risk management model and attack graph analysis algorithm technology, calculates OT cybersecurity threats and provides risk mitigation actions, prioritised according to actual exposure and potential impact on operations.
Read more...
---
Robots: a security opportunity or a threat?
Editor's Choice News Conferences & Events
Professor Martin Gill, Director of Perpetuity Research & Consultancy International and the School of Criminal Justice at the University of South Africa (UNISA), will be holding a Global Thought Leadership Security webinar on 22 June 2023 to discuss the contentious issue of robots operating in the security industry.
Read more...
---
UNISA sponsors Securex seminars
Editor's Choice News Conferences & Events
As part of UNISA's 150-year birthday celebrations, UNISA has sponsored the Securex Theatre Seminar Programme, which will include a number of prominent industry specialists, academics and security practitioners focusing on a number of themes.
Read more...
---
Accenture Technology Vision 2023
Editor's Choice News
New report states that generative AI is expected to usher in a 'bold new future' for business, merging physical and digital worlds, transforming the way people work and live.
Read more...
---
Economists divided on global economic recovery
Editor's Choice News
Growth outlook has strengthened in all regions, but chief economists are divided on the likelihood of a global recession in 2023; experts are concerned about trade-off between managing inflation and maintaining financial stability, with 76% anticipating central banks to struggle to bring down inflation.
Read more...
---
Success in business process best practices
Technews Publishing Kleyn Change Management Editor's Choice Integrated Solutions Security Services & Risk Management
This month we commandeer time with the woman who is spearheading our national conversation on Women in Security, Lesley-Anne Kleyn, to get to know the lady herself a little better.
Read more...
---
Addressing the SCADA in the room
Industrial (Industry) Cyber Security
Few other sectors command the breadth of purpose-built and custom devices necessary to function, as the industrial and manufacturing industries. These unique devices create an uncommon risk that must be assessed and understood to fully protect against incoming attacks.
Read more...
---
Integrated guarding services
XtraVision Integrated Solutions Access Control & Identity Management Industrial (Industry)
XtraVision offers a few tips on how to go about planning and setting up an integrated approach to sustainable and successful security services, from the initial risk assessment to the technology and people required.
Read more...
---
Paxton secures multi-tenant office in Cape Town
Paxton Integrated Solutions Access Control & Identity Management Products
Cecilia Square in Paarl, Cape Town is an office building from where several businesses operate. The multi-tenant site has recently undergone a full refurbishment, including a complete upgrade of its security system for access control.
Read more...
---