printer friendly version
Connecting harbours at a single hub
November 2016 Transport (Industry), CCTV, Surveillance & Remote Monitoring, Integrated Solutions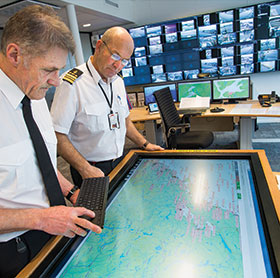 Trondheim Harbour faces challenging environmental and safety situations as a result of harsh Scandinavian weather, heavy freight transport and large passenger traffic.
Nordic winds can cause cargo containers to sway while hoisted high above cranes; tractor-trailers sometimes damage the piers when unloading cargo; and boats become unmoored. As a hub for 12 neighbouring harbours, Trondheim needed to advance its video surveillance system in order to centrally monitor all 13 sites which included Trondheim Harbour plus the neighbouring 12 harbours. This surveillance needed to take place from a single location so they could become more proactive in addressing harbour issues.
Triangel Consulting, a Milestone partner, designed a complete solution using Milestone XProtect Corporate 2016, XProtect Smart Client, and Milestone Mobile to bring all locations together. The majority of cameras are Axis cameras, Q-series for the dome and some from their P-series. Axis thermal cameras Q1921 and Axis P3344 optical cameras were also installed and loaded with Milestone products. These cameras are connected to XProtect Smart Client through a 4G modem.
Protecting the environment in instances of oil leaks during ship refuelling, reduced theft, less vandalism, and, most importantly, improved management of shipping traffic were the primary advantages of implementing the new system. Easy integration between cameras, analytics and other systems was also a major benefit.
A seamless integration and coordination of different locales was key. "With so many sites dotted along the waterway, it was vital that there was a good overview and the new system has definitely provided that," stated Terje Halvorsen, Harbour Inspector.
Nordic weather raises risks
Trondheim Port Authority is owned by 13 municipalities and is the region's largest port authority. It sits midway along the coastline of a heavily trafficked Norwegian fjord affected by cold, wet and windy Scandinavian weather. Strong winds seriously affect containers that are being off-loaded and ships can become unmoored.
Milestone VMS now enables security personnel to get a sharp overview of safety issues and to respond far more quickly.
Milestone software allows security to put extra focus on identified high-risk zones. With Milestone XProtect software they can retrieve footage from an incident for insurance purposes or provide evidence to police authorities in incidents of a more serious nature. The Milestone Smart Client, has advanced investigation tools and an easy-to-navigate video timeline enabling users to examine incidents quickly and accurately.
Accidents and environmental monitoring
With heavy freight and shipping traffic, accidents and environmental occurrences are a natural part of the landscape. One example is when a ship occasionally bangs into a pier causing damage that must be repaired. The ability to document the incident and record any expenses raises the service offerings Trondheim Harbour provides to its customers. Another example occurs when authorities spot a ship leaking oil during refuelling. It is vital for the health of the waterways to respond to such an incident immediately and take mitigating action.
The International Ship and Port Facility Security (ISPS) Code is an amendment to the Safety of Life at Sea (SOLAS) Convention (1974/1988) on minimum security arrangements for ships, ports and government agencies. Having come into force in 2004, it prescribes responsibilities to governments, shipping companies, shipboard personnel, and port/facility personnel to detect security threats and take preventative measures against security incidents affecting ships or port facilities used in international trade. Adhering to ISPS code was vital in Triangel's installation.
Centralised monitoring using Milestone surveillance software has shortened response time for patrol guards to react and respond when an incident occurs. Milestone software advances safety monitoring and elevates control during environmental incidents. The mobile client is often used by patrolling harbour guards.
A future-proof solution
Currently, monitoring is centralised at a single site, but may be expanded to multiple sites once the nearby harbours are connected to Trondheim's video centre. Other technologies in use are local fibre and radio links on the mountains covering up to 43 km with 100 mbit/s. The Harbour Port Authority installs cameras and infrastructure themselves while Triangel helps with the design and other expertise.
Trondheim Harbour upgraded its system so it now has approximately 70 cameras in total. It plans to expand with an additional 30-40 cameras and connect the video solutions from nearby harbours. It projects replacing older cameras with new 5 MP and 4 K cameras.
Credit(s)
Further reading:
Elvey partners with HALO
Elvey Security Technologies News CCTV, Surveillance & Remote Monitoring
Elvey Group has partnered with HALO Europe to provide Africa's first body-worn solution with zero upfront costs. This includes an IP68-certified body camera and a 4G-connected device.
Read more...
---
Success in business process best practices
Technews Publishing Kleyn Change Management Editor's Choice Integrated Solutions Security Services & Risk Management
This month we commandeer time with the woman who is spearheading our national conversation on Women in Security, Lesley-Anne Kleyn, to get to know the lady herself a little better.
Read more...
---
Invisible connection and tangible protection via cloud
Dahua Technology South Africa Perimeter Security, Alarms & Intruder Detection CCTV, Surveillance & Remote Monitoring Products
Dahua Technology has launched its AirShield security solution that uses advanced, stable and reliable RF communication technology and cloud services, integrating alarm hubs, various detectors and accessories, with several software apps.
Read more...
---
The importance of the operator's frame of reference
Leaderware Editor's Choice CCTV, Surveillance & Remote Monitoring Security Services & Risk Management Mining (Industry)
The better the operator's frame of reference and situational awareness, and the more informed they are in dealing with CCTV surveillance in the mining industry, the more successful they are likely to be in surveillance.
Read more...
---
Complex, but critical partner in security
Technews Publishing Bidvest Protea Coin Editor's Choice Integrated Solutions IT infrastructure Mining (Industry)
Smart Security looks at how drones can be applied effectively in mine security operations. The ability to quickly gain a birds-eye view of a situation, whether security, safety or operational in nature, makes drones a significant value-add to mines.
Read more...
---
Enhancing surveillance on mines
Avigilon Technews Publishing Axis Communications SA Forbatt SA Hikvision South Africa Bosch Building Technologies Editor's Choice CCTV, Surveillance & Remote Monitoring Integrated Solutions Mining (Industry)
Smart Security approached a number of surveillance vendors to find out what the latest in surveillance technology is that can make a difference to security operations in mines, as well as general operations.
Read more...
---
Surveillance to improve worker safety
Axis Communications SA Mining (Industry) CCTV, Surveillance & Remote Monitoring Integrated Solutions
With substantial deposits of mineral resources, mining is critical for South Africa's economic growth and prosperity; however, mining can be dangerous, especially for the people working on the ground and in the shafts.
Read more...
---
Digging deeper
Technews Publishing Access Control & Identity Management Integrated Solutions Mining (Industry)
In this article, we delve into the different types of access control and integrated security solutions that mining companies use to mitigate risks and explore how these technologies have transformed the mining industry.
Read more...
---
Centralised VMS for multiple sites
Mining (Industry) CCTV, Surveillance & Remote Monitoring
Dispersed mining operation relies on AxxonSoft for centralised video management as well as device health monitoring and the reliable distribution of analytics to various camera brands.
Read more...
---
Electronic security in the mining sector
Fang Fences & Guards Mining (Industry) Integrated Solutions Security Services & Risk Management
Electronic security in the mining sector can be challenging, due to the vast size of the operations, the remote and often inhospitable locations, and the valuable resources that need to be protected.
Read more...
---