printer friendly version
Keeping an eye on valuable cargo
November 2016 Transport (Industry), Access Control & Identity Management, Asset Management, EAS, RFID, Security Services & Risk Management
Extremely valuable cargo is generally tracked using tracking tags which are placed on or in the cargo as well as a transmitter that is fitted to the vehicle carrying the cargo. This provides fleet owners and controllers with the ability to determine the location of the vehicle and cargo. However, in the event of theft or hijacking, the response is reactive rather than proactive.
While some tracking companies claim recovery success rates of up to 95%, prevention is always better than cure. One of the major obstacles encountered by fleet owners when goods are in transit, is the accelerated use of signal jamming devices. By jamming communication signals, criminals prevent the vehicle's occupants from contacting fleet controllers and security companies, thereby placing the vehicle, its cargo and its occupants at risk, since they are basically incommunicado. Signal jamming devices render the total communication and vehicle tracking network of a company useless during activation.
Proactive interception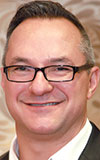 Andre Du Venage, MD of Secure Logistics.
Andre Du Venage, MD of Secure Logistics, says that the company deploys a number of covert escort vehicles which move in unison with a customer's vehicle carrying valuable cargo. Both the cargo vehicle and the escort vehicle are fitted with signal jamming detection and prevention equipment to ensure that any attempts to jam communication signals are detected and intercepted proactively and timeously.
Once signal jamming equipment has been detected, the Secure Logistics team enters a high alert phase and contingency measures are activated. Since both vehicles utilise the same equipment, the escort vehicle does not need to have the cargo vehicle in its sights. This provides the company with the element of surprise, since neither the cargo drivers nor the criminals are aware of the presence of the escort vehicle and attacks on the escort vehicle are generally eliminated.
Insider job
A staggering 95% of hijackings and cargo theft are facilitated through insider information. The challenge says Du Venage is that there are often many parties involved in the clearing and forwarding process and to finally move the cargo to its destination and therefore the information related to the cargo is available to a number of people. How the team reacts in the event of a potential or actual hijacking is therefore critical.
A covert escort service addresses the concerns that companies have in terms of signal jamming by nullifying its effect to a large extent. Early detection provides fleet owners and controllers with the upper hand and forms part of a chain of actions that result in minimal risk to the cargo as well as the transport vehicle's occupants.
For more information contact Andre Du Venage, Secure Logistics, +27 (0)11 391 6268, andre.duvenage@securelogistics.co.za
Further reading:
Sustainability School opens for enrolment
Education (Industry) News Security Services & Risk Management
Three-part programme, first developed for Schneider Electric employees, is now available for free for companies worldwide. Attendees learn how to future-proof their businesses and accelerate their decarbonisation journeys.
Read more...
---
Success in business process best practices
Technews Publishing Kleyn Change Management Editor's Choice Integrated Solutions Security Services & Risk Management
This month we commandeer time with the woman who is spearheading our national conversation on Women in Security, Lesley-Anne Kleyn, to get to know the lady herself a little better.
Read more...
---
Integrated guarding services
XtraVision Integrated Solutions Access Control & Identity Management Industrial (Industry)
XtraVision offers a few tips on how to go about planning and setting up an integrated approach to sustainable and successful security services, from the initial risk assessment to the technology and people required.
Read more...
---
Paxton secures multi-tenant office in Cape Town
Paxton Integrated Solutions Access Control & Identity Management Products
Cecilia Square in Paarl, Cape Town is an office building from where several businesses operate. The multi-tenant site has recently undergone a full refurbishment, including a complete upgrade of its security system for access control.
Read more...
---
AI face recognition OEM module
Suprema News Access Control & Identity Management Products
Suprema AI, a company specialized in artificial intelligence–based integrated security solutions, recently launched its high-performance face recognition OEM module called 'Q-Face Pro' in response to the growing need for contactless security solutions.
Read more...
---
Security awareness training
Training & Education Security Services & Risk Management
It is critically important to have a security awareness solution that uses the limited time available to train effectively, and one that provides targeted education that is relevant to users.
Read more...
---
Technology to thwart solar panel thieves
Asset Management, EAS, RFID Security Services & Risk Management Products
A highly efficient industrial network is coming to the rescue of the solar industry, as solar panels, inverters and batteries are being targeted by thieves and threaten to destabilise the industry.
Read more...
---
Banking the unbanked comes with security risks
Financial (Industry) Security Services & Risk Management
As grim as it was, the pandemic of recent years and its resultant global economic crisis were a prime catalyst for record number of first-time bank users, the previously unbanked.
Read more...
---
Vulnerabilities in industrial cellular routers' cloud management platforms
Industrial (Industry) Cyber Security Security Services & Risk Management
Research from OTORIO, a provider of operational technology cyber and digital risk management solutions, unveils cyber risks in M2M protocols and asset registration that expose hundreds of thousands of devices and OT networks to attack
Read more...
---
SAFPS to launch a platform to combat fraud
Editor's Choice News Security Services & Risk Management
In response to the growing need for a proactive approach to fraud prevention, the SAFPS is developing a product called Yima, which will be a one-stop-shop for South Africans to report scams, secure their identity, and scan any website for vulnerabilities.
Read more...
---