printer friendly version
IP surveillance over fibre
November 2016
CCTV, Surveillance & Remote Monitoring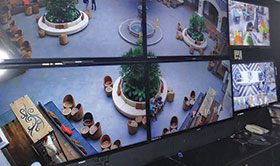 With about 5000 visitors circulating through its facilities every day, the Hard Rock Hotel in Riviera Maya, Mexico, needed to strengthen its video surveillance system.
The Hard Rock Hotel in Riviera Maya receives celebrities from all over the world, including couples celebrating anniversaries and families enjoying their vacation. The property covers 37 hectares and can host up to 3800 guests in its 1264 bedrooms. Additionally, several events are held at the hotel, from concerts to private celebrations, making the hotel a very crowded place.
During those busy periods, the amount of people walking through the hotel underlined the fact that the old security system was unable to monitor certain areas of the property, as there were only 16 cameras installed. Out of those 16 cameras, only 12 worked properly, which diminished this luxury property's capacity to react to any incident captured by its outdated security system.

With so many people walking through the hotel, ensuring effective and comprehensive security surveillance monitoring was becoming a big issue, one that needed to be resolved. For that reason, three years ago the hotel decided to invest in better security, so that its guests would not just feel comfortable, but also safe, especially those visitors arriving with expensive goods or with privacy requirements.
In the analysis of the property, Julio Herrera López (security manager at the hotel), along with his team, evaluated the security conditions at the hotel and invited integrators to propose solutions. Out of the proposals submitted, equipment from Hikvision was chosen because the system fitted the parameters of the hotel's project. Another factor in favour of the company was its favourable warranty terms.
The installation
The installation process of the new security system was developed in phases. In the first stage, 89 Hikvision cameras were mounted. Later, 30 additional units were installed and currently, the hotel has 324 EXIR Series IP cameras, two DS-9664NI-I8 NVRs and two DS-96256NI-F16 NVRs, and one 4-channel video wall.
With the new Hikvision surveillance system now installed, the hotel can effectively monitor common areas, entrances, sectors with high flow of personnel and areas dedicated to hosting events, as well as external hotel areas. With the support of the new cameras it has been possible to protect 349 invaluable objects, including the 'Memorabilia' collection displaying celebrities' items. These items include a guitar and a jacket from Elvis Presley, drums from Aerosmith and Matchbox Twenty, guitars from The Police and Bon Jovi (who starred in the inaugural concert at the hotel), and articles from Black Sabbath and the Rolling Stones.
Some guests have also expressed their satisfaction about the fact that, thanks to the coverage of the security cameras, the hotel has the capability to avoid losses of guests' belongings.
"The challenge was to implement a system with the most up to date security technology," says Gilberto Rocha, operations manager at Opcom, the systems integrator in charge of the project. "We installed a 10 km optical fibre trunk network for optimum video fidelity."
A solution appreciated by the guests
"Thanks to this video surveillance system we can be aware of any event happening at the hotel, so for example, we can provide timely first aid when required, or keep an eye on children and our hotel staff to make sure they are safe. Similarly, we can react to any disturbance in our premises. The new security system has remarkably improved security at the hotel and we are now also able to record evidence of any situations or accidents that occur," says López.
With this camera solution, the hotel's 106 strong security team is able to monitor 2300 hotel staff and 3800 guests that occupy the hotel on a normal day, and if is necessary, up to 4500 visitors during special events, such as concerts.
For more information contact Evan Liu, Hikvision South Africa, +27 (0)10 035 1172, [email protected], www.hikvision.com.
Credit(s)
Further reading:
Turkish university installs IDIS surveillance
CCTV, Surveillance & Remote Monitoring Products
IDIS video streamlines complex surveillance systems for learning institution, upgrading a 350-camera system with 24/7 control room monitoring to transform security for Social Sciences University of Ankara (ASBU).
Read more...
---
Brighter, greener, and smarter
Dahua Technology South Africa Products CCTV, Surveillance & Remote Monitoring
Dahua Technology released its new Dahua CH II Series Indoor Fine Pixel Pitch LED display, providing visual clarity and promoting energy efficiency and sustainability.
Read more...
---
Smart water management
Axis Communications SA CCTV, Surveillance & Remote Monitoring Integrated Solutions
South Africa is currently facing a water crisis, with scarcity and inefficient water management posing significant challenges to sustainable, consistent access to water. Smart technology and powerful partnerships may offer a proactive solution to SA's water crisis.
Read more...
---
Helping retailers optimise monitoring and security
Guardian Eye Retail (Industry) CCTV, Surveillance & Remote Monitoring
From a smart retail perspective, it is crucial to understand that monitoring stock and other assets through camera surveillance and a variety of Internet of Things (IoT) sensors stretches further than the stores themselves.
Read more...
---
Empowering Istanbul's public transportation
Dahua Technology South Africa CCTV, Surveillance & Remote Monitoring Integrated Solutions
Dahua's intelligent transportation solution, using technologies like DSM and AI-based passenger flow counting, has facilitated an intelligent system upgrade for nearly 6 400 minibuses and electric buses in Istanbul.
Read more...
---
Smart manufacturing redefined
Hikvision South Africa CCTV, Surveillance & Remote Monitoring Industrial (Industry)
AI and intuitive visualisation technology allows managers to monitor manufacturing sites, production, and operational processes, and to respond in real time in the event of an issue – helping to drive efficiency and productivity.
Read more...
---
AI is getting smarter, and critical infrastructure is set to benefit
Axis Communications SA CCTV, Surveillance & Remote Monitoring
With technology advancing at an astonishing pace, AI has emerged as a defining trend in today's business arena. Enterprises across all sectors are prioritising this technology, embracing its transformative potential to drive change and growth.
Read more...
---
Collaboration delivers integrated and holistic security
Guardian Eye CCTV, Surveillance & Remote Monitoring News Integrated Solutions
Guardian Eye and Lytehouse have partnered to integrate their speciality solutions and provide a holistic security offering that overcomes the fragmentation of security systems and services.
Read more...
---
Manage security systems remotely
Hikvision South Africa CCTV, Surveillance & Remote Monitoring IT infrastructure Products
Hikvision launched a new generation of smart managed switches that, in conjunction with the Hik-Partner Pro mobile app, enable installers to remotely deploy and configure security systems with comprehensive operation and maintenance capabilities.
Read more...
---
Synology enhances functions for advanced surveillance integration
Technews Publishing CCTV, Surveillance & Remote Monitoring IT infrastructure Products
With the capability to function as both an API client and server, Surveillance Station offers a versatile platform for integration, whether it's embedding video streams into other platforms or overlaying external data onto recorded video.
Read more...
---