printer friendly version
IP surveillance over fibre
November 2016
CCTV, Surveillance & Remote Monitoring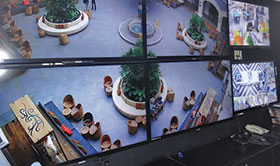 With about 5000 visitors circulating through its facilities every day, the Hard Rock Hotel in Riviera Maya, Mexico, needed to strengthen its video surveillance system.
The Hard Rock Hotel in Riviera Maya receives celebrities from all over the world, including couples celebrating anniversaries and families enjoying their vacation. The property covers 37 hectares and can host up to 3800 guests in its 1264 bedrooms. Additionally, several events are held at the hotel, from concerts to private celebrations, making the hotel a very crowded place.
During those busy periods, the amount of people walking through the hotel underlined the fact that the old security system was unable to monitor certain areas of the property, as there were only 16 cameras installed. Out of those 16 cameras, only 12 worked properly, which diminished this luxury property's capacity to react to any incident captured by its outdated security system.

With so many people walking through the hotel, ensuring effective and comprehensive security surveillance monitoring was becoming a big issue, one that needed to be resolved. For that reason, three years ago the hotel decided to invest in better security, so that its guests would not just feel comfortable, but also safe, especially those visitors arriving with expensive goods or with privacy requirements.
In the analysis of the property, Julio Herrera López (security manager at the hotel), along with his team, evaluated the security conditions at the hotel and invited integrators to propose solutions. Out of the proposals submitted, equipment from Hikvision was chosen because the system fitted the parameters of the hotel's project. Another factor in favour of the company was its favourable warranty terms.
The installation
The installation process of the new security system was developed in phases. In the first stage, 89 Hikvision cameras were mounted. Later, 30 additional units were installed and currently, the hotel has 324 EXIR Series IP cameras, two DS-9664NI-I8 NVRs and two DS-96256NI-F16 NVRs, and one 4-channel video wall.
With the new Hikvision surveillance system now installed, the hotel can effectively monitor common areas, entrances, sectors with high flow of personnel and areas dedicated to hosting events, as well as external hotel areas. With the support of the new cameras it has been possible to protect 349 invaluable objects, including the 'Memorabilia' collection displaying celebrities' items. These items include a guitar and a jacket from Elvis Presley, drums from Aerosmith and Matchbox Twenty, guitars from The Police and Bon Jovi (who starred in the inaugural concert at the hotel), and articles from Black Sabbath and the Rolling Stones.
Some guests have also expressed their satisfaction about the fact that, thanks to the coverage of the security cameras, the hotel has the capability to avoid losses of guests' belongings.
"The challenge was to implement a system with the most up to date security technology," says Gilberto Rocha, operations manager at Opcom, the systems integrator in charge of the project. "We installed a 10 km optical fibre trunk network for optimum video fidelity."
A solution appreciated by the guests
"Thanks to this video surveillance system we can be aware of any event happening at the hotel, so for example, we can provide timely first aid when required, or keep an eye on children and our hotel staff to make sure they are safe. Similarly, we can react to any disturbance in our premises. The new security system has remarkably improved security at the hotel and we are now also able to record evidence of any situations or accidents that occur," says López.
With this camera solution, the hotel's 106 strong security team is able to monitor 2300 hotel staff and 3800 guests that occupy the hotel on a normal day, and if is necessary, up to 4500 visitors during special events, such as concerts.
For more information contact Evan Liu, Hikvision South Africa, +27 (0)10 035 1172, support.africa@hikvision.com, www.hikvision.com.
Credit(s)
Further reading:
AI technology to empower vertical markets
Dahua Technology South Africa Mining (Industry) CCTV, Surveillance & Remote Monitoring Products
Dahua WizMind is a full portfolio of solutions comprising project-oriented products that use deep learning algorithms to provide more business value to its global customers and deliver reliable and comprehensive AI solutions for vertical markets.
Read more...
---
Elvey partners with HALO
Elvey Security Technologies News CCTV, Surveillance & Remote Monitoring
Elvey Group has partnered with HALO Europe to provide Africa's first body-worn solution with zero upfront costs. This includes an IP68-certified body camera and a 4G-connected device.
Read more...
---
Regal announces new partnership
Regal Distributors SA CCTV, Surveillance & Remote Monitoring
Having a bird's eye view of your surveillance data, with the capability to drill down to the details obtained via connected security solutions, is a game changer for security operators, companies and even officers on the ground.
Read more...
---
Invisible connection and tangible protection via cloud
Dahua Technology South Africa Perimeter Security, Alarms & Intruder Detection CCTV, Surveillance & Remote Monitoring Products
Dahua Technology has launched its AirShield security solution that uses advanced, stable and reliable RF communication technology and cloud services, integrating alarm hubs, various detectors and accessories, with several software apps.
Read more...
---
Hikvision expands solar-powered solutions
CCTV, Surveillance & Remote Monitoring Products
Hikvision is offering a portfolio of solar solutions, the 4G solar-powered camera kit, a wireless bridge, and mobile solar security tower solutions to assist in keeping remote and isolated areas safe in a simple, practical, and cost-effective way.
Read more...
---
Affordable entry-level cameras from Dallmeier
Dallmeier Electronic Southern Africa CCTV, Surveillance & Remote Monitoring Products
Dallmeier has introduced the 'E' version of the DOMERA camera family, offering high image quality with 2 MP and 5 MP resolution, and providing detailed images even in low light conditions.
Read more...
---
The importance of the operator's frame of reference
Leaderware Editor's Choice CCTV, Surveillance & Remote Monitoring Security Services & Risk Management Mining (Industry)
The better the operator's frame of reference and situational awareness, and the more informed they are in dealing with CCTV surveillance in the mining industry, the more successful they are likely to be in surveillance.
Read more...
---
Enhancing surveillance on mines
Avigilon Technews Publishing Axis Communications SA Forbatt SA Hikvision South Africa Bosch Building Technologies Editor's Choice CCTV, Surveillance & Remote Monitoring Integrated Solutions Mining (Industry)
Smart Security approached a number of surveillance vendors to find out what the latest in surveillance technology is that can make a difference to security operations in mines, as well as general operations.
Read more...
---
Surveillance to improve worker safety
Axis Communications SA Mining (Industry) CCTV, Surveillance & Remote Monitoring Integrated Solutions
With substantial deposits of mineral resources, mining is critical for South Africa's economic growth and prosperity; however, mining can be dangerous, especially for the people working on the ground and in the shafts.
Read more...
---
Radar-video fusion camera
Axis Communications SA CCTV, Surveillance & Remote Monitoring Mining (Industry) Products
The AXIS Q1656-DLE Radar-Video Fusion Camera device brings video and radar analytics together in AXIS Object Analytics to deliver detection and visualisation.
Read more...
---