printer friendly version
Event-driven video surveillance platform
November 2016 CCTV, Surveillance & Remote Monitoring, Perimeter Security, Alarms & Intruder Detection, Integrated Solutions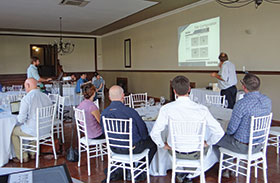 A centrally managed video surveillance platform has been unveiled by Keystone Electronic Solutions, a South African electronics research and development company. Dubbed 'Project V', the system differentiates itself from others in that it is built around the central concept of event triggering, whereby it performs video streaming upon specific events/alarms, in addition to providing a video-on-demand interface.
At a launch event at the Pretoria Country Club on 13 October, John Eigelaar, Keystone director and co-founder, introduced the local security industry to the features and benefits of the solution. "We are extremely excited about Project V. As far as we are aware, there are no other products available today that can match this technology. We have had a dedicated team work on this project over the past few months and have had a few field trials with select customers. Project V can overcome a number of challenges for our customers – it makes security and surveillance much easier and more effective, and thus creates a huge cost saving," he commented.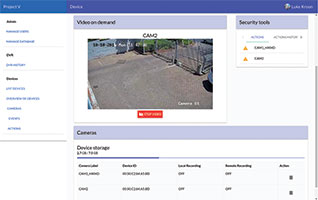 The solution comprises remote site equipment in the form of Keystone's Remote Site Monitoring (RSM) unit, and a surveillance platform deployed in a central data centre. All user access to the central platform is provided through a web interface which is accessible via a standard web browser without the need to install or maintain any user applications.
The 'stream on trigger' video platform is not only able to provide digital video recording (DVR) archiving on the central Project V server, but also at remote sites. Integration with customer systems, such as network management systems, access management systems, trouble ticket management and reporting tools, can be provided through an open application programming interface (API).
Certain video triggers can be set up to either start or stop the video recording and streaming, while real-time streaming makes it possible for security teams to determine how to respond to a security incident. For example, in the event of intruder detection alarm, security teams will be alerted and will be able to see live video, allowing them to more effectively judge how to respond to the situation.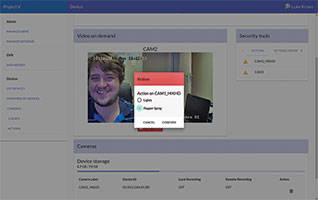 Project V integrates with any IP camera, and any I/O interface that a camera might provide (such as zone or movement triggers) can be integrated as part of the site security profile. The RSM unit is permanently connected to the cameras and will pull available audio visual (AV) streams from the cameras depending on the alarm/event triggered. Streams can be stored locally or pushed to the central server for remote recording or live viewing.
To make allowance for differing data bandwidth access across a full range of applications and site infrastructures, bandwidth can be selected on each onsite unit. Depending on this setting, the AV video will either be streamed to the Project V server or recorded locally on the unit. In both cases the alarm events will be transmitted across the CnE (command and event pipe) over the network. Operators can also request AV streams/recording from the web graphical user interface. The platform allows for the backhaul of the CnE pipe and the AV streams, either across an Ethernet WAN interface or the onboard 3G GSM modem.
Project V was designed to be highly scalable from an interface point of view, and the number of I/Os available to the system is easily scaled from a standalone device to a large installation by adding further RSM I/O modules.
For more information contact Keystone Electronic Solutions, +27 (0)12 460 4135, john@kses.net, www.kses.net.
Credit(s)
Further reading:
Securing perimeters of secure locations
November 2019, Axis Communications SA, Modular Communications, Hikvision South Africa, Nemtek Electric Fencing Products, Technews Publishing, Stafix , Government and Parastatal (Industry), Perimeter Security, Alarms & Intruder Detection, Integrated Solutions
Hi-Tech Security Solutions asked a number of companies offering perimeter security solutions for their insights into protecting the boundaries of national key points.
Read more...
---
Drones and cybersecurity?
October 2019 , CCTV, Surveillance & Remote Monitoring
Hacker drones can eavesdrop electronically on conversations, can perform network attacks, or can create fake wireless access points.
Read more...
---
Body-worn cameras transforming security
October 2019 , CCTV, Surveillance & Remote Monitoring, Security Services & Risk Management
Police Service Northern Ireland now has over 7 000 officers using 2 500 cameras covering approximately 173 000 incidents each year.
Read more...
---
Camera Selection Guide 2019
CCTV Handbook 2019 , CCTV, Surveillance & Remote Monitoring
The Camera Selection Guide 2019 includes a range of IP, analogue, thermal and speciality cameras aimed at a broad range of surveillance functions.
Read more...
---
Intelligent analytics and the brains to match
September 2019, Bosch Building Technologies , CCTV, Surveillance & Remote Monitoring, Integrated Solutions
What if the brains behind our security cameras could be trained to improve their cognitive ability to pay attention, learn, and problem-solve according to specific rules and situations?
Read more...
---
AI-powered autonomous Drone-in-a-Box
September 2019 , CCTV, Surveillance & Remote Monitoring, Integrated Solutions
Organisations in the mining, energy and industrial, oil and gas, ports and terminals sectors can optimise security and business operations, whilst reducing risks and operational costs
Read more...
---
Cybersecurity for video surveillance systems
September 2019, Mobotix , Cyber Security, CCTV, Surveillance & Remote Monitoring
Video surveillance systems are increasingly accessible over any IP network, which has led to the rise of potential cyberattack.
Read more...
---
Looking ahead with mobile access technologies
Access & Identity Management Handbook 2020, Technews Publishing, HID Global, dormakaba South Africa, Salto Systems Africa, Suprema, Gallagher , Access Control & Identity Management, Integrated Solutions
Given the broad use of smartphones around the world and the numerous technologies packed into these devices, it was only a matter of time before the access control industry developed technology that would ...
Read more...
---
Scalable access solution
Access & Identity Management Handbook 2020 , Access Control & Identity Management, Integrated Solutions
Bosch Building Technologies makes access management simple, scalable and always available with Access Management System 2.0.
Read more...
---
What are the cybersecurity issues in video surveillance?
November 2019, Axis Communications SA , Editor's Choice, CCTV, Surveillance & Remote Monitoring, Cyber Security
he importance of the data captured by surveillance cameras – and what can be done with it – has led to a new breed of cybercriminals, looking for insights to steal and sell.
Read more...
---