printer friendly version
Latest crime figures
November 2016 Editor's Choice, News, Associations
Two years ago, the release of South Africa's annual crime statistics was met with media reports such as "The latest crime statistics are a stark reminder of how far South Africa still has to go to reduce violence and crime" and, after criticism of the statistics released by the SAPS in 2015, they are now compiled in conjunction with StatsSA to ensure additional quality control measures.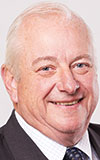 Dave Dodge, chairman of the South African Institute of Security (SAIS).
On 2nd September 2016, the latest figures, for the year from April 2015 to March 2016, were released and showed a headline reduction in total reported crime of over 2%, against a background of worrying increases in violent crime including murders and aggravated robberies.
The South African Institute of Security (SAIS) plays a key role in the private security industry as it seeks to raise the level of excellence of security professionals, and so sought the assistance of the Institute of Security Studies (ISS), to help interpret the latest statistics and consider the implications for the private security industry.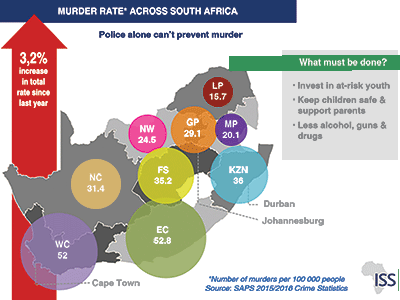 On Friday 28th October 2016, a group of leading security professionals, including members of SAIS and ASIS International, met to discuss the statistics and the possible implications for the private security industry. Lizette Lancaster, manager of the ISS's South African Crime and Justice Information and Analysis Hub, led the workshop with a highly informative presentation which was later described by a very experienced security manager as an 'eye-opener'.
One area of great concern to the private security industry is the increasing level of crimes including violence; key increases were murder (up by 3,2%), home robberies (up by 2,7%) and carjacking (up by 14,3%), as shown in the images.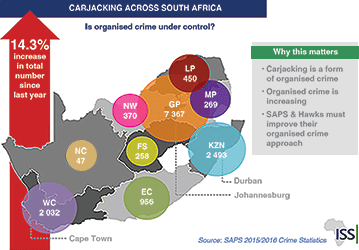 An analysis of crime rates over a longer period shows that these changes are not isolated, indeed, after 18 years of almost annual reductions in the murder rate, there have been increases in each of the last four years. Overall aggravated robbery offences have also experienced a rising trend in recent years and business robberies have increased almost three-fold over the last 10 years.
Despite the immediate negative perception of these trends, some can be equally considered as the success of improvements in physical security and guarding measures in recent years, reducing the opportunities for burglaries and car thefts without the need to confront people. However, an unintended consequence of this appears to be that more and more criminals are now resorting to violence to meet their needs.
Various factors which may have contributed to the changing crime trends were discussed at the workshop with considerations being given to how private security could possibly respond by changing the profile of some of the services that it offers. However, there was also a consensus that no one group of stakeholders has the ability, or an outright responsibility, to address the issues raised, but rather that a solution will require the efforts of all interested parties in a multi-agency approach.
SAIS and ASIS International hold regular workshops for security professionals and would be pleased to hear from anyone wishing to join them, attend the workshops or make presentations on matters of interest to the private security industry.
For more information contact Dave Dodge, South African Institute of Security (SAIS), chairman@instituteofsecurity.co.za, www.instituteofsecurity.co.za
Further reading:
Sustainability School opens for enrolment
Education (Industry) News Security Services & Risk Management
Three-part programme, first developed for Schneider Electric employees, is now available for free for companies worldwide. Attendees learn how to future-proof their businesses and accelerate their decarbonisation journeys.
Read more...
---
Accenture Technology Vision 2023
Editor's Choice News
New report states that generative AI is expected to usher in a 'bold new future' for business, merging physical and digital worlds, transforming the way people work and live.
Read more...
---
Cyber attackers used over 500 tools and tactics in 2022
Cyber Security News
The most common root causes of attacks were unpatched vulnerabilities and compromised credentials, while ransomware continues to be the most common 'end game' and attacker dwell time is shrinking – for better or worse.
Read more...
---
Economists divided on global economic recovery
Editor's Choice News
Growth outlook has strengthened in all regions, but chief economists are divided on the likelihood of a global recession in 2023; experts are concerned about trade-off between managing inflation and maintaining financial stability, with 76% anticipating central banks to struggle to bring down inflation.
Read more...
---
Success in business process best practices
Technews Publishing Kleyn Change Management Editor's Choice Integrated Solutions Security Services & Risk Management
This month we commandeer time with the woman who is spearheading our national conversation on Women in Security, Lesley-Anne Kleyn, to get to know the lady herself a little better.
Read more...
---
Recession or stress?
Cyber Security News
The economic landscape has seen many technology companies lay off vast numbers of employees, but for cybersecurity, the picture looks very different – a dynamic mixture of excitement, challenges and toxicity.
Read more...
---
SAFPS to launch a platform to combat fraud
Editor's Choice News Security Services & Risk Management
In response to the growing need for a proactive approach to fraud prevention, the SAFPS is developing a product called Yima, which will be a one-stop-shop for South Africans to report scams, secure their identity, and scan any website for vulnerabilities.
Read more...
---
Veeam introduces new competency programme for partners
IT infrastructure News
Veeam Competency Programme for Veeam Value-Added Resellers and Veeam Cloud & Service Provider partners offers enhanced solution-oriented training and go-to-market capability development that increase credibility and visibility in the local marketplace.
Read more...
---
Qognify integrates with Johnson Controls Security Products
Integrated Solutions News Products
The integration of Qognify VMS and Kantech EntraPass enables users to better understand situations based on the synchronisation of event and video data, allowing a faster and more targeted response to event-based scenarios.
Read more...
---
Citadel launches Fortress Solutions
Asset Management, EAS, RFID News Security Services & Risk Management
Citadel House of Technologies recently launched Fortress Solutions, a cost-effective digital project and asset management solution, which addresses the critical need for practitioners to manage projects and assets over the entire lifecycle.
Read more...
---