printer friendly version
Omega Training Academy geared to enhance South African security skills
November 2016 Editor's Choice, News, Conferences & Events
The Omega Training Academy, part of the Omega Risk Group, has embarked on an educational programme that will put it in the driving seat when it comes to security training in South Africa and beyond.
Andre Eckard is the MD of Omega Training Academy and his vision is to provide integrated training for corporate companies, government institutions and individuals for both security and non-security personnel. The courses on offer will include various PSiRA/SASSETA-approved courses, training for retail and residential estate security operations, as well as more in-depth courses for those making a career in the security industry.
Various other courses will be on offer, including a complete Security Management course, endorsed by the International Security Management Institute (ISMI), but tailored for South Africa's needs, presented by local experts. The first part of this course is the Security Risk Assessment module, which saw its first intake in October 2016.
Eckard explains that risk assessment remains a critical first step in the security protocol process for all businesses. Despite being a key component in risk management planning, it is often overlooked and the reality is that there is an industry-wide shortage of the necessary skills and knowledge to address it.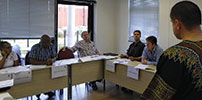 Dr Lyon Pretorius delivering the first Security Risk Assessment module.
Twelve delegates attended the first module, presented by Dr Lyon Pretorius, a Principal Fellow of the International Security Management Institute (ISMI), UK. Eckard says the October course was very well received and the response has led Omega to add an Advanced Security Risk Assessment course from the 8th to 10th December 2016.
This is a short course in Security Risk Assessment endorsed by ISMI and again presented by Pretorius. It is delivered over three days and covers both theory and practical applications. The cost of the course is R3150 per person (excl VAT).
This Security Risk Assessment training course has been specifically designed to meet the needs of security managers, risk managers, estate and operational managers, as well as marketing managers and those working in technology development.
It will take delegates through the process of collecting and collating data, and analysing it with a view to identifying risk mitigation priorities in the context of adaptive frameworks that can be applied to any industry. These solutions can then be integrated into the business and supply chain models.
For more information or to book your place, contact Juanita Stephens, +27 (0)12 941 2010, juanitastephens@omegasol.com, orstraining.omegasol.com
Further reading:
The latest security trends at Securex South Africa 2023
Securex South Africa News Conferences & Events Training & Education
Security technology evolves at a blistering pace, so it's important to keep up to date with changing trends in order to ensure maximised safety of human and personal assets. The Securex Seminar Theatre, powered by UNISA, is the place to be.
Read more...
---
Sustainability School opens for enrolment
Education (Industry) News Security Services & Risk Management
Three-part programme, first developed for Schneider Electric employees, is now available for free for companies worldwide. Attendees learn how to future-proof their businesses and accelerate their decarbonisation journeys.
Read more...
---
Accenture Technology Vision 2023
Editor's Choice News
New report states that generative AI is expected to usher in a 'bold new future' for business, merging physical and digital worlds, transforming the way people work and live.
Read more...
---
Cyber attackers used over 500 tools and tactics in 2022
Cyber Security News
The most common root causes of attacks were unpatched vulnerabilities and compromised credentials, while ransomware continues to be the most common 'end game' and attacker dwell time is shrinking – for better or worse.
Read more...
---
Economists divided on global economic recovery
Editor's Choice News
Growth outlook has strengthened in all regions, but chief economists are divided on the likelihood of a global recession in 2023; experts are concerned about trade-off between managing inflation and maintaining financial stability, with 76% anticipating central banks to struggle to bring down inflation.
Read more...
---
Success in business process best practices
Technews Publishing Kleyn Change Management Editor's Choice Integrated Solutions Security Services & Risk Management
This month we commandeer time with the woman who is spearheading our national conversation on Women in Security, Lesley-Anne Kleyn, to get to know the lady herself a little better.
Read more...
---
Recession or stress?
Cyber Security News
The economic landscape has seen many technology companies lay off vast numbers of employees, but for cybersecurity, the picture looks very different – a dynamic mixture of excitement, challenges and toxicity.
Read more...
---
SAFPS to launch a platform to combat fraud
Editor's Choice News Security Services & Risk Management
In response to the growing need for a proactive approach to fraud prevention, the SAFPS is developing a product called Yima, which will be a one-stop-shop for South Africans to report scams, secure their identity, and scan any website for vulnerabilities.
Read more...
---
Veeam introduces new competency programme for partners
IT infrastructure News
Veeam Competency Programme for Veeam Value-Added Resellers and Veeam Cloud & Service Provider partners offers enhanced solution-oriented training and go-to-market capability development that increase credibility and visibility in the local marketplace.
Read more...
---
Qognify integrates with Johnson Controls Security Products
Integrated Solutions News Products
The integration of Qognify VMS and Kantech EntraPass enables users to better understand situations based on the synchronisation of event and video data, allowing a faster and more targeted response to event-based scenarios.
Read more...
---