printer friendly version
Omega Training Academy geared to enhance South African security skills
November 2016 Editor's Choice, News, Conferences & Events
The Omega Training Academy, part of the Omega Risk Group, has embarked on an educational programme that will put it in the driving seat when it comes to security training in South Africa and beyond.
Andre Eckard is the MD of Omega Training Academy and his vision is to provide integrated training for corporate companies, government institutions and individuals for both security and non-security personnel. The courses on offer will include various PSiRA/SASSETA-approved courses, training for retail and residential estate security operations, as well as more in-depth courses for those making a career in the security industry.
Various other courses will be on offer, including a complete Security Management course, endorsed by the International Security Management Institute (ISMI), but tailored for South Africa's needs, presented by local experts. The first part of this course is the Security Risk Assessment module, which saw its first intake in October 2016.
Eckard explains that risk assessment remains a critical first step in the security protocol process for all businesses. Despite being a key component in risk management planning, it is often overlooked and the reality is that there is an industry-wide shortage of the necessary skills and knowledge to address it.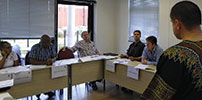 Dr Lyon Pretorius delivering the first Security Risk Assessment module.
Twelve delegates attended the first module, presented by Dr Lyon Pretorius, a Principal Fellow of the International Security Management Institute (ISMI), UK. Eckard says the October course was very well received and the response has led Omega to add an Advanced Security Risk Assessment course from the 8th to 10th December 2016.
This is a short course in Security Risk Assessment endorsed by ISMI and again presented by Pretorius. It is delivered over three days and covers both theory and practical applications. The cost of the course is R3150 per person (excl VAT).
This Security Risk Assessment training course has been specifically designed to meet the needs of security managers, risk managers, estate and operational managers, as well as marketing managers and those working in technology development.
It will take delegates through the process of collecting and collating data, and analysing it with a view to identifying risk mitigation priorities in the context of adaptive frameworks that can be applied to any industry. These solutions can then be integrated into the business and supply chain models.
For more information or to book your place, contact Juanita Stephens, +27 (0)12 941 2010, juanitastephens@omegasol.com, orstraining.omegasol.com
Further reading:
The same security assessment for different reasons
Issue 7 2020, Alwinco , Editor's Choice
Like everything else in life, a security risk assessment also has two sides: one is the proactive approach, and the other is the approach taken 'after the fact'.
Read more...
---
Risk intelligence the key to a sustainable future
Issue 7 2020 , Editor's Choice
Only by building risk intelligent organisations will leaders be able to overcome six distinct global threats identified by the Institute of Risk Management South Africa (IRMSA).
Read more...
---
Profile D for access control peripherals
Issue 7 2020 , Editor's Choice
Profile D provides interoperability for devices such as locks, credential/biometric readers, PIN pads, LPR cameras, door phones, sensors and displays.
Read more...
---
Security investments and culture
Issue 7 2020 , Editor's Choice
Organisations must embed security into the culture of the company and approach security investments with this culture in mind.
Read more...
---
Elastic storage pricing
Issue 7 2020 , Editor's Choice
With elastic pricing, users can switch from one storage model to another without having to pay a premium or a penalty, and without having to physically move any data.
Read more...
---
Use technology as a differentiator
Issue 7 2020 , Editor's Choice
Juni Yan, director of Transport, Logistics and Automotive at BT, shares her insights on how logistics companies can leverage digital transformation to become a real market differentiator – no matter the state of the pandemic.
Read more...
---
Management of PPE allocation made simple
Issue 7 2020, Powell Tronics, Technews Publishing , Editor's Choice
Of all the roadblocks and challenges COVID-19 has introduced us to over the past few months, one of the tasks organisations have to manage is the issuing of PPE to staff.
Read more...
---
Robots in warehousing and freight, a security perspective
Issue 7 2020, FSK Electronics , Editor's Choice
The logistics industry needs support from technology to meet its ongoing demands and ongoing security concerns.
Read more...
---
The new training normal
Issue 7 2020, Leaderware , Editor's Choice
Insights from running my first CCTV Surveillance Skills and Body Language and Advanced courses at physical training venues since COVID-19 started.
Read more...
---
An exciting journey in security
Issue 7 2020, Technews Publishing, BTC Training Africa , Editor's Choice
Errol Peace describes his 40-plus year career in the security industry where he was and is a great proponent of training as an "exceptionally exciting journey".
Read more...
---