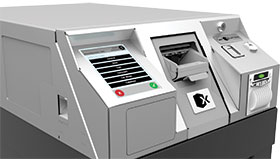 New N3K cash vault
November 2016, News, Security Services & Risk Management, Products
Cash Connect launched South Africa's first small under-counter, automated cash vault built to minimum SABS Category 4 level specifications – the Connectr 3000.u, also known as the N3K. The N3K cash accepting device addresses multiple needs for various business requirements because it's compact, aesthetically improved, and boasts new technical features.
This device offers retailers with limited floor space, the capacity to deposit up to 3000 bank notes quickly and accurately.
"Current trends indicate a need for smaller devices that adequately protect against traditional and sophisticated blunt-force attacks. With pressure mounting on retailers to generate maximum revenue from available floor-space, there is a greater need for a cash acceptance device that will fit under counters and in small cash offices," says Pierre Liebenberg, general manager of development and manufacturing at Cash Connect.
The N3K provides an ideal solution to fuel retailers and convenience store owners because of its non-intrusive and innovative design which incorporates a sliding door feature in the safe. This design negates the door-swing allowance and resultant wasted floor-space required for opening conventional-design safe doors, thereby allowing the cash vault to be installed in generally under-utilised counter space or next to a wall.
The N3K boasts a range of new features:
• Built to minimum of SABS Category 4 burglary resistant safes standard.
• Contemporary, easy to use touch-screen user interface.
• A unique horizontal drawer-slide, door design for efficient use of under-counter and adjacent wall space.
• An unconstrained capacity of up to 3 000 banknotes.
• A note validator with a hopper capacity of 30 mixed denomination banknotes and up to 64 banknotes per minute processing speed.
• A proprietary, prompt-assisted bag-loading system which prevents incorrect loading of disposable heat-sealed bags.
• Biometric user identification.
• Dual SIM GSM/GPRS bi-directional communication with our proprietary back-end.
• Unlimited users, unlimited destination accounts, as well as a multi-business partner capability.
With South Africa's high crime rate and the knowledge that more than 90% of business robberies occur with insider participation, it is important to understand that the kind of deterrent/s you have in place will determine the chances of your store being identified as a target for criminals.
Businesses big and small therefore need to choose their cash management systems wisely. Ultimately the primary objectives should be to remove cash as the target for business robberies, which creates a meaningful deterrent and in turn, helps increase business efficiency.
For more information contact Cash Connect Management Solutions, +27 (0)11 466 0794, info@cashconnect.co.za, www.cashconnectsus.co.za