printer friendly version
Threats businesses need to know about
October 2016
Cyber Security
If you're thinking that Bring Your Own Device (BYOD), Internet of Things (IoT), cloud and the ever-faster digitalisation of business are the most pressing areas for security improvement in your organisation at the moment, I'd like to remind you that some of the most dangerous threats to enterprises come in the form of targeted attacks – including stealthy advanced persistent threats (APTs).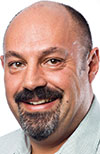 Andrew Potgieter, security solutions director at Westcon-Comstor Southern Africa.
An operation comprised of a new wave of targeted attacks was recently detected by Kaspersky Lab in 30 countries globally, including the UAE and Egypt. The attacks used spear phishing and emails that appeared to come from a UAE bank to target the education, logistics, engineering, industrial, manufacturing and pharmaceutical industries.
The aim of the attacks was to collect valuable business-related data stored in the victims' networks. Emails in these attacks came with malicious attachments and were mostly sent to the top and middle level managers of numerous companies. Kaspersky Lab dubbed the attacks Operation Ghoul due to the greedy or materialistic nature of those performing it, and reported that it is the latest among several campaigns that are supposedly controlled by the same criminal group.
Emails appeared to be 'demand for payment' letters from the bank with a document attached, which usually contained malware. The aim of these attacks? Financial gain from either the sales of stolen intellectual property and business intelligence or from attacks on victims' bank accounts.
These attacks are proof that in the current IT climate, personal and business devices intertwine to pose new threats to users. Kaspersky Lab has reported that though this group of cybercriminals uses simple malicious tools, they are extremely effective and as such, companies are unprepared when it comes to spotting the attacks they will likely suffer.
The problem with IT security in organisations today is that although the threats and techniques that cybercriminals leverage are constantly evolving, many business are relying on yesterday's stagnant security technologies to protect against today's fluid threats. To be quite honest, the fact that the cost of launching targeted attacks has reduced and the inexpensive and highly effective toolsets that modern cybercriminals have at their disposal means that all businesses are vulnerable.
Aftermath
I'm sure that most managers, CEOs and CIOs have grown tired of the sensationalism so often related with cybersecurity in the media. However, to put it into perspective for you, I'd like to share exactly what an attack like this could cost you and your business in the aftermath of an APT or targeted attack.
First off, you should know that although financial gain is often what cybercriminals are after, these kinds of attacks can cost you a lot more. Loss of priceless business and customer data, disruption of businesses data, regulatory and compliance issues as well as legal action by customers, suppliers or employees are just a few of the things you can look forward to if you are affected by an APT or targeted attack.
Perhaps the worst thing that can be affected is your business's competitive position and brand image, as these take time to re-establish. You will also suffer reactive costs to prevent further attacks that will include training to improve security department skills and users' security awareness, staffing in terms of new job roles, segregation of duties and the on boarding of additional security experts as well as the elimination of weak points to bolster system security, remove vulnerabilities and implement targeted security solutions.
Fluid security
Targeted attacks are overseen by highly-trained cybercriminals who adapt each phase of their attack. So how exactly do you ensure that your business is ready to defend against different types of attacks at any given time? Simply put, you need a security strategy that's underpinned by constantly evolving security intelligence.
In a world of fluid threats where you can never be too sure what will be thrown your way next, a security strategy that's able to adapt to challenges is probably the single most valuable thing to have in your business.
Credit(s)
Further reading:
Patient critical – healthcare's cybersecurity pulse
August 2019, Wolfpack Information Risk , News, Cyber Security, Healthcare (Industry)
The healthcare industry has become one of the leading cybersecurity attack vectors worldwide for several reasons.
Read more...
---
Building a Human Firewall
August 2019, Kaspersky Lab , Cyber Security, Training & Education
Riaan Badenhorst, general manager of Kaspersky in Africa answers some questions on the role of people in cybersecurity risks.
Read more...
---
Inundated with cyberattacks from all directions
August 2019 , Editor's Choice, Cyber Security, Security Services & Risk Management
IT managers are inundated with cyberattacks coming from all directions and are struggling to keep up due to a lack of security expertise, budget and up-to-date technology.
Read more...
---
Under cyberattack
August 2019, Kaspersky Lab , Cyber Security, Residential Estate (Industry)
Cybersecurity is not something one usually associates with residential estates, but the threats from cybercriminals apply equally to estates as they do to businesses and the individual homeowner.
Read more...
---
Cyber tools and solutions
August 2019, Technews Publishing , Editor's Choice, Cyber Security, IT infrastructure, Residential Estate (Industry)
Hi-Tech Security Solutions looks at the various options we have when it comes to protecting yourself from the ever-growing scourge of cybercrime?
Read more...
---
Understanding the data protection requirements and how to comply for POPI or GDPR
July 2019 , Cyber Security, Security Services & Risk Management
For many companies that must comply with these legislations, the best way to prepare is to implement a solid data protection strategy that guards against loss of data.
Read more...
---
Going safely into the brave new world of 4IR
July 2019 , Industrial (Industry), Cyber Security
Put cybersecurity at the heart of industrial digitisation on the journey to 4IR.
Read more...
---
It's not wise to go SIEMless
August 2019 , Cyber Security, Security Services & Risk Management
As with every other aspect of security today, information security, while the popular child in a dysfunctional family, is no longer enough.
Read more...
---
A one-size-fits-all approach won't secure the IoT
August 2019 , News, Cyber Security
Securing the Internet of Things (IoT) is something which cannot be done with a one-size-fits-all approach, and every kind of connected object must be assessed individually.
Read more...
---
Cloud advantage or cost?
August 2019 , Cyber Security, IT infrastructure
No matter how you look at it, security in the cloud is as important as security in traditional data centres.
Read more...
---