printer friendly version
Automatic fire suppression line
September 2016 Fire & Safety, Products
The BlazeCut automatic fire suppression product line is a simple, easy solution for the protection of motor vehicles, marine craft and equipment cabinets/consoles.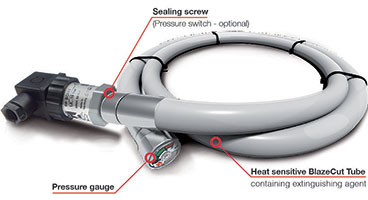 The system consists of a heat sensitive BlazeCut Tube made of special plastic that is closed by a stainless steel fitting on each end. The BlazeCut Tube has both storage and detection function, which means the extinguishing agent, is stored directly in the BlazeCut Tube and no additional storage device such as cylinder is needed.
The BlazeCut system is ideal for protection of small enclosures with greater risk of fire and operates automatically without any power supply by detecting higher temperatures. When the temperature in the protected enclosure rises to a critical threshold, the heat sensitive BlazeCut Tube melts down at the point where the affecting temperature is the highest, releasing the extinguishing agent (either HFC-227ea or HFC-236fa, depending on the system type) stored in the tube directly onto the source of the fire.
Both the HFC-227ea and HFC-236fa extinguishing agents are the agents of choice for protection of enclosures where any residue would cause harm to the protected sensitive devices.
Credit(s)
Further reading:
Managing the fire risk of transformer explosions
Issue 2 2020 , Fire & Safety
While a simple solution is to install adequate fire detection and suppression systems, this is hampered by the lack of necessary funding.
Read more...
---
Fire safety critical in healthcare
Issue 2 2020, Spero Sensors & Instruments, Technews Publishing , Fire & Safety
Healthcare organisations have a lot on their collective plates and it can be easy to overlook security issues in favour of more pressing demands.
Read more...
---
Fire alarms at sea
Issue 2 2020, Technoswitch , Fire & Safety
Technoswitch now offers marine approved conventional control panels from Haes, aimed at fire safety for all small to medium seafaring vessels.
Read more...
---
Kitchen fire suppression systems
Issue 2 2020, Technoswitch , Fire & Safety
Technoswitch has announced the addition of new 16 litre and 25 litre systems to its range of automatic kitchen fire detection and suppression systems.
Read more...
---
Fire detection for battery charging rooms
Issue 2 2020, FDIA (Fire Detection Installers Association) , Fire & Safety
Battery charging rooms pose fire explosion risks due to the presence of hydrogen gas produced when lead-acid batteries are being charged.
Read more...
---
Technology can help people in high-risk evacuations
Issue 2 2020 , Fire & Safety
Commercial buildings must not only be prepared for the possibility of a fire because they face newer threats - including terrorism, civil unrest and extreme weather.
Read more...
---
Duxbury Networking launches Solar Switch
November 2019 , IT infrastructure, Products
Duxbury Networking has launched its Solar Switch with tailored capabilities for applications in less-accessible areas where electricity is not available or not reliable.
Read more...
---
Fire Beam Xtra covers up to 160 metres
November 2019, Technoswitch , Products
The Fire Beam overcomes traditional beam detection challenges where building movement and accessibility made beam detection unreliable and laborious to commission and maintain.
Read more...
---
Arteco launches new management platform
CCTV Handbook 2019, Arteco Global, Technews Publishing , CCTV, Surveillance & Remote Monitoring, Products
Arteco has released its latest management platform, Omnia, designed to be faster and more responsive to operators? needs.
Read more...
---
Edwards Public Address & Voice Alarm System
October 2019 , Security Services & Risk Management, Products
Carrier has added the Public Address & Voice Alarm (PAVA) range to its fire product offerings.
Read more...
---