printer friendly version
CathexisVision 2017 is here
September 2016 CCTV, Surveillance & Remote Monitoring, Products
Cathexis Technologies is pleased to announce the launch of CathexisVision 2017. The 2017 software release boasts an extended range of new features, which culminate into one of the most sophisticated, yet intuitive security and infrastructure management tools on the market today.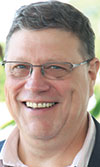 Gus Brecher from Cathexis Africa.
A snapshot of the new CathexisVision 2017 features include:
New API for integration: The new Application Programming Interface (API) provides for added functionality and more contemporary HTTP/RTSP/SIP protocol. In addition, it provides a user-friendly solution to interface third-party systems, including Building Management Systems (BMS), Physical Security Information System (PSIM) and situational awareness platforms. Cathexis has also added a sample application to make the integration simpler and perform intermittent troubleshooting.
H.265 support: CathexisVision 2017 now provides the necessary support for the H.265 protocol, a high-efficiency video codec, which is being increasingly adopted by IP camera manufacturers globally.
Camera integrations: Cathexis Technologies has added over 300 new IP camera integrations to its ever increasing list of supported IP cameras. For a full list of the latest camera integrations, go to http://integrations.cathexisvideo.com/supported-i-p-cameras/
Third-party systems integrations: Cathexis has added a host of new of third-party integrations to enhance its surveillance solution. These additional third-party integrations include:
• Honeywell (Pro-Watch), Axis, Impro and Salto Access Control Systems
• Southwest Microwave (Intrepid) and Stinger perimeter intrusion systems
• Risco and Texecom alarm panels
• Papouch-Quido I/O Device
• Talaris and Julong money counters
• Matrix barcode reader
For a full list of the latest and current third-party integrations, go to http://integrations.cathexisvideo.com/
SnapSearch: The new CathexisVision SnapSearch feature significantly enhances control room performance by speeding up control room searches and eliminating the need to scrutinise significant portions of footage to locate on a specific incident.
Adjacent camera mapping: The Adjacent Camera Mapping feature provides a powerful enhancement to the control room environment, particularly for larger sites, which require hundreds of IP surveillance cameras. It enables customers to 'map' cameras together so that operators are able to view all cameras adjacent to the camera currently in view. This makes it possible to follow people or specific incidents taking place on site.
LDAP or MAD support: CathexisVision now supports the Lightweight Directory Access Protocol (LDAP) and Microsoft Active Directory (MAD) for enterprise level, centralised user-management. This enables customers to adopt the CathexisVision software seamlessly within their existing network management framework.
Automatic number plate recognition (ANPR) enhancements: Having launched the highly effective ANPR feature in 2016, this new edition of CathexisVision 2017 includes a number of enhancements to the ANPR feature, including the addition of more fields to include more categories for Middle Eastern licence plate support. Cathexis has also added an easy-to-use API to allow third-party systems to receive ANPR information from the Cathexis system.
64 Bit operating system support: CathexisVision 2017 has been fully fitted for future enhancement by significantly improving the overall operating system. Clients will benefit from the fact that CathexisVision software will make full use of all available resources from the ever-improving available recording and client viewing server hardware.
Heightened security and auditing: Cathexis has also increased the level of video 'signing' to explicitly associate the signatures with the source. This has also provided more detail in the archive player of the video verification results. There are also some modifications to the archive password process where auditing of these new security measures has also been added.
Text and graphics overlays: CathexisVision has added even greater functionality to its video overlays to display text and other information from resident and third-party devices on the camera panels. Cathexis now has the ability to re-position text overlay blocks, and to change overlay sizes, text sizes, transparency and colour. It also now has the ability to overlay graphics (like active graphs for a metal detector integration or vehicle and driver images for ANPR).
Mobile app: Cathexis Technologies has also announced that CathexisVision now has added pre-set PTZ control and I/O control for the CatMobile application.
Camera anti-tamper tamper detection: CathexisVision 2017 comes with complete anti-tamper technology, which will notify the control room via an alarm in the event of any IP surveillance camera tampering, including: lens covering or spray painting. Clients can also include a user-defined specific action for the alarm, which the person tampering with the device will not be aware of.
For further information on CathexisVision 2017 or to learn how to upgrade your current operating system to include the new features, go to: http://cathexisvideo.com/
Credit(s)
Further reading:
Reinventing network camera security
Issue 1 2020, Axis Communications SA , CCTV, Surveillance & Remote Monitoring
Now in its seventh generation and celebrating its 20th anniversary, the Axis ARTPEC chip was launched in 1999 designed to optimise network video.
Read more...
---
Cloud-based fleet and driver management
Issue 1 2020, Graphic Image Technologies , CCTV, Surveillance & Remote Monitoring
Graphic Image Technologies (GIT) has announced the availability of a cloud-based dashcam designed to improve on-the-road behaviour and assist in improving fleet management.
Read more...
---
Cathexis specialises in integration
Issue 1 2020, Cathexis Technologies , CCTV, Surveillance & Remote Monitoring
The integration of multiple systems is intrinsic and essential to the goal of creating an effective and efficient operational environment.
Read more...
---
Do wireless networks meet modern surveillance demands?
Issue 1 2020, Duxbury Networking, RADWIN , CCTV, Surveillance & Remote Monitoring
It is predicted that video will account for 15,1 zettabytes (1 zettabyte = 1 trillion gigabytes) of data annually, which is more than any other IoT application.
Read more...
---
Traffic doesn't have to be this way
Issue 1 2020, Dahua Technology South Africa, Axis Communications SA , CCTV, Surveillance & Remote Monitoring
More effective traffic management is something that would save us all a lot of frustration and wasted time, and it's one of the areas where AI and big data can have a significant impact.
Read more...
---
Dahua launches Hunter Series
Issue 1 2020, Dahua Technology South Africa , CCTV, Surveillance & Remote Monitoring
Dahua launches a new dual-PTZ camera that enables flexible and multi-scene panoramic monitoring.
Read more...
---
8 MP fisheye camera
Issue 1 2020, Dallmeier Electronic Southern Africa , CCTV, Surveillance & Remote Monitoring
Dallmeier's new 8 MP fisheye camera combines AI-supported object classification and H.265 in a compact design.
Read more...
---
Using ANPR to enhance security
Issue 1 2020, Duxbury Networking , CCTV, Surveillance & Remote Monitoring
Deep learning and AI-based algorithms enable ANPR cameras and their associated software to detect and recognise number plates with an extremely high level of accuracy.
Read more...
---
AI supercharges surveillance
Issue 1 2020 , CCTV, Surveillance & Remote Monitoring
The ability to analyse live video through AI techniques means that untapped footage from existing, passive cameras can be used to identify patterns, trends and anomalies.
Read more...
---
IDIS launches new cameras with on-board analytics
Issue 1 2020 , CCTV, Surveillance & Remote Monitoring
IDIS has launched a lineup of Edge VA bullet and dome cameras, featuring on-board analytics that will transform the efficiency of security operations.
Read more...
---