printer friendly version
Constructive control over payroll
September 2016 Industrial (Industry), Asset Management, EAS, RFID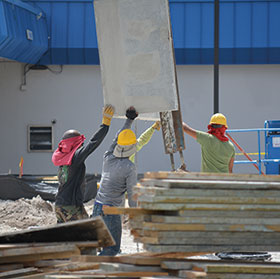 After months of fighting to stay afloat in a fluctuating economy, a local builder landed a large building contract. While glad to have been awarded the contract, the builder was concerned that the wages paid were not in proportion with his team's rate of performance.
A friend of the builder referred him to Active Track with hopes of it assisting with the performance of the builder's team.
Intrigued, the builder spoke with a member of Active Track's sales team. Within minutes of the discussion, the builder had received the relevant paperwork to complete in order for a demonstration device to be installed and deployed to site – free of charge.
By the end of the week, the builder had received the requisite training on the functionality and application of the FPX10 device, and confirmation of its successful installation at the new building site.
Part of the training involved learning, inter alia, how all team members should scan in and out of the site using the 21-point fingerprint recognition, of the effectiveness of the of the GPS and GSM-enabled functionalities, of the real-time monitoring and roll-call, and how the captured data is integrated into one's payroll management system.
In the space of a week, the performance of the team had drastically improved. Having spoken with a few employees, it transpired that certain employees were signing in for work at the start of the shift, leaving site early, and bribing others to sign out for them.
The FPX10 remedied this abuse and compelled all employees to work full shifts. In addition, it allowed the builder to access daily roll-calls remotely, and removed the possibility of paying employees for shifts said to have been worked on multiple sites simultaneously.
The benefit by which the builder was most impressed was its simple integration into the payroll system. It automatically calculated the real hours worked by each employee, and authorised payments accordingly. At the end of each week, the builder was paying significantly lower wage bills, while enjoying a dramatically improved rate of performance by his team.
For more information contact Active Track, +27 (0)11 551 1687.
Credit(s)
Further reading:
Active Track
Securex Preview 2019, Active Track , Products
Active Track is showcasing current and new guard monitoring and visitor management systems, as well as a virtual Active Track and an intelligent messaging system. Come and experience the new applications ...
Read more...
---
Local manufacturing from Hissco International
May 2019, Hissco , Editor's Choice, Asset Management, EAS, RFID, News
Hissco International recently announced it has set up a local manufacturing partnership that will supply X-ray equipment to partners around the world.
Read more...
---
Securing the Industrial Internet of Things
May 2019, Axiz , Cyber Security, IT infrastructure, Industrial (Industry)
The very benefits that makes the IIoT so compelling, makes it equally capable of damaging infrastructure operations and processes through bad actors.
Read more...
---
More than locking the door
April 2019, Technews Publishing, Salto Systems Africa, ZKTeco , Entertainment and Hospitality (Industry), Access Control & Identity Management, Asset Management, EAS, RFID
Electronic locks offer hotels far more than simply a more convenient way to manage doors, they can be integrated into a host of other systems and services.
Read more...
---
Biodegradable security seals for SA
April 2019, TruSeal , Editor's Choice, Asset Management, EAS, RFID, News, Security Services & Risk Management, Commercial (Industry)
The new TruSeal product extension is produced from a special biodegradable material sourced from Malaysia.
Read more...
---
The cyber risks of RF remote controllers
April 2019 , Industrial (Industry)
A report from Trend Micro reveals the potential cyber threats facing RF controllers and what industry needs to do to limit their risk.
Read more...
---
Enabling smarter cash handling solutions
March 2019, Technews Publishing, Cash Connect , Editor's Choice, Asset Management, EAS, RFID
Modern retail cash management has evolved so far from the old 'dumb' safe that it has become an essential enabler of today's business.
Read more...
---
Keeping your guard up in retail
March 2019, Active Track , Retail (Industry), Security Services & Risk Management, Products
A security officer patrols the perimeter of a local shopping centre throughout the night, every night. During these patrols, the perimeter fence is checked, and the security officer keeps a look-out for ...
Read more...
---
Managing your farm manager
March 2019, Active Track , Asset Management, EAS, RFID, Agriculture (Industry)
The Active Track is a hand-held GPS and GSM-enabled unit, with a built-in RFID reader. Active Track rents the device with RFID tags which can be placed at important check-in points.
Read more...
---
Seven resources every asset management solution should have
February 2019 , Asset Management, EAS, RFID
In order for corporate management to make decisions, plan for the future, and to take advantage of opportunities, a well-organised, up-to-date inventory of the company's property base is necessary.
Read more...
---