printer friendly version
Constructive control over payroll
September 2016 Industrial (Industry), Asset Management, EAS, RFID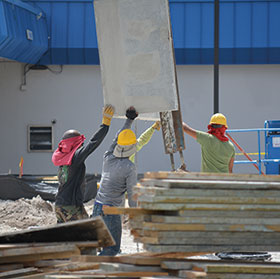 After months of fighting to stay afloat in a fluctuating economy, a local builder landed a large building contract. While glad to have been awarded the contract, the builder was concerned that the wages paid were not in proportion with his team's rate of performance.
A friend of the builder referred him to Active Track with hopes of it assisting with the performance of the builder's team.
Intrigued, the builder spoke with a member of Active Track's sales team. Within minutes of the discussion, the builder had received the relevant paperwork to complete in order for a demonstration device to be installed and deployed to site – free of charge.
By the end of the week, the builder had received the requisite training on the functionality and application of the FPX10 device, and confirmation of its successful installation at the new building site.
Part of the training involved learning, inter alia, how all team members should scan in and out of the site using the 21-point fingerprint recognition, of the effectiveness of the of the GPS and GSM-enabled functionalities, of the real-time monitoring and roll-call, and how the captured data is integrated into one's payroll management system.
In the space of a week, the performance of the team had drastically improved. Having spoken with a few employees, it transpired that certain employees were signing in for work at the start of the shift, leaving site early, and bribing others to sign out for them.
The FPX10 remedied this abuse and compelled all employees to work full shifts. In addition, it allowed the builder to access daily roll-calls remotely, and removed the possibility of paying employees for shifts said to have been worked on multiple sites simultaneously.
The benefit by which the builder was most impressed was its simple integration into the payroll system. It automatically calculated the real hours worked by each employee, and authorised payments accordingly. At the end of each week, the builder was paying significantly lower wage bills, while enjoying a dramatically improved rate of performance by his team.
For more information contact Active Track, +27 (0)11 551 1687.
Credit(s)
Further reading:
Safely safeguarding chemical facilities
CCTV Handbook 2019 , CCTV, Surveillance & Remote Monitoring, Industrial (Industry)
Wisenet T series explosion-proof and stainless steel cameras customised for industrial facilities provide pre-emptive protection not only for facility assets but also for employees and the nearby community.
Read more...
---
Cyber risks drive convergence
September 2019 , Integrated Solutions, Industrial (Industry)
What makes industry sectors such as manufacturing, pharmaceuticals, oil and gas and transportation particularly vulnerable to cyberattacks it?s their reliance on operational technology.
Read more...
---
Learn from their mistakes
October 2019 , Logistics (Industry), Asset Management, EAS, RFID
One of the cardinal rules of business is to learn from the mistakes you make during your journey, but sometimes another company's error can be just as instructive.
Read more...
---
Rockwell Automation a founding member of ISA Global Cybersecurity Alliance
September 2019 , News, Industrial (Industry)
To better secure today's complex and often vulnerable production operations, the ISA Global Cybersecurity Alliance recently announced Rockwell Automation as a founding member.
Read more...
---
SAP and Uber Freight join forces
September 2019 , Transport (Industry), Asset Management, EAS, RFID
SAP and Uber Freight announced a partnership to modernise the freight industry through intelligent process automation and better access to a network of connected and reliable drivers.
Read more...
---
Securing people, vehicles and cargo
September 2019 , Transport (Industry), Asset Management, EAS, RFID
The transport industry is under siege, not only with fuel price and legislation increases, but also with widespread unrest, looting and violence against drivers.
Read more...
---
Clear visibility into supply chain complexity
September 2019 , Transport (Industry), Asset Management, EAS, RFID
The Internet of Things is refining the capabilities of the supply chain to reduce theft, increase visibility and transform legacy complexity.
Read more...
---
Autonomous attendance
September 2019 , Products, Asset Management, EAS, RFID
The SACO RF attendance solution was developed with the focus on driving down costs without compromising functionality and ease of use.
Read more...
---
Becoming more cyber-savvy within the OT environment
September 2019 , Cyber Security, Industrial (Industry)
Organisations running operational technology (OT) have increasingly come under cyberattack, with malware sending shockwaves through these sectors.
Read more...
---
Corporate SA not in love with 4IR
July 2019 , Industrial (Industry), Integrated Solutions
The technologies that make up the so-called fourth industrial revolution (4IR) have yet to be adopted with any enthusiasm by South African enterprises.
Read more...
---