printer friendly version
Impro aims for new heights
September 2016 Editor's Choice, Access Control & Identity Management
Impro Technologies was recently acquired by the multinational ASSA ABLOY group, having been privately owned for some 30 years. Impro's managing director Errol East explained, "Whilst we have received many offers over the years, the deal with ASSA ABLOY provided a close alignment with both our business goals as well as our culture. The group's emphasis on quality and focus on innovation, convenience and providing real value to customers are elements that Impro was founded upon and allowed us to take a leadership position, and sealed the deal.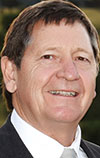 Errol East.
"Further, through ASSA ABLOY's investment we have the benefit of the group's vast intellectual property and resources, knowledge and expertise at our disposal. This will certainly enhance our operation, as we are able to tap into their best practices for our continued growth and expansion."
While Impro is well known in the access control and security sector of South Africa, the acquisition will provide an opportunity for expansion into new untapped markets, especially where ASSA ABLOY has infrastructure in place.
"Although ASSA ABLOY's acquisition will certainly enhance our business, Impro already exports to more than 60 countries spanning four continents. Over and above our home base, we have built a strong base in Europe, Middle East, Asia and America. As an example, we have experienced double digit growth in some major overseas markets over the past 12 months, whereas many companies have receded.
"We also have an extensive operation at our headquarters in South Africa that comprises R&D, engineering, manufacturing and production, as well as support services such as our 24-hour technical support centre and accredited training facilities. The growth imperatives that we have always strived for will be significantly enhanced, as the financial resources allow the company to grow exponentially.
Pioneering spirit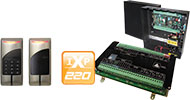 Impro IXP220 Group.
"Our pioneering spirit will continue, for example Impro was amongst the first companies in the world to develop ASIC RFID solutions back in the 1980s – and now through Access Portal we are again rewriting the future of access control where scalability, customisation and flexibility drive the future, along with the latest technological advancements, in order to give customer's future-proof solutions.
"I think this was part of the attraction for ASSA ABLOY – our business is a holistic entity – from our product offer that comprises end-to-end access control solutions, to our operation which is self-contained. Therefore any investment will result in growth and expansion," continued East.
East went on to explain that from a customer's perspective, it's business as usual. The expectation by ASSA ABLOY to provide top-quality, leading edge, market driven products and services is as before, "We have simply changed our shareholders. Our operation otherwise remains unchanged".
Looking to the future
East concurs that change will come. "Often change is viewed as a negative, but I believe our changes will be hugely positive. Without change, businesses stagnate. We need to be agile and change rapidly to meet market opportunities. Our drive has been for double-digit growth, which demands investment – not only in equipment but also jobs; which has already started as we seek to expand our R&D engineering division.
"Within the next 12 months we will be launching a variety of new products and services specifically designed for the small and medium business sectors, which will continue to be proudly manufactured at our ISO 9001 accredited factory in South Africa. We will also expand our sales footprint, as well as our technical support centre which already provides 24-hour assistance to customers, seven days a week.
"This growth will also have a positive impact on our manufacturing facilities. Through the group, we are able to improve efficiencies and methodologies, to ensure we will meet our foreseeable growth demands. Having recently invested significantly in our manufacturing equipment, we only envisage further capital outlay to occur in the medium term."
Overall, it appears that this acquisition, while small within the ASSA ABLOY group, will provide significant benefit to both the region and country as a whole.
For more information contact Impro Technologies, +27 (0)31 717 0700, vikkiv@impro.net, www.impro.net
Credit(s)
Further reading:
Axis gives a brighter future for children
Issue 1 2020, Axis Communications SA , Editor's Choice
Fully networked camera solution provides visibility and accountability, letting orphanage focus on what's important – its children.
Read more...
---
SFP Security & Fire becomes ISF SFP
Issue 1 2020, ISF SFP , Editor's Choice
SFP Security & Fire was sold to ISF in 2019, becoming ISF SFP and attaining Level-1 BEE status.
Read more...
---
Giles Calenborne takes the helm at Impro Technologies
Issue 1 2020, Impro Technologies , News
Impro Technologies has welcomed a new managing director, Giles Calenborne, to the fold with the goal of unlocking the existing networks and building new opportunities.
Read more...
---
Janu-worry or Twenty-Plenty?
Issue 1 2020 , Editor's Choice
If the available security spend right now is somewhere between limited and non-existent, here are just a few suggestions.
Read more...
---
CCTV surveillance needs are critical in defining types of camera deployment
Issue 1 2020, Leaderware , Editor's Choice
Cameras by themselves do not reduce crime; they need to be implemented as part of a considered strategy of crime prevention and detection.
Read more...
---
Trends 2020
Issue 1 2020, Technews Publishing , Editor's Choice
Hi-Tech Security Solutions asked a few people from diverse companies to join us in a round-table discussion about what they expect to see happening in their environments in the coming year.
Read more...
---
Seven key trends for 2020
Issue 1 2020, Hikvision South Africa , Editor's Choice
Hikvision looks at a few trends that will affect the security industry in 2020 and beyond.
Read more...
---
Hundreds of millions to reskill
Issue 1 2020 , Editor's Choice
By 2022 alone, 75 million jobs will probably be displaced across 20 major economies, while 133 million new ones will spring up in industries that are only just gaining traction.
Read more...
---
Slow and steady wins the access race
Issue 1 2020, ZKTeco, Technews Publishing , Editor's Choice, Commercial (Industry)
The commercial sector is slow in migrating to new access control technologies, with the majority of companies remaining with card and fingerprint solutions.
Read more...
---
Client property access integrity
Issue 1 2020 , Editor's Choice
Blind or unquestioned trust is something that we all seem to willingly and unconditionally give our security service providers and their reaction officers.
Read more...
---