printer friendly version
Business as usual for Centurion
September 2016 Editor's Choice, Access Control & Identity Management, Perimeter Security, Alarms & Intruder Detection, News, Industrial (Industry)
Centurion Systems is one of the better-known local success stories in the security industry. The company's products have been installed at countless homes and businesses across South Africa, as well as the rest of the African continent and beyond.
The company recently announced it has been acquired by FAAC, a global access automation company that has been operating since the 1960s and has 32 direct branches around the world and an extensive global distribution network.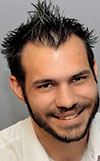 Charl Mijnhardt, Centurion Systems.
Hi-Tech Security Solutions spoke to Centurion's Charl Mijnhardt about the buyout and the future of this local brand.
In terms of the deal, Mijnhardt says, "it just made sense to join forces". The two companies started talking to each other some time ago and formalised the transaction on the 30th of June 2016. "The acquisition means that we can combine our capabilities and, ultimately, reach new markets and provide our respective client bases with an enhanced service and product offering."
He assured local customers and partners that the way forward will be 'business as usual'. Centurion will not be changing its business or distribution model in any way. Clients can expect the same level of service they have becomes accustomed to in the past 30 years. "That being said, we now have the clout of a powerful multinational brand behind us, so clients will also benefit from the melding of our capabilities," adds Mijnhardt.
The benefits of the deal are significant. Mijnhardt explains that there are markets Centurion is not currently serving, but that FAAC already has a foothold in. The acquisition will open these doors to Centurion and allow it to reach an even wider market. At the same time, it has the chance to introduce new products to the local market while expanding its own products' footprint.
Mijnhardt advises that Centurion will not be flooding the market with new products just because it can. "We won't be forcing products into the market if it is evident that these products will not meet the industry's requirements. A fair amount of research will have to be done, but if there are products that we feel could benefit our existing clients, then it would make sense to add them to our portfolio. Ultimately, we want to do what is best for our customers."
As a manufacturing concern, no decisions have been made about the manufacturing processes of the combined company. When the decisions are made, we might see new products being added to the Centurion manufacturing line, which would be a boost for the local industry. When it comes to staff, however, Mijnhardt says the only impact they will see will be that of new opportunities for growth due to being part of a larger company.
As a decades-old company, Centurion is not rushing into any new products or implementing radical changes. Mijnhardt says, "We do have a few exciting new products in the pipeline. Currently, we are very much focused on our installer clients and providing them with products that save them time, make their jobs easier and enhance the installation experience. To this end, we will also be relaunching a number of products that we have improved towards the end of October of this year.
"We really listened to our customers' needs, and this new campaign is our reply. We're also investigating the possibility of adding bollards and sliding door operators to our range as we believe these will round off our current offering very nicely."
For more information contact Centurion Systems, +27 (0)11 699 2400, [email protected], www.centsys.co.za
Credit(s)
Further reading:
South Africa adopts ISO standard to guide use of social media in emergencies
Editor's Choice
The South African Bureau of Standards (SABS), through its technical committee, has adopted the ISO 22329 standard that provides guidance on the use of social media during an emergency or crisis.
Read more...
---
Free and open-source tool for detecting stalkerware
Editor's Choice
Kaspersky has unveiled a new hub dedicated to TinyCheck, a unique, innovative tool designed to detect stalkerware on mobile devices.
Read more...
---
Look before you leap into a back-up power solution
Editor's Choice Security Services & Risk Management
Before you rush into purchasing a back-up power solution, you need to take a considered and long-term view of how to get yourself as close to grid independence as possible.
Read more...
---
All-mobile people management solution with facial recognition
Editor's Choice Integrated Solutions Security Services & Risk Management Products
The new mobile Incident Desk People Management platform with facial recognition combines identification data on suppliers, staff, sub-contractors and even people on watch lists, for less than the cost of traditional service management tools.
Read more...
---
Passion, drive and hard work
Technews Publishing Editor's Choice CCTV, Surveillance & Remote Monitoring Security Services & Risk Management
Colleen Glaeser is a leader in the security market, having made her mark in the male-dominated security industry through determination and hard work, along with a vision of making the world a safer place.
Read more...
---
Are you your insider threat?
Technews Publishing Editor's Choice Security Services & Risk Management Commercial (Industry)
Insider threats are a critical aspect of risk management today, but what happens when it is the owner of the company acting fraudulently and making sure none of his staff can catch him?
Read more...
---
Powder coating provides durable finish
Turnstar Systems Access Control & Identity Management Industrial (Industry)
Turnstar's powder coating line provides corrosion resistance, high-quality surface finishing and a long-term environment-friendly impact for all access control components the company manufactures.
Read more...
---
CathexisVision integrated with Suprema's BioStar2
Technews Publishing News Access Control & Identity Management Integrated Solutions
This integration uses BioStar2 access control events to trigger automated actions on the CathexisVision system, including alerts, recording a camera and commands such as locking and unlocking doors, and clearing an alarm.
Read more...
---
R60 per month per camera for cloud AI
Iris AI Editor's Choice
Snap Guard offers homes and small businesses an easy, low-cost cloud AI service that is self-managed but can also be linked to armed response services.
Read more...
---
Linux-based biometric access control
ZKTeco Products Access Control & Identity Management
The SpeedFace M4 is a Linux-based multi-biometric access control and time attendance terminal with visible light facial recognition and palm verification.
Read more...
---