printer friendly version
Business as usual for Centurion
September 2016 Editor's Choice, Access Control & Identity Management, Perimeter Security, Alarms & Intruder Detection, News, Industrial (Industry)
Centurion Systems is one of the better-known local success stories in the security industry. The company's products have been installed at countless homes and businesses across South Africa, as well as the rest of the African continent and beyond.
The company recently announced it has been acquired by FAAC, a global access automation company that has been operating since the 1960s and has 32 direct branches around the world and an extensive global distribution network.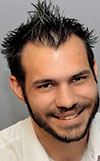 Charl Mijnhardt, Centurion Systems.
Hi-Tech Security Solutions spoke to Centurion's Charl Mijnhardt about the buyout and the future of this local brand.
In terms of the deal, Mijnhardt says, "it just made sense to join forces". The two companies started talking to each other some time ago and formalised the transaction on the 30th of June 2016. "The acquisition means that we can combine our capabilities and, ultimately, reach new markets and provide our respective client bases with an enhanced service and product offering."
He assured local customers and partners that the way forward will be 'business as usual'. Centurion will not be changing its business or distribution model in any way. Clients can expect the same level of service they have becomes accustomed to in the past 30 years. "That being said, we now have the clout of a powerful multinational brand behind us, so clients will also benefit from the melding of our capabilities," adds Mijnhardt.
The benefits of the deal are significant. Mijnhardt explains that there are markets Centurion is not currently serving, but that FAAC already has a foothold in. The acquisition will open these doors to Centurion and allow it to reach an even wider market. At the same time, it has the chance to introduce new products to the local market while expanding its own products' footprint.
Mijnhardt advises that Centurion will not be flooding the market with new products just because it can. "We won't be forcing products into the market if it is evident that these products will not meet the industry's requirements. A fair amount of research will have to be done, but if there are products that we feel could benefit our existing clients, then it would make sense to add them to our portfolio. Ultimately, we want to do what is best for our customers."
As a manufacturing concern, no decisions have been made about the manufacturing processes of the combined company. When the decisions are made, we might see new products being added to the Centurion manufacturing line, which would be a boost for the local industry. When it comes to staff, however, Mijnhardt says the only impact they will see will be that of new opportunities for growth due to being part of a larger company.
As a decades-old company, Centurion is not rushing into any new products or implementing radical changes. Mijnhardt says, "We do have a few exciting new products in the pipeline. Currently, we are very much focused on our installer clients and providing them with products that save them time, make their jobs easier and enhance the installation experience. To this end, we will also be relaunching a number of products that we have improved towards the end of October of this year.
"We really listened to our customers' needs, and this new campaign is our reply. We're also investigating the possibility of adding bollards and sliding door operators to our range as we believe these will round off our current offering very nicely."
For more information contact Centurion Systems, +27 (0)11 699 2400, charl.mijnhardt@centurionsystems.co.za, www.centsys.co.za
Credit(s)
Further reading:
The same security assessment for different reasons
Issue 7 2020, Alwinco , Editor's Choice
Like everything else in life, a security risk assessment also has two sides: one is the proactive approach, and the other is the approach taken 'after the fact'.
Read more...
---
Risk intelligence the key to a sustainable future
Issue 7 2020 , Editor's Choice
Only by building risk intelligent organisations will leaders be able to overcome six distinct global threats identified by the Institute of Risk Management South Africa (IRMSA).
Read more...
---
Profile D for access control peripherals
Issue 7 2020 , Editor's Choice
Profile D provides interoperability for devices such as locks, credential/biometric readers, PIN pads, LPR cameras, door phones, sensors and displays.
Read more...
---
Security investments and culture
Issue 7 2020 , Editor's Choice
Organisations must embed security into the culture of the company and approach security investments with this culture in mind.
Read more...
---
Elastic storage pricing
Issue 7 2020 , Editor's Choice
With elastic pricing, users can switch from one storage model to another without having to pay a premium or a penalty, and without having to physically move any data.
Read more...
---
Use technology as a differentiator
Issue 7 2020 , Editor's Choice
Juni Yan, director of Transport, Logistics and Automotive at BT, shares her insights on how logistics companies can leverage digital transformation to become a real market differentiator – no matter the state of the pandemic.
Read more...
---
Management of PPE allocation made simple
Issue 7 2020, Powell Tronics, Technews Publishing , Editor's Choice
Of all the roadblocks and challenges COVID-19 has introduced us to over the past few months, one of the tasks organisations have to manage is the issuing of PPE to staff.
Read more...
---
Robots in warehousing and freight, a security perspective
Issue 7 2020, FSK Electronics , Editor's Choice
The logistics industry needs support from technology to meet its ongoing demands and ongoing security concerns.
Read more...
---
The new training normal
Issue 7 2020, Leaderware , Editor's Choice
Insights from running my first CCTV Surveillance Skills and Body Language and Advanced courses at physical training venues since COVID-19 started.
Read more...
---
An exciting journey in security
Issue 7 2020, Technews Publishing, BTC Training Africa , Editor's Choice
Errol Peace describes his 40-plus year career in the security industry where he was and is a great proponent of training as an "exceptionally exciting journey".
Read more...
---