printer friendly version
Racking up customers
September 2016
IT infrastructure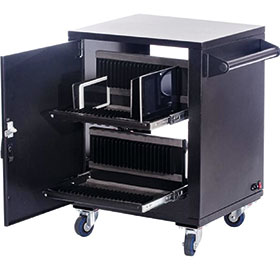 ModRac is a manufacturing company based in Wynberg, with a long history of manufacturing in South Africa. It's currently part of the Pinnacle Group and supplies many of the largest companies in South Africa with data centre racks and/or cabinets of various sizes. The company's design and manufacturing goes much further than IT cabinets however, as it has a range of wall-based cabinets and special-use cabinets/trolleys for local consumption.
As a manufacturer, ModRac is able to cater to its clients' specific requirements, building racks and cabinets to specification, although Brent Luck, ModRac's brand manager notes that custom builds can only be done for bulk orders as the costs are too high to build only one or two custom products. To cater for the general market, ModRac has a range of standard racks and cabinets which meet the general measurements and requirements of IT installations.
Starting with its top-of-the-line cabinet the EnviroRac, Luck says this is basically a data centre in a box for companies that don't have a dedicated server room or data centre. ModRac provides the EnviroRac complete with management capabilities and backup power to keep the system running effectively.
Built into the cabinet is air conditioning, access control (which can be via biometrics, card or PIN, depending on the client's requirements), fire sensors as well as backup power to keep everything running. If customers want to add UPS systems to support their technology, this must be added separately. EnviroRac is modular, meaning that it can be extended as required to incorporate more electronics.
Luck adds that the price for ModRac equipment includes not only the physical kit, but also the shipment and installation at the client's premises, anywhere in South Africa. The installation is viewed as a service to ModRac's clients and resellers, and only includes the cabinet and racks, not the actual data centre equipment. This ensures the ModRac equipment is installed correctly and functions as required.
The cold aisle containment PODS that ModRac designs can include traditional rack doors, sliding doors or automated doors as well as cold aisle designs – which are increasingly popular in local data centres.
Another innovative solution from ModRac is its school trolley. Another local design, the trolley is easily manoeuvrable and is designed to securely hold 40 tablet PCs. Not only will it hold the tablets, but it has built-in power distribution kit to charge all the tablets. For example, all the tablets can be put into the trolley and connected via USB cable to the power source. It can then be stored safely overnight while the tablets charge, ready to be used in the morning.
Manufacturing facility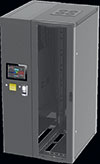 Joleen Maritz runs the ModRac factory. While the company manufactures to order, she makes sure there are always enough parts in stock to quickly make standard equipment when an order comes in. The factory runs continuously from 6 am on Monday to 6 am on Saturday, with each shift overlapping with the next to ensure continuity in the jobs being handled.
The company buys sheet metal of various thicknesses from a local supplier and runs these through its laser cutting or punching machines to cut the sheets into the sizes required, and to create the specific doors and parts customers require. The various machines on the factory floor are a combination of manual and automatic feeding systems, each optimal to different manufacturing requirements. The manufacturing equipment is linked to the corporate network to ensure designs are adhered to exactly as they are transferred directly from the designers to the systems.
Products move through the factory, from the initial sheet metal that is fed into the cutting machines, through to the finishing area where welds and rough edges are filed smooth to ensure users don't damage themselves when using the products. ModRac also has an automated powder coating system to colour the final product according to customer requirements.
Quality checks are done throughout the process, but once the kit has been painted, a final quality control check is carried out before it goes to the assembly area where the final product is completed, ready to go to the customer. It then goes to the packing area where it is safely packed for transport to the customer.
Maritz adds that the company has an enviable wastage rate of between 5% and 7%, due to its reuse of cut-off pieces to make smaller parts of the cabinets and racks it builds. The remaining waste is collected by a scrap metal company.
Unusually for a manufacturing concern, Maritz says ModRac has a significant number of female employees on the factory floor.
After a long history under different names, ModRac has carved a space for itself in the South African manufacturing industry. With clients including the major banks and numerous companies that are household names, its design and manufacturing skills have made it a leading provider of metal racks, cabinets and boxes of all sorts, with products already in use in companies all around the country.
For more information contact ModRac, +27 (0)11 990 6120, www.datanet.co.za
Further reading:
Video surveillance multicast networks made easy
Issue 1 2020, Duxbury Networking , IT infrastructure
Many businesses are struggling to realise the full potential of modern video surveillance technology due to limitations of the underlying network.
Read more...
---
Three data protection predictions for 2020
Issue 1 2020 , IT infrastructure
Byron Horn-Botha from Arcserve Southern Africa relates the company's top three data predictions to be on the alert for in 2020.
Read more...
---
An open foundation for 2020
Issue 1 2020 , IT infrastructure
The migration to open hybrid cloud technologies will be the way to go as we head into the new decade.
Read more...
---
Will 5G be the answer to all prayers?
Issue 1 2020 , IT infrastructure
There is a lot of understandable confusion about the role Wi-Fi will play once 5G arrives, and how they might work together.
Read more...
---
So what is 5G?
Issue 1 2020 , IT infrastructure
With all the noise about 5G, Hi-Tech Security Solutions asked Deon Geyser, head of the Southern Africa sub region at Nokia for some insights.
Read more...
---
Duxbury Networking launches Solar Switch
November 2019 , IT infrastructure, Products
Duxbury Networking has launched its Solar Switch with tailored capabilities for applications in less-accessible areas where electricity is not available or not reliable.
Read more...
---
8-port PoE managed switch
November 2019, Regal Distributors SA , IT infrastructure
The NW101-7 is an 8-port PoE managed gigabit network switch capable of supporting 4K high-definition video transmission.
Read more...
---
4-ports industrial PoE managed switch
November 2019, Regal Distributors SA , IT infrastructure
The NW100-3 is a 4-port industrial full gigabit PoE wall-mount gigabit managed network switch with 1 x 60 W and 3 x 30 W PoE ports capable of supporting 4K high-definition video transmission.
Read more...
---
Mobile shredding plant simplifies secure data destruction
November 2019 , IT infrastructure
Companies no longer need to take unnecessary risks when disposing of their IT assets, they can now destroy digital data before it leaves their premises.
Read more...
---
Lightest notebook with 10th-gen processors
November 2019 , IT infrastructure
Dynabook Europe has announced the Portégé X30L-G, the lightest 13,3-inch business laptop with Intel 10th generation processors.
Read more...
---