printer friendly version
Fire safety in retirement home
September 2016
Fire & Safety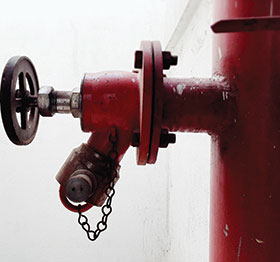 Fire & Security Distributors (FSD) recently delivered a range of passive fire stopping products for the Pinelands Grove Retirement Home, located in Pinelands, Cape Town. FSD was contacted by N.W.E. Consulting Engineers earlier to assist with the specification for 120 minute fireproofing of all site penetrations, including above fire door penetrations, single pipe and bunched cable penetrations through fire walls and floors, and top of wall linear gap sealing to prevent the ingress of fire and smoke into the emergency escape passageways.
For the 120 minute fire rated linear gap sealing, FSD supplied the Nullifire FS701 fire rated mastic sealant with an allowable movement ratio of 15% and a maximum fire rating of up to four hours.
The 120 minute penetrations were fire sealed with a combination of Nullifire FB747 coated batt board and FS701 fire rated mastic sealant. Single 50 mm and 110 mm PVC pipe penetrations were fire rated with the installation of FP300 Pipe Wraps for wall penetrations and FP150 Pipe Collars for floor penetrations. The FP150 Pipe Collars were installed to the underside of the floors as per the installation instructions and recommendations. Large floor penetrations in the service shaft were also 120 minute fire sealed with FB747 batt boards and FS701 mastic sealant.
Credit(s)
Further reading:
Fire Beam Xtra covers up to 160 metres
October 2019, Technoswitch , Products, Fire & Safety
The Fire Beam overcomes traditional beam detection challenges where building movement and accessibility made beam detection unreliable and laborious to commission and maintain.
Read more...
---
Emergency voice communication system
October 2019, Technoswitch , Products, Fire & Safety
The Technoswitch Emergency Voice Communication Systems concept offers fire telephone and disabled refuge systems, as well as integrating emergency assist alarm systems in a single solution.
Read more...
---
Fast detection of smoke and flames
October 2019, Bosch Building Technologies , Editor's Choice, CCTV, Surveillance & Remote Monitoring, Fire & Safety
Video-based fire detection AVIOTEC from Bosch has been optimised for tunnels to provide early and reliable detection of smoke and flames in these dark environments.
Read more...
---
Choosing the right fire detection system
August 2019, FDIA (Fire Detection Installers Association) , Fire & Safety
Charles Thiong'o from the FDIA highlights important factors to consider when choosing a fire detection system.
Read more...
---
Local security technology manufacturer
August 2019, Technoswitch , Fire & Safety
Technoswitch, a South-African manufacturer, importer and distributor of fire detection and suppression equipment turned 45 this year.
Read more...
---
Fire detection and suppression for server cabinets
August 2019, Technoswitch , Fire & Safety
The TEC601, designed and manufactured by Technoswitch, is an all-in-one fire and extinguishing rack-mountable control system designed to protect electronic equipment in 19-inch server room cabinets.
Read more...
---
ORYX conventional fire panel range
August 2019, Technoswitch , Fire & Safety
The ORYX range of conventional panels from Technoswitch offers 2, 4 and 8 zone options, including weatherproof versions (with or without DIN rail) specifically suited to industrial applications.
Read more...
---
Next generation BlazeCut T-series
August 2019, Technoswitch , Fire & Safety
Designed to protect small enclosed spaces with greater risk of fire, the BlazeCut T-series system is easy to install.
Read more...
---
Emergency lighting and fire detection combination
August 2019 , Fire & Safety, Products
Hochiki Europe has launched FIREscape+, a system which combines emergency lighting, fire detection and wayfinding technology.
Read more...
---
Introducing Gulf Security Technology
August 2019, UTC Fire & Security SSA , Fire & Safety
Gulf Security Technology manufactures more than 16 million detectors and modules and more than 120 thousand control panels per year, making it one of the largest fire detection manufacturers in the world.
Read more...
---