printer friendly version
The key to mall security
August 2016 Access Control & Identity Management, Asset Management, EAS, RFID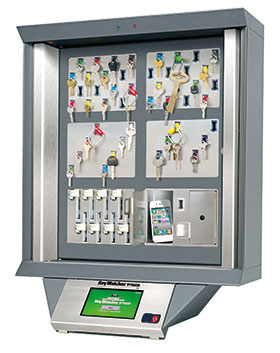 According to a recent survey by the Opinion Research Corporation (ORC), the shopping centre, in all its variety, has become the great crossroads where visitors go to buy, socialise, play and work. From recreational walking to attending fashion shows to dining and more, few other institutions compare to a shopping centre in today's culture.
Because of the size, uniqueness and multiple activities, administering the safety aspects of a large retail environment requires an expansive knowledge of security practices in order to make good decisions regarding the protection of the facility and its employees and visitors. Cash, goods, business information/data, personal items and even identities are prime targets for theft in a retail environment; these vulnerabilities can be heightened when there are security irregularities including lost or missing keys.
With physical keys still in frequent use for securing doors and entrances at retail centres, key control is high on the list as a state of the art security practice. Key control and management systems, designed around hardware/software technology, offer enhanced security with capabilities that add convenience to operational tasks.
Hardware manages the keys
Key control and management systems are designed to secure keys in a tamper-proof cabinet and electronically release keys only to authorised users. Each individual key, whether a traditional mechanical key or a plastic card access key, is secured to a locking mechanism that features a built-in memory chip; data from the chip is stored when a key is inserted into or removed from its slot in the cabinet. From this data, management has a complete history of who removed or returned the key and when.
Even unusually shaped or larger size keys that are used to lock outdoor enclosures surrounding facilities' heating and air conditioning units can be stored in the key cabinets. For sets of keys, tamper-proof key ring systems can accommodate several keys on a single ring and keys can be added or removed by replacing a hub, without any need to destroy the ring.
Knowing who has which keys to which locks, when they had them and when they were returned, is a vitally important issue for mall security. Failure to maintain this kind of control can result in opportunities for key mismanagement, which can lead to mild annoyances such as the replacement and cost for lost keys, or to more serious losses, such as theft or personal injury.
Key storage cabinets with automated tracking capabilities are available in a variety of sizes and are ideal for installation in mall security or management offices. Smart, tamper-proof designs help reduce the amount of wall space needed, and systems can be set up to be accessible via pass codes, access cards or biometrics. For additional functionality, the same key cabinets may also be configured with lockers to allow for safe storage of items such as PCs, notepad computers, cash drawers and other valuable devices.
The myriad conveniences of advanced key control systems include messaging and reporting. Notes can be written and stored regarding a key, such as 'leave lights on when exiting room'; then, whenever that particular key is accessed, the note will pop up on the screen.
Software manages the data
The ability to manage all programming, remote functions and reports with a software-driven key management solution provides tremendous value in a shopping mall application. Similar in concept to popular access control systems, a PC-based package of key control management software streamlines and unifies day-to-day operations and activities. Profiles can be assigned for improved user control, and there are various options for tailoring administrative access privileges to specific needs, including reporting or alerting. The system can be set up to send priority email or text alerts to mall management, keeping them informed of the whereabouts of high value keys.
Built-in scheduling capability enables the user to automatically download data to a secure PC. Scheduled e-mail reports that detail what keys are in or out, who has or had them and for how long provide the up-to-date information security management needs to ensure the integrity of physical keys used throughout the mall. If an incident occurs, management can query the system for specific details such as a listing of all transactions between certain times; and when doing a follow up investigation, management can request a report for the hour preceding the incident. Or, immediately following an incident, a report can be generated showing which keys are back in the system and which keys are still out and who last accessed them.
The actionable information provided by the system to mall management optimises their ability to provide a safe and secure environment.
Enhanced security and operational convenience
Automated key control and management systems offer an increased level of security for retail environments by preventing unauthorised key access and reducing the incidence of lost or misplaced keys. As well, the streamlined procedure for accessing keys offers several advantages to users and management. For example, contractors, consultants and others who have been registered in the system with fingerprint identification no longer have to sign in and wait for a key to be issued. They simply place their finger on the key cabinet scanner to open the cabinet and access a key. Emergencies that occur during off hours can be more readily acted upon because contractors can access keys without having to wait for property management to arrive on scene.
Whether one goes to the mall to shop, go to a movie or have a meal, key management systems are helping to keep the environment safe.
For more information, contact Morse Watchmans, +1 203 264 4949, morse@morsewatchman.com, www.morsewatchmans.com
Further reading:
Turnstar ramps up countermeasures
Turnstar Systems Editor's Choice Access Control & Identity Management News Products
Turnstar has developed and patented an early warning and deterrent system which will alert security, and anyone nearby, of any attempt to place ramps over the raised spikes.
Read more...
---
Suprema integrates biometric access control with Genetec
Suprema News CCTV, Surveillance & Remote Monitoring Access Control & Identity Management
Suprema has announced the successful integration of its biometric access control products with Genetec Security Center, a unified security platform that connects security systems, sensors and data in a single intuitive interface.
Read more...
---
IDEMIA South Africa achieves level 1 B-BBEE status
IDEMIA News Access Control & Identity Management
As part of the action plan to improve its status to Level 1, IDEMIA now works with over 40 black-owned local suppliers, representing over 30% of IDEMIA's local suppliers.
Read more...
---
Suprema no. 1 in the global biometric market excluding China
Suprema News Access Control & Identity Management
According to the latest report by Omdia, a global market research firm, Suprema ranks first in global market share, excluding China, in the field of biometric readers.
Read more...
---
Dahua and Yeastar PBX-intercom integration
Dahua Technology South Africa News Access Control & Identity Management
Dahua Technology and Yeastar announced their new ECO partnership on PBX-intercom integration to provide a comprehensive and unified communication solution for small- and medium-sized enterprises.
Read more...
---
Traka launches experience centres
News Access Control & Identity Management
Traka launches inaugural Experience Centres in Australia and South Africa; aims to drive continuous collaboration and innovation.
Read more...
---
New platform for keyless access
Access Control & Identity Management
The new ABLOY CUMULUS platform for keyless access combines locking hardware with secure access and management applications in a single ecosystem with a risk-free, integrated cloud service.
Read more...
---
The importance of staying up to date
Access Control & Identity Management Government and Parastatal (Industry)
Africa's cyber threat landscape is constantly evolving, with government's facing a range of digital threats from espionage, critical infrastructure sabotage, organised crime and combat innovation.
Read more...
---
Dynamic Drop Arm Barrier
Turnstar Systems Access Control & Identity Management
Suited to medium-volume access and medium-level security applications such as office reception areas, health clubs, universities and libraries, the Dynamic Drop Arm Barrier also allows special needs access.
Read more...
---
Automatic tyre spike industrial vehicle barrier
Turnstar Systems Access Control & Identity Management
The Turnstar Velocity Raptor automatic tyre spike industrial barrier, with SwiftDrive technology, is aimed at high-volume and high-security access applications such as parkades, shopping centres, residential estates and airports.
Read more...
---