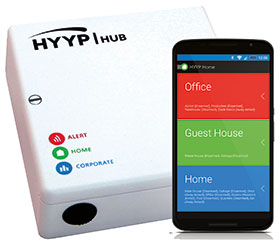 HYYP secures GPRS communications
August 2016, Perimeter Security, Alarms & Intruder Detection, Products
Radio and telephone lines are the de facto communications channel, but GPRS communications are now widely accepted as a superior communications channel with a number of market players now offering solutions in this space. The key advantages of GPRS over current communication channels are:
• Faster, secure and more detailed event communications.
• Nationwide signal coverage.
• Full base station and server redundancy and supervision.
• No more licensing, signal or network issues.
IDS now offers a full featured GPRS monitoring solution called HYYP designed specifically to enhance and secure your current communications platform. Through a specifically designed network structure, HYYP is also able to offer you unparalleled visibility of your operations, through tailored device management, outages notification tools and full remote access viewing of all your base-station and transmitters via its proprietary Smart Platform. Control rooms are now also able to remotely access approved panels for event pulling, control and device management.
Always cognisant of consumer demands HYYP has also incorporated a user application offering full control and visibility of panel status, basic home automation and status.
For more information contact IDS (Inhep Digital Security), +27 (0)31 705 1373, marketing@idsprotect.com, www.idsprotect.com