printer friendly version
New Druid magic from Nemtek
August 2016 Products, Perimeter Security, Alarms & Intruder Detection
The Druid 28 LCD energiser from Nemtek has two independently monitored and controlled zones, each zone can be set to on/off or high/low voltage modes. A four-zone system can also be created by linking two Druid 28 energisers using a Druid four-zone keypad.
Using Adaptive Power Technology (APT), patented by Nemtek, this energiser offers a new method of detecting how much power a fence can accept and handle before it starts to arc and waste energy, thus maximising the power efficiency on the fence. As changes in the surrounding environment can affect a fence's efficiency, the APT actively analyses the fence and adapts the transfer of power as required to ensure maximum performance. They are therefore a good choice for coastal areas where the salt build-up during the dry season can result in increased power losses along the fence.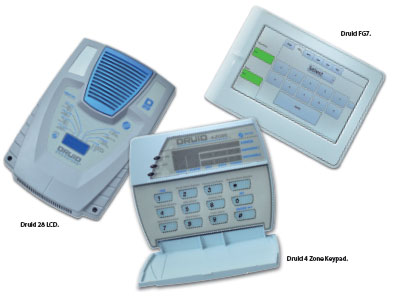 Another new product from Nemtek is the Druid Controller FG7, a 7-inch LCD screen with touch pad that can be used to control up to 32 Druid two-zone energisers, providing up to 64 zones. A graphic image of the site with zones, fences and energiser conditions can be displayed on the LCD screen.
Commands can also be sent to the energisers using the touchpad and logs containing system details are all recorded. The FG7 can be configured to allow TCP/IP connectivity for integration with third-party software and systems.
On the software side, the Nemtek Druid fence probe provides computer interaction with one FG7 controller. A visual map can provide images of the electric fence and its zones, displayed on a computer screen. This software allows a site to be controlled from a remote location.
Druid 28 specifications
• Large LCD display shows information which is quick and easy to read.
• The background colours of the LCD display provide a quick-glance indication of the energiser status without the user having to approach the unit in order to read the display. For example, green indicates all is fine, orange indicates that attention is required and red indicates an alarm condition. The coloured lights are visible from a distance.
• The Druid LCD range can accept up to two keypads to remotely control the energiser.
• The Quick Walk test mode on the system offers the installer a quick test facility to walk the fence and test it.
• A high voltage monitor will raise an alarm when the live wires are tampered with, while an earth wire monitor raises an alarm when there is tampering with the earth wires.
• It can also be connected to an armed response radio.
• The gate monitor input monitors the position of a gate to indicate if it is open.
• Lightning and power surge suppression is built in to reduce the possibility of damage due to power surges.
• The units include an internal battery backup system in case of power failure.
For more information, contact Nemtek, +27 (0)11 462 8283/4, www.nemtek.com
Credit(s)
Further reading:
Gallagher launches Tech Talk
Gallagher News Access Control & Identity Management Perimeter Security, Alarms & Intruder Detection
Gallagher has announced the launch of its new Security in Focus podcast series called Tech Talk, hosted by chief technology officer Steve Bell.
Read more...
---
Hikvision releases panoramic camera range with ColorVu
Hikvision South Africa CCTV, Surveillance & Remote Monitoring Products
Hikvision has released a new range of panoramic cameras that use integrated ColorVu technology to provide vivid and full-colour video imaging for a wide field of view in light conditions as low as 0,0005 lux.
Read more...
---
Water deluge fire suppression system
FS Systems Editor's Choice Fire & Safety Mining (Industry) Products
The FS Group custom-designed and installed an electronically actuated water deluge fire suppression system for an underground explosives magazine, ensuring both the safety of miners and operations, as well as regulatory compliance.
Read more...
---
MOTOTRBO R7 two-way radio
Products
MOTOTRBO's rugged construction is ready for harsh environments, and its advanced connectivity options get your workforce ready for tomorrow.
Read more...
---
New Hikvision cameras for SMB users
Hikvision South Africa Products
Hikvision has introduced its new range of security cameras – the PT-Series – designed for SMB users, with easy installation and flexible camera viewing angles, while applying other well-known Hikvision technologies for optimal imaging.
Read more...
---
Next generation boom gate
ZKTeco Products
The BG1000 series barrier gates adopt ZKTeco's interactive LED chassis design, programmable control panel, and a high-efficiency brushless DC motor.
Read more...
---
All-mobile people management solution with facial recognition
Editor's Choice Integrated Solutions Security Services & Risk Management Products
The new mobile Incident Desk People Management platform with facial recognition combines identification data on suppliers, staff, sub-contractors and even people on watch lists, for less than the cost of traditional service management tools.
Read more...
---
What to consider when choosing a power backup plan
Products Smart Home Automation
Electricity is set to double in price in the next five years, and load-shedding will be an ongoing occurrence for at least the next decade.
Read more...
---
Controlled access on BRT system bridge
Turnstar Systems Products
Turnstar's traffic barriers provide the City of Johannesburg with eight fully-retractable hydraulic bollards for the flagship Alexandra to Sandton bridge.
Read more...
---
Gallagher releases Command Centre v8.70
Gallagher News Integrated Solutions Products
Command Centre v8.70 introduces a range of features and enhancements to create operational efficiencies and improved site security, including a next-generation integration with HALO Smart Sensors.
Read more...
---