printer friendly version
Modular remote monitoring
August 2016 CCTV, Surveillance & Remote Monitoring, Perimeter Security, Alarms & Intruder Detection, Integrated Solutions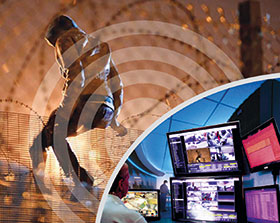 Remote monitoring is based on the use of CCTV cameras on a client's site. These sites can be situated at any location around the country, which can be monitored and viewed in a secure control room environment.
Modular's control room and reliable network design enables the ability to monitor clients' CCTV installations from a central point anywhere in the country, in an efficient manner by trained CCTV operators that follows its own as well as client specific procedures. This enables Modular to keep the guards on site alert, as well as doing virtual patrols of the site on the hour.
The control room operators can also monitor and manage stock control at goods receiving and dispatch points as well as access control. The most critical part of offsite monitoring is detecting intruders on the perimeter of the site. Modular does this by incorporation of Acoust Alert PIDS onto the perimeter as an early warning system.
Acoust Alert is fitted onto the perimeter walls and picks up any form of vibration, cuts, bumps, and climbs on the perimeter fence. The alarms generated by Acoust Alert are integrated to the CCTV system and generates an audible alarm as well as switches the relevant camera in the area onto the control room operator's alarm/viewing station the moment any of the aforementioned conditions triggers an alarm. The control room staff can then take action and alert the guards on site as well as the police and the company's armed response units to the intrusion.
Modular also installs a PA and automated messaging system as part of the solution where the operator can broadcast a message to the site to scare off the intruder. This PA system also has automated messages that gets broadcasted to the site at regular intervals to alert possible intruders to the fact that the site is monitored live by CCTV operators. This works as an excellent deterrent for possible intruders.
To list just a few positive factors which have come from clients using Modular's remote monitoring service:
• Break-ins have been reduced.
• Intruders breaking into clients' premises have been apprehended.
• Guards have an immediate second reference with the control room to consult.
• Guards are more confident and feel safer doing their patrols around the property.
• Clients get a daily report about their site.
• Clients know who will have access to the properties 24/7/365.
• No guards are sleeping on duty as operators make calls to the site in 15 minute intervals.
• No collusion with intruders and criminals possible as guards don't have access to gate control after hours.
• No unauthorised access or removal of property.
• Operators ensure that guards conduct access control inspections and searches.
Modular Communication's offsite control room is based in Port Elizabeth and monitors sites around the country. The control room is a model installation of how a control room should be constructed, mechanically and technologically and has strict control room and site specific operational procedures.
For more information contact Michelle Rohroff, Modular Communications, +27 (0)41 364 2653, [email protected], www.modular.co.za
Credit(s)
Further reading:
Antarctic surveillance
Dahua Technology South Africa CCTV, Surveillance & Remote Monitoring
Dahua Technology donated 15 security cameras to different scientific bases in the Argentine region of Antarctica; the cameras were especially developed to handle the harsh climate and extreme weather conditions in the area.
Read more...
---
31 percent of all IoT SIMs managed with third-party IoT CMPs
News Integrated Solutions
Berg Insight recently released new findings about the market for IoT connectivity management platforms (CMPs), a standard component in the value proposition from mobile operators and IoT MVNOs around the world.
Read more...
---
Deep learning engine set to supercharge end-to-end solutions
CCTV, Surveillance & Remote Monitoring
IDIS, manufacturer of South Korean-made video technology, will be displaying an exciting line-up of end-to-end video solutions that include the latest advances in AI-powered video analytics for businesses of any size, at this year's Intersec.
Read more...
---
Realistic image quality even in dark environments
Dahua Technology South Africa CCTV, Surveillance & Remote Monitoring
The 4K video surveillance market size is expected to grow at 9 percent CAGR (compound annual growth rate), which is primarily driven by the increasing demand for public safety and security services.
Read more...
---
Cloud-based forensic video searching
CCTV, Surveillance & Remote Monitoring
Arcules introduces Forensic Video Search to empower rapid event identification within its video cloud service, providing a critical tool to help businesses identify specific objects or events in seconds.
Read more...
---
Minimising fire risks in automotive logistics
Hikvision South Africa CCTV, Surveillance & Remote Monitoring Products Logistics (Industry)
Automotive logistics company uses thermal imaging solution from Hikvision to ensure its stores of lithium batteries for electric vehicles never overheat and cause a fire.
Read more...
---
Axis launches P3265-LVE dome camera
Axis Communications SA Products CCTV, Surveillance & Remote Monitoring
Based on ARTPEC-8 — the latest Axis system-on-chip (SoC) — Axis' latest dome high-performance camera includes a deep learning processing unit (DLPU), and cybersecurity features.
Read more...
---
Smart home security
Olarm Smart Home Automation Perimeter Security, Alarms & Intruder Detection Products
The applied use of smart technology within the Olarm ecosystem, through smart features coupled with existing systems, extends the benefits of technology into different spheres.
Read more...
---
Smart car parking solution eases traffic flow
Dahua Technology South Africa CCTV, Surveillance & Remote Monitoring Integrated Solutions Products
Ethiopia's first smart parking lot, designed to improve traffic flow and management efficiency, has been built and installed using Dahua Technology's smart parking solutions.
Read more...
---
VMS 7.2 supports the investigation process and adds cloud capabilities
CCTV, Surveillance & Remote Monitoring Integrated Solutions Products
Qognify has launched the second release of its VMS, including extended support for body-worn video, additional functionalities to support investigations, and a new web client architecture. VMS 7.2 addresses the increasing use of body-worn video (BWV) across many sectors.
Read more...
---