printer friendly version
More secure governing
July 2016
Security Services & Risk Management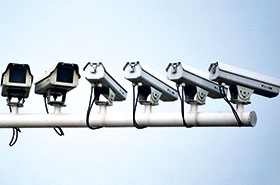 Although governmental buildings and offices, particularly those made accessible to the public, have access control, most of these properties do not otherwise have effective overall security. It is very easy once you have come in at the main entrance to go anywhere inside the building. As it often occurs, health & safety and security are confused and thought about as being the same thing. The reality is that they are not. They can be at the opposite ends of the spectrum at times. These buildings have an OHS report. None of them have their security risk assessment documentation in hand.
To my understanding, governmental properties usually make use of the tender process to procure security services, installations, and upgrades. I have no qualms against this method, but would like to suggest an improvement to enrich this process. This will ensure that the correct security action is taken from the very beginning.
I have always wondered how the specs of the tender are derived. A vast majority of governing boards that I have encountered do not always have an individual onboard with the necessary security knowledge or background. This makes it even harder for them to make the correct decisions in choosing the best security solutions. Tender applications usually consist of only a spec sheet and the price. If you are not familiar with the product or security in general; it could be very confusing.
Most of the time, the end-user doesn't even understand what all the listed specs mean or what the actual functionality of the product is. It is only after money has been spent and the installation has been completed that many people find that their security is inefficient, incorrect or just not enough. A good security system consists of multiple facets that are interconnected and that complement each other.
Improvements for security tenders
There are two ways in which to approach these improvements. The first is for the governing board to contract an independent security risk consultant to assess their properties. All risks in regards to their physical security will be identified and explained. This will give them a definite guideline of what to request in the tender. They will also be able to judge all applicants on the same standard. Security will be based on a strong, solid foundation.
Additionally, the independent assessor will be able to help them by reviewing and explaining the recommendations made by applicants. He will be able to weed out the best solutions from the lot and to advise the board what will work for their unique secur-ity situation. The security risk assessment will also grant better budget planning. Security costs will be stabilised and can be spread out in phases over time. It is also not uncommon for the board to increase the initial security budget. This is because they now understand the risk. They will see why certain measures, upgrades, and installations are needed.
Experience has also shown that the good, professional security companies that you actually need do not always compete in the tender process. More often than not you are sitting with a handful of small companies that are not always able to provide a good service or handle a big contract. The assessor can approach the best companies on behalf of the governing body and invite them to tender for the project. As part of the assessment, the independent consultant would have already conferred with those offering the best solutions. He will thus be able to indicate to the board who the cream of the crop is.
The second method is to ask all tender applicants to hand in their own security risk assessment report with their applications. This will allow the board to see how the solutions were derived and if all the risk will effectively be addressed. It will show that the security company has done its homework and that the recommendations are not just founded on guesswork. This second method may be the better solution.
For more information contact Alwinco, +27 (0)62 341 3419, andre@alwinco.co.za, www.alwinco.co.za
Credit(s)
Further reading:
Ransomware predictions
Issue 1 2020 , Security Services & Risk Management
As we enter a new decade, Simon Jelley, VP of product management at Veritas, explores how ransomware is likely to continue evolving in the year ahead.
Read more...
---
The HR environment in 2020
Issue 1 2020, iFacts , Security Services & Risk Management
As 2020 grabs hold of every one of us with great intent, we need to know what to be aware of when employing people or appointing vendors for our business.
Read more...
---
The instruments for investigation
Issue 1 2020, Technews Publishing , Security Services & Risk Management
Regardless of the reason for investigation, the investigation is only as good as the investigators.
Read more...
---
Nothing holds Eudricht back
Issue 1 2020, Sensor Security Systems , Security Services & Risk Management
In this personality profile, Eudricht Kotze talks of his journey overcoming adversity in the security industry.
Read more...
---
Leaders in risk and security: You have to know it to manage it
Issue 1 2020, Technews Publishing , Security Services & Risk Management
Hi-Tech Security Solutions profiles Nash Lutchman, Senior Vice President and Head of Protection Services at Sibanye-Stillwater.
Read more...
---
Drilling deeper into essential building management systems
Issue 1 2020 , Security Services & Risk Management
As the demand for the automation of security and other systems in buildings and large construction sites around the world grows, we are seeing an increase in the demand for building management systems.
Read more...
---
From physical security to cybersecurity
Access & Identity Management Handbook 2020, Genetec , Cyber Security, Security Services & Risk Management
Genetec discusses the security-of-security concept as a means to protect cameras, door controllers and other physical security devices and systems against cybercriminal activity.
Read more...
---
Biometrics in identity
Access & Identity Management Handbook 2020 , Access Control & Identity Management, Security Services & Risk Management
With multiple identity providers offering to manage digital identities for the general public, the root identity – the single sovereign trusted identity upon which all others are based – must start with government.
Read more...
---
Success lies in planning
November 2019, Vox Telecom , Security Services & Risk Management
A safe and smart city will only be successful if it is planned properly, if there is buy-in from all the stakeholders and if it is managed efficiently.
Read more...
---
Matching governance to context
November 2019, ContinuitySA , Security Services & Risk Management
When building resilience and planning for business continuity, take proportionality to heart, advises Michael Davies, CEO of ContinuitySA.
Read more...
---