printer friendly version
More secure governing
July 2016
Security Services & Risk Management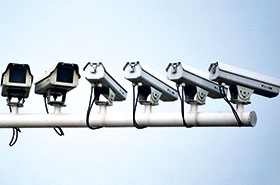 Although governmental buildings and offices, particularly those made accessible to the public, have access control, most of these properties do not otherwise have effective overall security. It is very easy once you have come in at the main entrance to go anywhere inside the building. As it often occurs, health & safety and security are confused and thought about as being the same thing. The reality is that they are not. They can be at the opposite ends of the spectrum at times. These buildings have an OHS report. None of them have their security risk assessment documentation in hand.
To my understanding, governmental properties usually make use of the tender process to procure security services, installations, and upgrades. I have no qualms against this method, but would like to suggest an improvement to enrich this process. This will ensure that the correct security action is taken from the very beginning.
I have always wondered how the specs of the tender are derived. A vast majority of governing boards that I have encountered do not always have an individual onboard with the necessary security knowledge or background. This makes it even harder for them to make the correct decisions in choosing the best security solutions. Tender applications usually consist of only a spec sheet and the price. If you are not familiar with the product or security in general; it could be very confusing.
Most of the time, the end-user doesn't even understand what all the listed specs mean or what the actual functionality of the product is. It is only after money has been spent and the installation has been completed that many people find that their security is inefficient, incorrect or just not enough. A good security system consists of multiple facets that are interconnected and that complement each other.
Improvements for security tenders
There are two ways in which to approach these improvements. The first is for the governing board to contract an independent security risk consultant to assess their properties. All risks in regards to their physical security will be identified and explained. This will give them a definite guideline of what to request in the tender. They will also be able to judge all applicants on the same standard. Security will be based on a strong, solid foundation.
Additionally, the independent assessor will be able to help them by reviewing and explaining the recommendations made by applicants. He will be able to weed out the best solutions from the lot and to advise the board what will work for their unique secur-ity situation. The security risk assessment will also grant better budget planning. Security costs will be stabilised and can be spread out in phases over time. It is also not uncommon for the board to increase the initial security budget. This is because they now understand the risk. They will see why certain measures, upgrades, and installations are needed.
Experience has also shown that the good, professional security companies that you actually need do not always compete in the tender process. More often than not you are sitting with a handful of small companies that are not always able to provide a good service or handle a big contract. The assessor can approach the best companies on behalf of the governing body and invite them to tender for the project. As part of the assessment, the independent consultant would have already conferred with those offering the best solutions. He will thus be able to indicate to the board who the cream of the crop is.
The second method is to ask all tender applicants to hand in their own security risk assessment report with their applications. This will allow the board to see how the solutions were derived and if all the risk will effectively be addressed. It will show that the security company has done its homework and that the recommendations are not just founded on guesswork. This second method may be the better solution.
For more information contact Alwinco, +27 (0)62 341 3419, andre@alwinco.co.za, www.alwinco.co.za
Credit(s)
Further reading:
The benefit of thermal screening
Issue 4 2020, Technews Publishing, Sensor Security Systems , Security Services & Risk Management
How preventive screening with thermal cameras can help in the fight against COVID-19.
Read more...
---
Resilience is critical for post-COVID business success
Issue 4 2020, ContinuitySA , Security Services & Risk Management
Of the many lessons we have to learn from the current emergency, perhaps the most crucial one is to ensure that business strategy and operations are founded on resilience.
Read more...
---
Post-Coronavirus communications: kick start your small business
Issue 4 2020 , Security Services & Risk Management
In these uncertain times, how should small companies and startups in the business-to-business domain recommence their selling and communication processes?
Read more...
---
The dashboard of the future
Issue 4 2020 , Security Services & Risk Management
Web-based Electronic Signature Dashboard offers quick access to eSignatures within the necessary legal parameters and incorporating advanced security.
Read more...
---
The end of blind alarms
Issue 3 2020 , Security Services & Risk Management, Perimeter Security, Alarms & Intruder Detection
Today's alarms should be supplemented by visual verification to ensure that guards are not dispatched to false alarms, wasting time and money.
Read more...
---
Is cash crime on lockdown this Easter?
Issue 3 2020 , Security Services & Risk Management
While Easter is generally a peak trading season for retailers, this has also always been one of the busiest times of the year for criminal activity – particularly at a retail level, as cash volumes rise ...
Read more...
---
Coronavirus scams abound
Issue 3 2020, Duxbury Networking , Security Services & Risk Management
Disturbingly, hackers are active even during times of global disaster, as evidenced in the various cyber-scams doing the rounds in the recent weeks.
Read more...
---
Now is the time to look for those hidden opportunities
Issue 3 2020 , Security Services & Risk Management
Now is the time to showcase your capabilities, to ensure that once the market turns, existing and potential clients know exactly what value you can offer.
Read more...
---
The COVID-19 lessons business must learn
Issue 3 2020, ContinuitySA , Security Services & Risk Management
Although the crisis is still unfolding, it's already clear that building resilience into your organisational DNA is more important than ever.
Read more...
---
All employees do it
Issue 3 2020 , Security Services & Risk Management
SearchInform analytics has summed up the most frequent security incidents detected in client companies.
Read more...
---