printer friendly version
More secure governing
July 2016
Security Services & Risk Management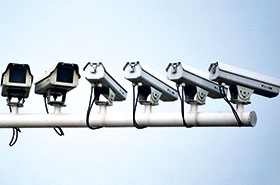 Although governmental buildings and offices, particularly those made accessible to the public, have access control, most of these properties do not otherwise have effective overall security. It is very easy once you have come in at the main entrance to go anywhere inside the building. As it often occurs, health & safety and security are confused and thought about as being the same thing. The reality is that they are not. They can be at the opposite ends of the spectrum at times. These buildings have an OHS report. None of them have their security risk assessment documentation in hand.
To my understanding, governmental properties usually make use of the tender process to procure security services, installations, and upgrades. I have no qualms against this method, but would like to suggest an improvement to enrich this process. This will ensure that the correct security action is taken from the very beginning.
I have always wondered how the specs of the tender are derived. A vast majority of governing boards that I have encountered do not always have an individual onboard with the necessary security knowledge or background. This makes it even harder for them to make the correct decisions in choosing the best security solutions. Tender applications usually consist of only a spec sheet and the price. If you are not familiar with the product or security in general; it could be very confusing.
Most of the time, the end-user doesn't even understand what all the listed specs mean or what the actual functionality of the product is. It is only after money has been spent and the installation has been completed that many people find that their security is inefficient, incorrect or just not enough. A good security system consists of multiple facets that are interconnected and that complement each other.
Improvements for security tenders
There are two ways in which to approach these improvements. The first is for the governing board to contract an independent security risk consultant to assess their properties. All risks in regards to their physical security will be identified and explained. This will give them a definite guideline of what to request in the tender. They will also be able to judge all applicants on the same standard. Security will be based on a strong, solid foundation.
Additionally, the independent assessor will be able to help them by reviewing and explaining the recommendations made by applicants. He will be able to weed out the best solutions from the lot and to advise the board what will work for their unique secur-ity situation. The security risk assessment will also grant better budget planning. Security costs will be stabilised and can be spread out in phases over time. It is also not uncommon for the board to increase the initial security budget. This is because they now understand the risk. They will see why certain measures, upgrades, and installations are needed.
Experience has also shown that the good, professional security companies that you actually need do not always compete in the tender process. More often than not you are sitting with a handful of small companies that are not always able to provide a good service or handle a big contract. The assessor can approach the best companies on behalf of the governing body and invite them to tender for the project. As part of the assessment, the independent consultant would have already conferred with those offering the best solutions. He will thus be able to indicate to the board who the cream of the crop is.
The second method is to ask all tender applicants to hand in their own security risk assessment report with their applications. This will allow the board to see how the solutions were derived and if all the risk will effectively be addressed. It will show that the security company has done its homework and that the recommendations are not just founded on guesswork. This second method may be the better solution.
For more information contact Alwinco, +27 (0)62 341 3419, andre@alwinco.co.za, www.alwinco.co.za
Credit(s)
Further reading:
Putting secondary storage to work
September 2019 , IT infrastructure, Security Services & Risk Management
By 2022, more than 80% of enterprise data will be stored in scale-out storage systems in enterprise and cloud data centres, up from 40% in 2018.
Read more...
---
ContinuitySA offers Complete Continuity Practitioner in October
September 2019, ContinuitySA , Training & Education, Security Services & Risk Management
ContinuitySA is offering its popular five-day Complete Continuity Practitioner Programme on 21-25 October 2019 at its offices in Midrand.
Read more...
---
Security workforce compliance tool
September 2019 , Security Services & Risk Management
To maintain service excellence across a security workforce is impossible without the help of information systems and technology.
Read more...
---
Call back the past
September 2019, SCAN RF Projects , Security Services & Risk Management
Two-way radios are still very relevant in the security world and have gone through significant advances over the past few years to enable them to keep up with the expectations of people in today?s connected world.
Read more...
---
Proficient operational security management
September 2019 , Security Services & Risk Management
The quest to establish an organised and integrated security operations programme based on a Plan-Do-Check-Act (PDCA) cycle for continuous improvement is paramount for a successful security operation.
Read more...
---
Increase security efficiency, decrease costs
September 2019 , Security Services & Risk Management, Integrated Solutions
Trackforce offers customisable mobile and web applications to increase security operational efficiency and lower costs.
Read more...
---
Accurate guard tracking and management
September 2019, Secutel Technologies , Security Services & Risk Management, Products
There are many challenges when it comes to effectively managing and tracking a guarding workforce in real time.
Read more...
---
X-rays in 3D
September 2019, XPro Security Solutions , Editor's Choice, Security Services & Risk Management
Hi-Tech Security Solutions asked Greg Dixon, director of XPro, for some insights into X-ray scanning and its pros and cons in today?s volatile world.
Read more...
---
Smart Inspection Unit developed by Roteck
September 2019 , Editor's Choice, Security Services & Risk Management
Roteck has announced a portable personnel and bag scanning unit that can easily be transported, set up and used in almost any location.
Read more...
---
Mobile guards on patrol
September 2019, Dahua Technology South Africa , CCTV, Surveillance & Remote Monitoring, Security Services & Risk Management
Dahua Technology developed mobile ?Video Guards? along with a complete solution for a security service company in Germany.
Read more...
---