printer friendly version
Intruders? There's an app for that!
July 2016 Perimeter Security, Alarms & Intruder Detection, IT infrastructure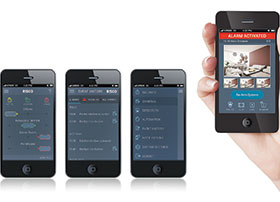 The ability to remotely monitor and interact with home and business intruder detection systems has driven the development of intelligent mobile device apps. While there is a proliferation of these apps, similarly to all technology on the market, not all of them are equally up to the task of providing a direct line of communication for business and homeowners. Users need to be aware of the large disparity in app quality and also need to be cognisant of the fact that some apps are proprietary, while others are generic.
This is according to Jack Edery, CEO of Elvey, who says that on the whole, users are comfortable using their mobile devices to log into their remote security systems and have taken the concept a step further by being able to control not only security devices but also other systems that could include HVAC and lighting.
With over 2.6 billion active smartphone (excluding other smart devices) users globally and an anticipated 6.1 billion smartphones in circulation by 2020, there is little doubt that an increasing number of security system owners will leverage the benefits of mobile apps.
There are a number of advantages to using mobile security management apps to interact with your security system, foremost of which is the flexibility this provides you, irrespective of where you are currently located. In turn, productivity is enhanced since multiple locations can be managed from one device. Certain research has found that business owners attributed a 25% increase in productivity to their ability to work remotely.
By adding email and text alerts to systems, business and homeowners are able to stay on top of security system monitoring as events happen. This means faster response times and ultimately, fewer losses.
Elvey has two apps which complement their Tyco PowerSeries and RISCO intruder detection product ranges. The PowerSeries Neo Go app from Tyco has an interactive menu with multiple languages for ease of use. The app allows users to manage up to eight partitions individually in Away, Stay and Night Mode arming options. Compatible with both iOS and Android devices, the app is also compatible with all Power Neo panels and provides the ability to check the status of wireless and hardwired zones. In addition, users can remotely bypass zones, check system faults and institute real-time push notification for alarms, tampering, faults and system event.
The iRISCO app from RISCO allows users to conveniently and remotely arm and disarm security systems. The latest version of the app has enhanced system operations, whereby users can navigate the app during alarms without the need to re-arm or disarm the system. Images and video can also be zoomed-in, viewed to fit the screen and rotated to landscape mode for more flexible viewing.
This live video verification solution seamlessly integrates RISCO's indoor and outdoor IP cameras with the company's professional security systems. Users can monitor intrusion events using snapshot images and live video directly on the intuitive interface. Alerts and live video are sent in real-time, ensuring the ability to instantaneously react to events for extended peace of mind.
"There has been much consternation around the risks associated with the use of cloud-based services and mobile apps. However, RISCO has designed its system to deliver higher levels of security than many traditional on-premise solutions. Using its own cloud-based services to control and access its security and intrusion systems on the renowned Microsoft Azure platform, the company assures the highest levels of security, data protection and data privacy," Edery points out.
"The benefits of mobile security applications, combined with cloud based solutions like hosted or managed services for intruder detection, video and access control systems, are very clear. This holistic package will help users in terms of increased flexibility, greater mobility, and improved peace of mind," Edery concludes.
Credit(s)
Further reading:
Ensuring a seamless ultra-wideband ecosystem
September 2019 , Editor's Choice, IT infrastructure
FiRa consortium ensures an interoperable ultra-wideband technology ecosystem across chipset, device and service infrastructure through standards and certifications.
Read more...
---
Highly adaptable wireless mesh network solution
September 2019, Duxbury Networking , Products, IT infrastructure, Residential Estate (Industry)
Rajant's Living Network infrastructure evolves and adapts to your growing and changing connectivity requirements.
Read more...
---
Modular fibre-optic patch panel
September 2019, Jasco Trading t/a Webb Industries , Products, IT infrastructure
Telegärtner's Fibre Termination Box facilitates customised cabling in locations where large numbers of apartments or buildings have fibre-optic outlets installed.
Read more...
---
Wi-Fi access points for SMMEs and startups
September 2019, Duxbury Networking , Products, IT infrastructure
Aruba Networks? latest offering, Instant On, delivers reliable, easy-to-manage network technology for small businesses.
Read more...
---
Network switch for solar applications
September 2019, Duxbury Networking , Products, IT infrastructure
Duxbury Networking has released the latest addition to the Duxbury network switch range, a solar switch ideal for remote locations.
Read more...
---
Visitor access control at Ruimsig Country Club
September 2019, Elvey Security Technologies , Access Control & Identity Management, Products
Cost-effective access control solution that would control the ingress and egress of people, without hindering the traffic throughput of members.
Read more...
---
Securing Savannah Hills Estate
August 2019, Rhyco Risk Projects , CCTV, Surveillance & Remote Monitoring, Perimeter Security, Alarms & Intruder Detection
Savannah Hills Estate in Midrand planned a security upgrade which was awarded to Rhyco Risk Projects. The project started in March 2019 and was completed in May 2019.
Read more...
---
How far are we really at with artificial intelligence?
August 2019, Axis Communications SA , Editor's Choice, CCTV, Surveillance & Remote Monitoring, IT infrastructure, Residential Estate (Industry)
Justin Ludik unpacks exactly how far AI has come and what it potentially can do for society and more importantly, surveillance.
Read more...
---
Multiple methods for motion detection
August 2019, Axis Communications SA , Perimeter Security, Alarms & Intruder Detection
There are strengths and weaknesses with all motion detection solutions, and their effectiveness will be dictated by the environment and the components they are being used with.
Read more...
---
Ensuring your electric fence is compliant
August 2019, Stafix , Perimeter Security, Alarms & Intruder Detection, Security Services & Risk Management
A challenge facing both existing and potentially new perimeter electric fence installations is how to economically meet the legal requirements required in the SANS 10222-3:2016 standards document.
Read more...
---