printer friendly version
Hosted security a growth market
July 2016 Editor's Choice, Access Control & Identity Management
Hosting is in. In almost every market and industry around the world, companies and individuals have been persuaded to host many of their systems and applications with a service provider. The idea is that you no longer have to worry about technology, but simply use whatever you need as a service.
Accounting software is a good example of this. In the past, companies would have their own accounting software installed on site, probably on the accountant's computer, from where the financial person or people would manage the business's money.
Today these same accounting packages are not sold on a CD, but as a service. To use the software you log onto a site on the Internet and away you go. No updates are required, no hardware specifications, all you need is a web browser and faith that your service provider can protect your sensitive financial information.
In the security world, things are going the same way. Hi-Tech Security Solutions has regular features on remote monitoring and hosted services. Many companies out there are looking to rent you a surveillance solution (or any number of other solutions) for a monthly fee. In return, they promise to look after the hardware and make sure it's working, while often also providing monitoring services.
The benefits they offer are impressive. You don't have to lay out a large chunk of cash or get a loan to pay for the solution as you rent it month to month. All the additional costs one often forgets, like maintenance and repairs are included so there are no surprises. And you get tax breaks.
What's not to like?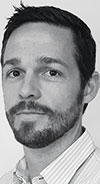 Barry East, sales and marketing director, Impro Technologies.
When discussing hosted solutions, the question of privacy often comes up. Who has access to your data or to your video feeds etc.? To get under the hood of a hosted solution from a local company, Hi-Tech Security Solutions asked Barry East, sales & marketing director of Impro Technologies for some insights into the company's solution.
Impro has a long history in the South African market and manufactures locally as well. So, what is it doing in terms of hosting and how have clients reacted to the option of paying for a service?
East explains that Impro's access control software, Access Portal, is available as a single site installation in the cloud. The traditional access hardware, such as the door controllers and readers are still installed on site naturally, however the operator and management software is hosted in the cloud.
It is also where one enrols personnel, such as employees, into the system. All configuration changes and tag holder details are downloaded to the hardware on the site as and when they happen. The hardware then requires no real-time interaction with the server to operate 100% as configured – a critical factor in an environment where connectivity may not be reliable.
"This software is at the heart of the access control solution, East says. "This is where the rules for access are created, or where operators are able to view live actions on the site. Authorised personnel at the client's business can access reports from the site as well."
Where there are bandwidth issues, Impro's solution can also make use of high-speed GSM connectivity. "Through the continued investment and drive of the GSM sector, it has had a strong ripple effect onto other industries such as ours because we are able to use GSM as a backup solution for our cloud services.
"For example, a customer may have a fixed line connection, however, we'll install a dual SIM GSM backup system so that if their fixed line should fail, they're still able to access their system 24/7. In addition, Impro's hardware has been designed so it's not reliant on a live connection to the server, allowing it to operate in environments with intermittent connectivity."
Different, but the same
While the service provided may carry the 'hosted' tag, the result isn't really any different to a traditional onsite solution. East says that the service is the same as the traditional onsite solution in that customers receive the same functions and features. The benefits, however, are that the client doesn't require a full IT infrastructure, servers and the associated skills to maintain and manage that infrastructure.
"In addition, the service can be rapidly expanded even if there is no fixed line infrastructure in place – often a challenge in more remote locations, or when going into certain African locations," he notes.
When it comes to security, East says the threat to security data is the same as it would be for any Internet connected server – whether in the cloud or on premise. The key is to ensure the correct measures are taken to mitigate and prevent any illegal breach. This is where a cloud or hosted solution may be a better option for some customers, as they are able to pass that responsibility onto their service provider.
"At Impro, we take the security of data very seriously. To this end, we use high security servers within the Microsoft fold, which provides customers with guaranteed server uptime. These are also coupled with a service level agreement, so in the instance of a problem, customers are assured of resolution within an agreed framework.
"Further to this, we use industry-leading security frameworks for the database. To further enhance the data protection, client connectivity to the cloud server is through HTTPS with security certificates."
Some like it, some don't
East has found that the market is split over the utility or desirability of a hosted solution. He says the market segment is quite specific. At the entry level, companies enjoy the convenience of a hosted cloud solution, however, at medium to large sites they still prefer on-premise solutions.
This is slowly changing as the world evolves with more products going into the cloud. For example, Microsoft Office 365, a cloud based office software suite; or there's Salesforce.com which is a cloud CRM system.
"Big global companies are adopting these technologies and so in the next two to five years I expect we'll see a lot more large companies in South Africa doing the same as they become more accustomed to and trusting of cloud services."
For more information contact Impro Technologies, +27 (0)31 717 0700, vikkiv@impro.net, www.impro.net
Credit(s)
Further reading:
HID addresses identification challenges at ID4Africa
August 2019 , News, Access Control & Identity Management, Government and Parastatal (Industry)
Being able to verify people's identities is critical for a nation's growth and prosperity and yet HID says nearly half of all African citizens can't prove who they are to vote, travel freely and receive government benefits and services.
Read more...
---
Came acquires Turkish company Özak
August 2019, CAME BPT South Africa , News, Access Control & Identity Management
Came broadens its market horizons and signals growth and consolidation in the Middle East.
Read more...
---
Keeping our changing environment secure
August 2019 , Editor's Choice, Security Services & Risk Management
For a crime to take place there needs to be a victim and a criminal who sees an opportunity. For a cybercrime to take place we need the same set of circumstances.
Read more...
---
Augmented security with drones
August 2019, Drone Guards , Editor's Choice, Integrated Solutions
Drone Guards is moving into an untapped market of using drones to secure residential estates and other high-value assets such as mines, farms and commercial properties.
Read more...
---
The importance of real security risk assessments
August 2019, Sentinel Risk Management , Editor's Choice, Security Services & Risk Management, Residential Estate (Industry)
Andy Lawler, MD, Sentinel Risk Management, says a security risk assessment is an onerous task, but is not something estates can consider optional or a luxury item anymore.
Read more...
---
Risk assessment or product placement?
August 2019, Technews Publishing, Alwinco, SMC - Security Management Consultants , Editor's Choice, Security Services & Risk Management, Residential Estate (Industry)
Hi-tech security solutions asked a couple of experts to provide estate managers and security managers with some insights into what a 'real' risk assessment includes.
Read more...
---
How far are we really at with artificial intelligence?
August 2019, Axis Communications SA , Editor's Choice, CCTV, Surveillance & Remote Monitoring, IT infrastructure, Residential Estate (Industry)
Justin Ludik unpacks exactly how far AI has come and what it potentially can do for society and more importantly, surveillance.
Read more...
---
The importance of effective perimeter security
August 2019, Elf Rentals - Electronic Security Solutions, Stafix , Editor's Choice, CCTV, Surveillance & Remote Monitoring, Residential Estate (Industry)
Protecting the perimeter is critical for any residential estate; how does one go about making sure your perimeter is as secure as possible?
Read more...
---
MorphoAccess Sigma Extreme
August 2019, IDEMIA , Products, Access Control & Identity Management
MorphoAccess Sigma Extreme from IDEMIA is a touchscreen device with multiple recognition device interfaces (NFC chip reader, PIN and BioPIN codes, contactless card readers).
Read more...
---
MorphoWave Compact
August 2019, IDEMIA , Products, Access Control & Identity Management
The MorphoWave Compact captures and matches four fingerprints on either the right or left hand in any direction. It is robust to environmental factors such as extreme light or dust.
Read more...
---