printer friendly version
Crime family stopped at the zoo
July 2016 Entertainment and Hospitality (Industry), CCTV, Surveillance & Remote Monitoring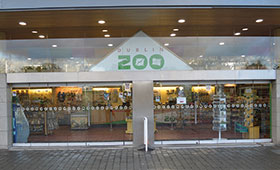 A more comprehensive centralised video management system was needed to manage a growing number of IP cameras that were being deployed to serve a range of needs at Dublin Zoo, including perimeter security, animal welfare, and animal behaviour studies.
Zookeepers also had concerns about a few overnight incidents on Dublin Zoo's flamingos by wild animals. Ostrich egg numbers were down too. Keepers wanted to explore the use of cameras to help study the behaviour, and ensure the welfare, of all animals under their protection.
New Axis thermal and infrared (IR) cameras were integrated with Milestone XProtect Corporate video management software, providing live and recorded video to be viewed on 17 different PC viewing stations around the zoo via XProtect Smart Client. A total of 140 new Axis network cameras were installed by Milestone Expert Certified Partner Kelcom.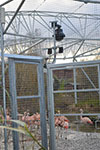 The system provided clear evidence of the taking of ostrich eggs by wild badgers. It also discovered unwelcome late night visits by wild otters that harmed a small number of flamingos. Zookeepers were able to study recordings of these visits and use this intelligence to correctly position humane traps to catch and relocate the perpetrators well away from the zoo. As a result, ostrich egg incidents stopped and the flamingo population began to grow once again.
"Milestone XProtect, together with Axis thermal and infrared cameras installed in our African Savannah habitat, picked up incidents of ostrich eggs being taken by wild badgers. The large eggs were being rolled under a gate, up a hill and then smashed on a rock, whereupon a badger set was getting a tasty meal at our ostriches' expense. We were able to lay humane traps to catch these badgers and then resettle them in the park land beyond the outer perimeter of the zoo," explains Gerry Creighton, operations manager, animal and grounds, Dublin Zoo, Ireland.
The new IP video management system has also proved vital in studying animal behaviours, including group dynamics and sleeping habits.
"Through intensive study of images gathered on the Milestone XProtect video system from infrared cameras installed in the bull and cow elephant houses, we learned a great deal about the varied sleeping patterns of elephants at different ages. Elephants sleep on average about four hours per night. They get this sleep in chunks, which tend to get longer as they get older.
"For example, a young elephant will wake up more than 20 times per night, but older ones may only rise four times between the hours of 12 am and 7 am. That said, the oldest cow of the group – the matriarch – will sleep very little when elephant calves are around, as she sees it as her job to alert them to any impending danger."
Dublin Zoo also has several cameras deployed in the elephant training area, where animals are taught to do a variety of activities, from presenting their feet for a routine pedicure or making it easier for keepers to perform routine medical inspections. Recordings from this training area are sent to Alan Roocroft, a world-renowned expert in elephant behaviour based in San Diego, California.
Alan reviews these recordings each week and talks to Dublin Zoo about any issues via Skype, all without the expense of flying him over to gain these insights. Veterinary consultants can also be sent these recordings if keepers have health concerns for the animals they are looking after.
For more information contact Milestone Systems, +27 (0)82 377 0415, arms@milestonesys.com, www.milestonesys.com
Credit(s)
Further reading:
Why rehearsals and drills for crises and evacuation are so important
August 2019, Leaderware , CCTV, Surveillance & Remote Monitoring, Security Services & Risk Management
The rehearsal of concept (ROC) drill has been used extensively in the military, but is just as important when facing risks in organisations and institutions to protect people on the ground.
Read more...
---
Milestone partners prove their skills
August 2019, Milestone Systems , News, CCTV, Surveillance & Remote Monitoring, Training & Education
Within the span of one week in mid-May, the Milestone Learning & Performance group celebrated important benchmarks: 200 000 course registrations and tutorial views, and 10 000 certifications.
Read more...
---
ONVIF Hosts 20th Developers' Plugfest
August 2019 , News, CCTV, Surveillance & Remote Monitoring
ONVIF, the global standardisation initiative for IP-based physical security products, hosted its twentieth ONVIF Developers' Plugfest in early June in Tokyo.
Read more...
---
Licence plate recognition camera
August 2019 , Products, CCTV, Surveillance & Remote Monitoring
VIVOTEK has introduced a new licence plate recognition camera featuring built-in licence plate recognition software and edge-computing capability.
Read more...
---
How far are we really at with artificial intelligence?
August 2019, Axis Communications SA , Editor's Choice, CCTV, Surveillance & Remote Monitoring, IT infrastructure, Residential Estate (Industry)
Justin Ludik unpacks exactly how far AI has come and what it potentially can do for society and more importantly, surveillance.
Read more...
---
The importance of effective perimeter security
August 2019, Elf Rentals - Electronic Security Solutions, Stafix , Editor's Choice, CCTV, Surveillance & Remote Monitoring, Residential Estate (Industry)
Protecting the perimeter is critical for any residential estate; how does one go about making sure your perimeter is as secure as possible?
Read more...
---
CathexisVision video management software
August 2019, Cathexis Technologies , Products, CCTV, Surveillance & Remote Monitoring
The CathexisVision IP video management software (VMS) helps clients get the most out of their surveillance investment and reap rewards for their companies.
Read more...
---
Capture every detail with Smart PIR kits
August 2019, Longse Distribution , Home Security, CCTV, Surveillance & Remote Monitoring, Residential Estate (Industry)
Longse Technology offers DIY smart security kits that are easy to install and offer a Wi-Fi range that can reach up to 300 metres.
Read more...
---
Future-facing cameras
August 2019, Bosch Building Technologies , Products, CCTV, Surveillance & Remote Monitoring
All FLEXIDOME IP starlight 8000i cameras feature built-in Intelligent Video Analytics, making them intuitive, and elevates their importance far beyond security alone.
Read more...
---
Integrated residential estate surveillance
August 2019, Forbatt SA , Integrated Solutions, CCTV, Surveillance & Remote Monitoring, Residential Estate (Industry)
Integrated solutions bring the best-of-breed out of each technology to give personnel all the tools they need for access control management and security.
Read more...
---