printer friendly version
Protect your retail investment
July 2016 Editor's Choice, Retail (Industry)
We currently face a societal behavioural change in that online shopping is rocketing alongside a global trend towards 'cocooning'. Combined, these factors threaten long term return on investment (ROI) in the retail property sector. Retail remains the largest GDP sector in SA, so who will take the spoils over the next 20 or 40 years?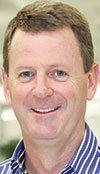 Mike Voortman, MD, Verifier.
Online shopping is being driven by the availability of ever decreasing cheap data connectivity, ease of online purchasing, product research and price comparison. Added to this is that we all value our time in an extremely competitive global marketplace where we're pressurised to constantly increase productivity. And then there's marketing pushing the instant gratification factor and 'cutting out the middle man' – a major industry disruptor.
Factors leading to an increase in 'cocooning' are security, connectivity, social media etc. – gone are the days when you had to drop by a friend's house in order to arrange a social function if you couldn't get hold of him on the landline. There's no need to leave the safety of home and children are hardly ever seen riding bicycles to friends, sport or to the mall – the roads are just too dangerous – whether in South Africa, Australia or America. Asian countries still tend to buck this trend – but that's a topic for another day.
A mind shift in terms of measurement of ROI on the part of retailers and landlords/investors is required in order to ensure that malls remain relevant in today's society – with the ultimate objective being to protect their investments.
ROI is normally measured purely in financial terms and investors largely look at the numbers in assessing the value of a property in their portfolio. In the South African context we believe that our 22 000 plus retail centres need to start delivering on an intangible ROI by engaging and investing intensely within their catchment areas, thus ensuring their long term relevance. This requires visionary leadership on a large scale, and could even be a game changer in assisting communities to throttle crime.
Relevance could or can be obtained by ensuring that retail centres are safe destinations which serve additional socialisation needs whilst delivering for retailers … beyond coffee shops and restaurants as part of the tenant mix.
Perhaps sections of a centre's basement parking could be offered as free space for pop up churches during quiet Sunday morning trading times or night schools, thus attracting potential shoppers while serving a community need. The community must see the centre as being 'their centre' – a valuable community asset and a safe destination for their children.
Small Crimewatch/CPF office accommodation could be provided along with space in the security office server room for community/local councillor, ward allocation funded licence plate recognition cameras – thus entrenching the centre with local crime fighting initiatives. A community liaison officer could oversee driving/leading these initiatives – linking in with broader initiatives by the City Metro, SAPS etc.
A safe community will be far more likely to support a safe centre which is seen to be a major sponsor of the crimewatch in the area and is seen to be giving back. The knock-on effect is that the footfall should grow or at least be maintained.
Working models of this are Constantia Village and Blue Route Mall in Cape Town, where local crimewatch structures are strongly supported with great reciprocal benefits and results. As security becomes more tightly controlled at a mall, the surrounding community in turn benefits. Criminals are deterred from the area in general and will have to ply their 'trade' elsewhere.
Health services or sports facilities could further attract footfall – secure parking areas can be offered after hours to cycling/running clubs as congregation points, with users tipping car guards, thus no cost to the mall (maybe parking revenue forfeited to members). Perhaps the centre's sports retailers can engage with these clubs/groups as local sponsors etc., thus driving a local marketing catchment approach.
Imagine the knock on effect if 20 000 of our retail centres are safe zones, along with the suburbs/towns in their immediate catchments.
Credit(s)
Further reading:
Social media and intelligence-led surveillance
July 2019, Leaderware , Editor's Choice, Integrated Solutions, Security Services & Risk Management
Social media has become a major feature of most people's lives in the last few years and they can be invaluable as a source of information for companies and security organisations.
Read more...
---
The 4th Industrial Revolution
July 2019, Wolfpack Information Risk , Editor's Choice, Cyber Security, Security Services & Risk Management, Industrial (Industry)
Most major industries have turned to and are reliant on technology to run their operations. This is a time of great promise, but also one of frightening peril.
Read more...
---
Data protection more challenging
July 2019 , Editor's Choice, IT infrastructure
The number of businesses unable to recover data after an incident nearly doubled from 2016, according to the Global Data Protection Index surveying 2 200 IT decision makers from 18 countries.
Read more...
---
Cyber-attacks target operational technology
July 2019 , Editor's Choice, Cyber Security, Industrial (Industry)
Focus on operational technology security increasing as around 74% of OT organisations come under attack in the past year, finds a new Fortinet report.
Read more...
---
Ingo Mutinelli moves to IDEMIA
July 2019, Technews Publishing, IDEMIA , Editor's Choice, News
IDEMIA, the security and identity management company has announced that Ingo Mutinelli will be taking on the post of regional sales director for the southern Africa region.
Read more...
---
Residential Estate Security Conference 2019: Integrating man and machine for effective security and operations
July 2019, Technews Publishing , Editor's Choice, News, Residential Estate (Industry), Conferences & Events
The Residential Estate Security Conference 2019 will delve into how estates and their service providers can better integrate man and machine for more effective security and operations.
Read more...
---
Milestone appoints new VP for research and development
July 2019, Milestone Systems , Editor's Choice, CCTV, Surveillance & Remote Monitoring, News
Milestone Systems has appointed Tom Bjerre as its new VP for research and development. He will oversee planning, development, testing and release of Milestone Systems' video management software.
Read more...
---
Johnson Controls launches Technology Contracting in Africa
July 2019, Johnson Controls , Editor's Choice, News, Security Services & Risk Management
To address the growing challenge of planning, integrating and maintaining a multitude of different, highly connected systems, Johnson Controls is launching Technology Contracting in Africa.
Read more...
---
NIST recommends ONVIF as new standard for FBI
July 2019 , Editor's Choice, CCTV, Surveillance & Remote Monitoring, News
ONVIF's Export File Format is the new standard recommended by the National Institute of Standards and Technology (NIST) for the exporting and playback of video surveillance recordings.
Read more...
---
SIA talks open APIs at ID4Africa
July 2019 , Editor's Choice, Access Control & Identity Management, Integrated Solutions
Pioneering industry-first open standards initiative from the Secure Identity Alliance assures interoperability for sovereign ID programmes and promises to eliminate vendor lock-in.
Read more...
---