printer friendly version
Protect your retail investment
July 2016 Editor's Choice, Retail (Industry)
We currently face a societal behavioural change in that online shopping is rocketing alongside a global trend towards 'cocooning'. Combined, these factors threaten long term return on investment (ROI) in the retail property sector. Retail remains the largest GDP sector in SA, so who will take the spoils over the next 20 or 40 years?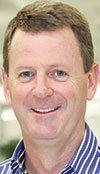 Mike Voortman, MD, Verifier.
Online shopping is being driven by the availability of ever decreasing cheap data connectivity, ease of online purchasing, product research and price comparison. Added to this is that we all value our time in an extremely competitive global marketplace where we're pressurised to constantly increase productivity. And then there's marketing pushing the instant gratification factor and 'cutting out the middle man' – a major industry disruptor.
Factors leading to an increase in 'cocooning' are security, connectivity, social media etc. – gone are the days when you had to drop by a friend's house in order to arrange a social function if you couldn't get hold of him on the landline. There's no need to leave the safety of home and children are hardly ever seen riding bicycles to friends, sport or to the mall – the roads are just too dangerous – whether in South Africa, Australia or America. Asian countries still tend to buck this trend – but that's a topic for another day.
A mind shift in terms of measurement of ROI on the part of retailers and landlords/investors is required in order to ensure that malls remain relevant in today's society – with the ultimate objective being to protect their investments.
ROI is normally measured purely in financial terms and investors largely look at the numbers in assessing the value of a property in their portfolio. In the South African context we believe that our 22 000 plus retail centres need to start delivering on an intangible ROI by engaging and investing intensely within their catchment areas, thus ensuring their long term relevance. This requires visionary leadership on a large scale, and could even be a game changer in assisting communities to throttle crime.
Relevance could or can be obtained by ensuring that retail centres are safe destinations which serve additional socialisation needs whilst delivering for retailers … beyond coffee shops and restaurants as part of the tenant mix.
Perhaps sections of a centre's basement parking could be offered as free space for pop up churches during quiet Sunday morning trading times or night schools, thus attracting potential shoppers while serving a community need. The community must see the centre as being 'their centre' – a valuable community asset and a safe destination for their children.
Small Crimewatch/CPF office accommodation could be provided along with space in the security office server room for community/local councillor, ward allocation funded licence plate recognition cameras – thus entrenching the centre with local crime fighting initiatives. A community liaison officer could oversee driving/leading these initiatives – linking in with broader initiatives by the City Metro, SAPS etc.
A safe community will be far more likely to support a safe centre which is seen to be a major sponsor of the crimewatch in the area and is seen to be giving back. The knock-on effect is that the footfall should grow or at least be maintained.
Working models of this are Constantia Village and Blue Route Mall in Cape Town, where local crimewatch structures are strongly supported with great reciprocal benefits and results. As security becomes more tightly controlled at a mall, the surrounding community in turn benefits. Criminals are deterred from the area in general and will have to ply their 'trade' elsewhere.
Health services or sports facilities could further attract footfall – secure parking areas can be offered after hours to cycling/running clubs as congregation points, with users tipping car guards, thus no cost to the mall (maybe parking revenue forfeited to members). Perhaps the centre's sports retailers can engage with these clubs/groups as local sponsors etc., thus driving a local marketing catchment approach.
Imagine the knock on effect if 20 000 of our retail centres are safe zones, along with the suburbs/towns in their immediate catchments.
Credit(s)
Further reading:
Keeping our changing environment secure
August 2019 , Editor's Choice, Security Services & Risk Management
For a crime to take place there needs to be a victim and a criminal who sees an opportunity. For a cybercrime to take place we need the same set of circumstances.
Read more...
---
Augmented security with drones
August 2019, Drone Guards , Editor's Choice, Integrated Solutions
Drone Guards is moving into an untapped market of using drones to secure residential estates and other high-value assets such as mines, farms and commercial properties.
Read more...
---
The importance of real security risk assessments
August 2019, Sentinel Risk Management , Editor's Choice, Security Services & Risk Management, Residential Estate (Industry)
Andy Lawler, MD, Sentinel Risk Management, says a security risk assessment is an onerous task, but is not something estates can consider optional or a luxury item anymore.
Read more...
---
Risk assessment or product placement?
August 2019, Technews Publishing, Alwinco, SMC - Security Management Consultants , Editor's Choice, Security Services & Risk Management, Residential Estate (Industry)
Hi-tech security solutions asked a couple of experts to provide estate managers and security managers with some insights into what a 'real' risk assessment includes.
Read more...
---
How far are we really at with artificial intelligence?
August 2019, Axis Communications SA , Editor's Choice, CCTV, Surveillance & Remote Monitoring, IT infrastructure, Residential Estate (Industry)
Justin Ludik unpacks exactly how far AI has come and what it potentially can do for society and more importantly, surveillance.
Read more...
---
The importance of effective perimeter security
August 2019, Elf Rentals - Electronic Security Solutions, Stafix , Editor's Choice, CCTV, Surveillance & Remote Monitoring, Residential Estate (Industry)
Protecting the perimeter is critical for any residential estate; how does one go about making sure your perimeter is as secure as possible?
Read more...
---
The hidden claws of proof of concept
August 2019 , Editor's Choice, Integrated Solutions
Proof of concept is a proven methodology for testing new technologies, but it isn't perfect, and it can be more of a hindrance than a help.
Read more...
---
Inundated with cyberattacks from all directions
August 2019 , Editor's Choice, Cyber Security, Security Services & Risk Management
IT managers are inundated with cyberattacks coming from all directions and are struggling to keep up due to a lack of security expertise, budget and up-to-date technology.
Read more...
---
Cyber tools and solutions
August 2019, Technews Publishing , Editor's Choice, Cyber Security, IT infrastructure, Residential Estate (Industry)
Hi-Tech Security Solutions looks at the various options we have when it comes to protecting yourself from the ever-growing scourge of cybercrime?
Read more...
---
Improving safety at healthcare facilities
August 2019, Active Track , Editor's Choice, CCTV, Surveillance & Remote Monitoring, Healthcare (Industry)
Active Eye transforms 2 MP IP cameras into virtual employees or controllers who are permanently on duty managing your healthcare facility.
Read more...
---