printer friendly version
High performing CCTV operators
July 2016 Editor's Choice, CCTV, Surveillance & Remote Monitoring
In an Australian government sponsored review some years ago about what factors influenced how good a city CCTV scheme was, the project looked at a number of factors including the technology, the relationships and involvement with police on the ground, and the standard procedures, among other things. The conclusion to the report contained this statement though: "The effectiveness of CCTV may be very dependent on a whole range of issues but in particular the monitoring strategies adopted by camera operators" (Australian Research Council, 2006).
What effectively came out of the research is that where operators have a clear idea of what to look for, have the decision making capabilities to follow through on looking for specific people or activities of interest, and have the ability to recognise the signs of something happening, performance will be greatly improved.
This, for me, is a result of a number of factors:
1. A willingness to do the job and especially a passion to catch people.
2. A situational awareness of the areas being viewed, the layout, activities, people, and likely suspects and risk areas.
3. The use of individual initiative and skills in thinking through target acquisition and monitoring.
4. Visual analysis skills and observation skills to assist in picking up the issues and anomalies in the areas being viewed.
5. Training in what to look for, an understanding of body language, and how crime develops and incidents occur.
6. Clear and defined responses to events, as soon as signs of a developing incident is occurring, and good communication skills to follow this through.
Things like good SOPs, knowledge of the law, understanding of the control systems, and ability to switch to relevant cameras and track people using systems provide a useful base for people to work from. But these activities do not help catch people. It is like having a racing car that is ticking over but can't be driven anywhere except up and down the driveway.
If I were to interview someone for a position as an operator, the first question I would ask is how many people have you caught before, and follow this up with additional questions like "how recently?" "What signs did you see?" If somebody has demonstrated a willingness to catch people and the ability to do so, it's likely to happen in the new operation as well.
I'd follow up on the standard selection tools with assessments to check the observation skills, ensure that they have training in how to pick up the body language involved in crime behaviour and look at their communication skills. Communication skills may be an optional extra at times, in that many people who are good at working with systems and observing people are not necessarily very extraverted or good with communication.
All too often we try and manage and structure the process of security or surveillance excessively and in doing so restrict its usefulness. Guards have to follow a precise route to badge at specific check points to show they are working, and in doing so give criminals a predicable route and show the timing of where and when to break in to the premises. The UK police have a 'stop and search' capability where they can stop anyone and search them, but the documentation that has to now get filled in is so onerous that it reduces the chance of this happening. We may define and structure surveillance duties so much that it reduces the potential for initiative and acquisition of the targets we are looking for.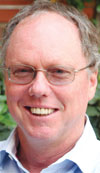 To get the surveillance outcomes we want, we need to empower operators with the skills, training, knowledge, and scope for initiative and independent action to allow them to deliver detection performance. We need to ensure we have the right people for this, and the right rewards – where operators deliver they need to be recognised, and where they don't deliver the required performance, we need to provide a development strategy to get them to the right point. This involves ensuring they are equipped with the right skills and have the right kind of environment to shine. It also means that we have to have the managers who can facilitate this kind of process.
Dr Craig Donald is a human factors specialist in security and CCTV. He is a director of Leaderware which provides instruments for the selection of CCTV operators, X-ray screeners and other security personnel in major operations around the world. He also runs CCTV Surveillance Skills and Body Language, and Advanced Surveillance Body Language courses for CCTV operators, supervisors and managers internationally, and consults on CCTV management. He can be contacted on +27 (0)11 787 7811 or craig.donald@leaderware.com
Credit(s)
Further reading:
Milestone partners prove their skills
August 2019, Milestone Systems , News, CCTV, Surveillance & Remote Monitoring, Training & Education
Within the span of one week in mid-May, the Milestone Learning & Performance group celebrated important benchmarks: 200 000 course registrations and tutorial views, and 10 000 certifications.
Read more...
---
ONVIF Hosts 20th Developers' Plugfest
August 2019 , News, CCTV, Surveillance & Remote Monitoring
ONVIF, the global standardisation initiative for IP-based physical security products, hosted its twentieth ONVIF Developers' Plugfest in early June in Tokyo.
Read more...
---
Licence plate recognition camera
August 2019 , Products, CCTV, Surveillance & Remote Monitoring
VIVOTEK has introduced a new licence plate recognition camera featuring built-in licence plate recognition software and edge-computing capability.
Read more...
---
Keeping our changing environment secure
August 2019 , Editor's Choice, Security Services & Risk Management
For a crime to take place there needs to be a victim and a criminal who sees an opportunity. For a cybercrime to take place we need the same set of circumstances.
Read more...
---
Augmented security with drones
August 2019, Drone Guards , Editor's Choice, Integrated Solutions
Drone Guards is moving into an untapped market of using drones to secure residential estates and other high-value assets such as mines, farms and commercial properties.
Read more...
---
The importance of real security risk assessments
August 2019, Sentinel Risk Management , Editor's Choice, Security Services & Risk Management, Residential Estate (Industry)
Andy Lawler, MD, Sentinel Risk Management, says a security risk assessment is an onerous task, but is not something estates can consider optional or a luxury item anymore.
Read more...
---
Risk assessment or product placement?
August 2019, Technews Publishing, Alwinco, SMC - Security Management Consultants , Editor's Choice, Security Services & Risk Management, Residential Estate (Industry)
Hi-tech security solutions asked a couple of experts to provide estate managers and security managers with some insights into what a 'real' risk assessment includes.
Read more...
---
How far are we really at with artificial intelligence?
August 2019, Axis Communications SA , Editor's Choice, CCTV, Surveillance & Remote Monitoring, IT infrastructure, Residential Estate (Industry)
Justin Ludik unpacks exactly how far AI has come and what it potentially can do for society and more importantly, surveillance.
Read more...
---
The importance of effective perimeter security
August 2019, Elf Rentals - Electronic Security Solutions, Stafix , Editor's Choice, CCTV, Surveillance & Remote Monitoring, Residential Estate (Industry)
Protecting the perimeter is critical for any residential estate; how does one go about making sure your perimeter is as secure as possible?
Read more...
---
CathexisVision video management software
August 2019, Cathexis Technologies , Products, CCTV, Surveillance & Remote Monitoring
The CathexisVision IP video management software (VMS) helps clients get the most out of their surveillance investment and reap rewards for their companies.
Read more...
---