printer friendly version
ONVIF: The evolution of a standard
July 2016 Editor's Choice, Security Services & Risk Management
ONVIF has achieved a lot since its founding in 2008. ONVIF has nearly 500 members and there are more than 5 000 ONVIF-conformant products in the market today. Like many other standards, ONVIF has evolved incrementally. Other standards like the International Electrotechnical Commission (IEC), the Institute of Electrical and Electronics Engineers (IEEE) and Bluetooth have evolved in many of the same ways that ONVIF has.
Building a foundation
ONVIF was founded by Axis, Sony and Bosch to create a global standard for the interface of network cameras and video management systems. It sought to provide greater freedom of choice for installers and end users to select products from a variety of different vendors. By establishing a basic standard for video in its early days, the founders also hoped to simplify product development for manufacturers.
Early on, ONVIF realised it had to make some adjustments to its approach to creating a standard. Although members had agreed on how to specify APIs for video, the way the manufacturers deployed these in their products varied. As a result, ONVIF turned to the profile concept. The idea with the profile concept was that if manufacturers developed products in accordance with the profile, their products would work together regardless of the manufacturer of the VMS or camera.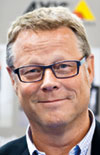 Per Björkdahl, ONVIF Steering Committee Chair.
Bluetooth experienced a similar chain of events when it introduced an updated version of its headsets specification. Bluetooth introduced its 'Headset Profile' to work regardless of when a device was manufactured. A new profile with a new name was created when future changes were needed. ONVIF is using the same approach: if a product is Profile S conformant, for example, it will always be conformant, regardless of when it is manufactured.
A broadening vision
Two years after its founding, ONVIF extended its scope to include access control. Because of the framework established on ONVIF's formation, the group's scope for standards can include any discipline within the physical security industry and is no longer solely focused on video. Like ONVIF, other standards organisations have also extended their scope over time.
What is today IEEE and its standards body began in the 1880s as an organisation for electrical engineers whose mission was to standardise electricity. It grew to encompass other industries and is now considered one of the biggest and most influential technology standards in the world. Similarly, the IEC began their standards work in the electricity industry, eventually expanding its scope as well.
IEC and ONVIF
As the demand for interoperability between all devices increases and the concept of the Internet of Things becomes a reality, standards groups are increasingly working together. ONVIF and the IEC are working together in this collaborative way.
The ONVIF specification has been included in the new international IEC 62676 standard for video surveillance systems, the first international standard for video surveillance systems. The IEC's standard for Electronic Access Control has also incorporated ONVIF's newest access control specification in its soon to be released IEC60839 standard. This cooperation between standards organisations like ONVIF and IEC will likely continue in order to provide the highest levels of interoperability, which ultimately benefits the end user.
By examining the evolution of other standards, we can see how vital they are to industries, often beginning with a relatively small focus on one specific market and expanding to include others as acceptance and use grows. What comes next for ONVIF depends on its members and the physical security community, who ultimately are together at the helm, driving us forward as new technology develops and evolves.
Further reading:
Putting secondary storage to work
September 2019 , IT infrastructure, Security Services & Risk Management
By 2022, more than 80% of enterprise data will be stored in scale-out storage systems in enterprise and cloud data centres, up from 40% in 2018.
Read more...
---
ContinuitySA offers Complete Continuity Practitioner in October
September 2019, ContinuitySA , Training & Education, Security Services & Risk Management
ContinuitySA is offering its popular five-day Complete Continuity Practitioner Programme on 21-25 October 2019 at its offices in Midrand.
Read more...
---
Constructive CCTV contributions to research
September 2019, Leaderware , Editor's Choice, CCTV, Surveillance & Remote Monitoring
Study leads to understanding that we need more recognition and reward for constructive participation in society.
Read more...
---
Security workforce compliance tool
September 2019 , Security Services & Risk Management
To maintain service excellence across a security workforce is impossible without the help of information systems and technology.
Read more...
---
Call back the past
September 2019, SCAN RF Projects , Security Services & Risk Management
Two-way radios are still very relevant in the security world and have gone through significant advances over the past few years to enable them to keep up with the expectations of people in today?s connected world.
Read more...
---
Ensuring a seamless ultra-wideband ecosystem
September 2019 , Editor's Choice, IT infrastructure
FiRa consortium ensures an interoperable ultra-wideband technology ecosystem across chipset, device and service infrastructure through standards and certifications.
Read more...
---
The hunt for the Carbanak group
September 2019 , Editor's Choice, Cyber Security, News
Tomorrow Unlocked has released a free four-part documentary that tells the story of the notorious Carbanak APT group and its $1 billion bank heist.
Read more...
---
Genetec to integrate CylancePROTECT
September 2019, Genetec , Editor's Choice, CCTV, Surveillance & Remote Monitoring, News
Genetec has announced it is partnering with Cylance, a business unit of Blackberry, to bring AI-based antivirus protection to its appliance customers.
Read more...
---
X-rays in 3D
September 2019, XPro Security Solutions , Editor's Choice, Security Services & Risk Management
Hi-Tech Security Solutions asked Greg Dixon, director of XPro, for some insights into X-ray scanning and its pros and cons in today?s volatile world.
Read more...
---
Smart Inspection Unit developed by Roteck
September 2019 , Editor's Choice, Security Services & Risk Management
Roteck has announced a portable personnel and bag scanning unit that can easily be transported, set up and used in almost any location.
Read more...
---