printer friendly version
ONVIF: The evolution of a standard
July 2016 Editor's Choice, Security Services & Risk Management
ONVIF has achieved a lot since its founding in 2008. ONVIF has nearly 500 members and there are more than 5 000 ONVIF-conformant products in the market today. Like many other standards, ONVIF has evolved incrementally. Other standards like the International Electrotechnical Commission (IEC), the Institute of Electrical and Electronics Engineers (IEEE) and Bluetooth have evolved in many of the same ways that ONVIF has.
Building a foundation
ONVIF was founded by Axis, Sony and Bosch to create a global standard for the interface of network cameras and video management systems. It sought to provide greater freedom of choice for installers and end users to select products from a variety of different vendors. By establishing a basic standard for video in its early days, the founders also hoped to simplify product development for manufacturers.
Early on, ONVIF realised it had to make some adjustments to its approach to creating a standard. Although members had agreed on how to specify APIs for video, the way the manufacturers deployed these in their products varied. As a result, ONVIF turned to the profile concept. The idea with the profile concept was that if manufacturers developed products in accordance with the profile, their products would work together regardless of the manufacturer of the VMS or camera.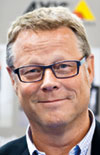 Per Björkdahl, ONVIF Steering Committee Chair.
Bluetooth experienced a similar chain of events when it introduced an updated version of its headsets specification. Bluetooth introduced its 'Headset Profile' to work regardless of when a device was manufactured. A new profile with a new name was created when future changes were needed. ONVIF is using the same approach: if a product is Profile S conformant, for example, it will always be conformant, regardless of when it is manufactured.
A broadening vision
Two years after its founding, ONVIF extended its scope to include access control. Because of the framework established on ONVIF's formation, the group's scope for standards can include any discipline within the physical security industry and is no longer solely focused on video. Like ONVIF, other standards organisations have also extended their scope over time.
What is today IEEE and its standards body began in the 1880s as an organisation for electrical engineers whose mission was to standardise electricity. It grew to encompass other industries and is now considered one of the biggest and most influential technology standards in the world. Similarly, the IEC began their standards work in the electricity industry, eventually expanding its scope as well.
IEC and ONVIF
As the demand for interoperability between all devices increases and the concept of the Internet of Things becomes a reality, standards groups are increasingly working together. ONVIF and the IEC are working together in this collaborative way.
The ONVIF specification has been included in the new international IEC 62676 standard for video surveillance systems, the first international standard for video surveillance systems. The IEC's standard for Electronic Access Control has also incorporated ONVIF's newest access control specification in its soon to be released IEC60839 standard. This cooperation between standards organisations like ONVIF and IEC will likely continue in order to provide the highest levels of interoperability, which ultimately benefits the end user.
By examining the evolution of other standards, we can see how vital they are to industries, often beginning with a relatively small focus on one specific market and expanding to include others as acceptance and use grows. What comes next for ONVIF depends on its members and the physical security community, who ultimately are together at the helm, driving us forward as new technology develops and evolves.
Further reading:
Keeping our changing environment secure
August 2019 , Editor's Choice, Security Services & Risk Management
For a crime to take place there needs to be a victim and a criminal who sees an opportunity. For a cybercrime to take place we need the same set of circumstances.
Read more...
---
Augmented security with drones
August 2019, Drone Guards , Editor's Choice, Integrated Solutions
Drone Guards is moving into an untapped market of using drones to secure residential estates and other high-value assets such as mines, farms and commercial properties.
Read more...
---
The importance of real security risk assessments
August 2019, Sentinel Risk Management , Editor's Choice, Security Services & Risk Management, Residential Estate (Industry)
Andy Lawler, MD, Sentinel Risk Management, says a security risk assessment is an onerous task, but is not something estates can consider optional or a luxury item anymore.
Read more...
---
Risk assessment or product placement?
August 2019, Technews Publishing, Alwinco, SMC - Security Management Consultants , Editor's Choice, Security Services & Risk Management, Residential Estate (Industry)
Hi-tech security solutions asked a couple of experts to provide estate managers and security managers with some insights into what a 'real' risk assessment includes.
Read more...
---
How far are we really at with artificial intelligence?
August 2019, Axis Communications SA , Editor's Choice, CCTV, Surveillance & Remote Monitoring, IT infrastructure, Residential Estate (Industry)
Justin Ludik unpacks exactly how far AI has come and what it potentially can do for society and more importantly, surveillance.
Read more...
---
Residential security – caveat emptor
August 2019, Stafix , Integrated Solutions, Security Services & Risk Management
When it comes to improving your property's security, make sure you take all the options into account as you build a layered approach to keeping people safe and assets secured.
Read more...
---
The importance of effective perimeter security
August 2019, Elf Rentals - Electronic Security Solutions, Stafix , Editor's Choice, CCTV, Surveillance & Remote Monitoring, Residential Estate (Industry)
Protecting the perimeter is critical for any residential estate; how does one go about making sure your perimeter is as secure as possible?
Read more...
---
Ensuring your electric fence is compliant
August 2019, Stafix , Perimeter Security, Alarms & Intruder Detection, Security Services & Risk Management
A challenge facing both existing and potentially new perimeter electric fence installations is how to economically meet the legal requirements required in the SANS 10222-3:2016 standards document.
Read more...
---
Addressing risks by means of access control layout and design
August 2019 , Access Control & Identity Management, Security Services & Risk Management
In order to develop a suitable, practical and appropriate security system for any organisation, it is essential to first develop a master security and life safety plan strategy.
Read more...
---
The hidden claws of proof of concept
August 2019 , Editor's Choice, Integrated Solutions
Proof of concept is a proven methodology for testing new technologies, but it isn't perfect, and it can be more of a hindrance than a help.
Read more...
---