printer friendly version
Introducing disaster services
June 2016
Security Services & Risk Management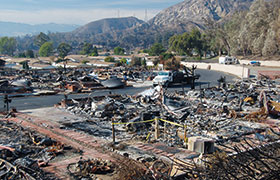 ContinuitySA has introduced Disaster Recovery as a Service (DRaaS). Sasha Malic, head of Hosting and Availability Services at ContinuitySA, says the service revolutionises ContinuitySA's existing Availability Services, taking advantage of the latest technologies to help corporates and government entities to ensure organisational resilience without the management headache and high cost of an in-house solution.
DRaaS makes use of replication, backup and server hosting in one of ContinuitySA's data centres via high-speed network links. It is fully managed, and can be tailored to client needs.
"ICT availability is critical to a company's ability to trade, which is why disaster recovery has become a part of governance codes like King III, and an ongoing concern for directors," says Malic. "At the same time, though, putting the necessary infrastructure, business processes and ongoing management capability in place is both demanding and expensive."
Malic points out that crafting a disaster recovery solution means understanding the interdependencies between the various elements of the business and its systems in order to determine how critical each technology component is. This will influence how quickly each part of the system needs to be recovered and how much data loss can be tolerated – all of which have cost or reputational implications. Only then is it possible to craft a disaster recovery plan that is aligned with the organisation's overall strategy for ensuring business continuity.
It's also important to realise that a disaster recovery plan is only theoretical unless it is regularly tested, and is updated in line with changing business realities.
Each DRaaS solution is designed by using components from three foundation offerings: Server Replication, Virtual Server Hosting and Managed Backup.
Server Replication replicates an image of the client's servers to the ContinuitySA data centre at regular intervals in line with predetermined Recovery Time and Recovery Point Objectives. If a disaster is invoked, the company can fail over to the most recent image held by ContinuitySA in a matter of minutes.
Managed Virtual Server Hosting leverages the power of the cloud computing model to provide servers that can be used either in production or in the event of a disaster.
Managed Backup ensures that data is retained in line with company and regulatory requirements. The latter is disk based, thus avoiding unreliable, hard-to-manage tapes.
"Disaster recovery falls squarely into the category of 'critical but not core' – something that has to be done right because it's the organisation's last resort to resume operations. When you need it, it has to work," Malic says. "Consuming it as a service means that you are effectively sharing costs with all our clients and accessing the experience and expertise of people who do this all the time. The result: peace of mind for directors, executives and all other stakeholders, without the loss of management focus when attempting to do it in-house."
For more information contact ContinuitySA, +27 (0)11 554 8050, cindy.bodenstein@continuitysa.co.za, www.continuitysa.co.za
Credit(s)
Further reading:
Ransomware predictions
Issue 1 2020 , Security Services & Risk Management
As we enter a new decade, Simon Jelley, VP of product management at Veritas, explores how ransomware is likely to continue evolving in the year ahead.
Read more...
---
The HR environment in 2020
Issue 1 2020, iFacts , Security Services & Risk Management
As 2020 grabs hold of every one of us with great intent, we need to know what to be aware of when employing people or appointing vendors for our business.
Read more...
---
The instruments for investigation
Issue 1 2020, Technews Publishing , Security Services & Risk Management
Regardless of the reason for investigation, the investigation is only as good as the investigators.
Read more...
---
Nothing holds Eudricht back
Issue 1 2020, Sensor Security Systems , Security Services & Risk Management
In this personality profile, Eudricht Kotze talks of his journey overcoming adversity in the security industry.
Read more...
---
Leaders in risk and security: You have to know it to manage it
Issue 1 2020, Technews Publishing , Security Services & Risk Management
Hi-Tech Security Solutions profiles Nash Lutchman, Senior Vice President and Head of Protection Services at Sibanye-Stillwater.
Read more...
---
Drilling deeper into essential building management systems
Issue 1 2020 , Security Services & Risk Management
As the demand for the automation of security and other systems in buildings and large construction sites around the world grows, we are seeing an increase in the demand for building management systems.
Read more...
---
From physical security to cybersecurity
Access & Identity Management Handbook 2020, Genetec , Cyber Security, Security Services & Risk Management
Genetec discusses the security-of-security concept as a means to protect cameras, door controllers and other physical security devices and systems against cybercriminal activity.
Read more...
---
Biometrics in identity
Access & Identity Management Handbook 2020 , Access Control & Identity Management, Security Services & Risk Management
With multiple identity providers offering to manage digital identities for the general public, the root identity – the single sovereign trusted identity upon which all others are based – must start with government.
Read more...
---
Success lies in planning
November 2019, Vox Telecom , Security Services & Risk Management
A safe and smart city will only be successful if it is planned properly, if there is buy-in from all the stakeholders and if it is managed efficiently.
Read more...
---
Matching governance to context
November 2019, ContinuitySA , Security Services & Risk Management
When building resilience and planning for business continuity, take proportionality to heart, advises Michael Davies, CEO of ContinuitySA.
Read more...
---