printer friendly version
Introducing disaster services
June 2016
Security Services & Risk Management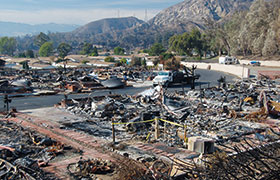 ContinuitySA has introduced Disaster Recovery as a Service (DRaaS). Sasha Malic, head of Hosting and Availability Services at ContinuitySA, says the service revolutionises ContinuitySA's existing Availability Services, taking advantage of the latest technologies to help corporates and government entities to ensure organisational resilience without the management headache and high cost of an in-house solution.
DRaaS makes use of replication, backup and server hosting in one of ContinuitySA's data centres via high-speed network links. It is fully managed, and can be tailored to client needs.
"ICT availability is critical to a company's ability to trade, which is why disaster recovery has become a part of governance codes like King III, and an ongoing concern for directors," says Malic. "At the same time, though, putting the necessary infrastructure, business processes and ongoing management capability in place is both demanding and expensive."
Malic points out that crafting a disaster recovery solution means understanding the interdependencies between the various elements of the business and its systems in order to determine how critical each technology component is. This will influence how quickly each part of the system needs to be recovered and how much data loss can be tolerated – all of which have cost or reputational implications. Only then is it possible to craft a disaster recovery plan that is aligned with the organisation's overall strategy for ensuring business continuity.
It's also important to realise that a disaster recovery plan is only theoretical unless it is regularly tested, and is updated in line with changing business realities.
Each DRaaS solution is designed by using components from three foundation offerings: Server Replication, Virtual Server Hosting and Managed Backup.
Server Replication replicates an image of the client's servers to the ContinuitySA data centre at regular intervals in line with predetermined Recovery Time and Recovery Point Objectives. If a disaster is invoked, the company can fail over to the most recent image held by ContinuitySA in a matter of minutes.
Managed Virtual Server Hosting leverages the power of the cloud computing model to provide servers that can be used either in production or in the event of a disaster.
Managed Backup ensures that data is retained in line with company and regulatory requirements. The latter is disk based, thus avoiding unreliable, hard-to-manage tapes.
"Disaster recovery falls squarely into the category of 'critical but not core' – something that has to be done right because it's the organisation's last resort to resume operations. When you need it, it has to work," Malic says. "Consuming it as a service means that you are effectively sharing costs with all our clients and accessing the experience and expertise of people who do this all the time. The result: peace of mind for directors, executives and all other stakeholders, without the loss of management focus when attempting to do it in-house."
For more information contact ContinuitySA, +27 (0)11 554 8050, cindy.bodenstein@continuitysa.co.za, www.continuitysa.co.za
Further reading:
Off-grid power solution for residential estate
Editor's Choice Security Services & Risk Management Residential Estate (Industry) Products
Coral Beach Estate, an upmarket residential estate based in East London, has been struggling with load shedding and power outages due to South Africa's energy crisis, as well as the vandalism of its power infrastructure.
Read more...
---
SafeCity Guarding rolls out across 14 suburbs in Johannesburg
News Security Services & Risk Management
In a major drive to provide communities across Johannesburg with additional safety, Vumacam, in partnership with Fidelity ADT and other security providers across the region, rolled out the innovative SafeCity Guarding initiative in 14 suburbs.
Read more...
---
FleetDomain underpins Afrirent's value proposition
Logistics (Industry) Security Services & Risk Management
Afrirent, a 100% female black-owned fleet management company, has been relying on FleetDomain software for a number of years to help it deliver outstanding service to a growing number of clients.
Read more...
---
Choosing an inferior lithium battery can be detrimental and unsafe
Uniross Batteries Security Services & Risk Management Products
South Africans looking to mitigate the impact of load shedding by installing a solar system for their home must do so through an accredited installer or electrician to avoid insurance claims being rejected.
Read more...
---
Employee screening, a hiring necessity or an invasion of privacy?
Security Services & Risk Management
There is a fine line between checking a potential employee's qualifications and references, and investigating aspects of their lives that have nothing to do with their job application.
Read more...
---
Keeping students, staff and communities safe
Vumacam News CCTV, Surveillance & Remote Monitoring Security Services & Risk Management
South African schools are facing increasing security challenges, making effective surveillance systems more important than ever. To address this issue, Vumacam is offering advanced security solutions with security partners, aimed at keeping students, staff, and the community safe.
Read more...
---
Technology is key to securing physical and cybersecurity
Education (Industry) Security Services & Risk Management
The interpretation of security in educational institutions depends on whom you are talking to and whether their focus is on the physical security of the institution, its assets and its people, or its information and communication technology perspective.
Read more...
---
Recession? Do not skimp on cybersecurity
Cyber Security Security Services & Risk Management
While economists are studying their crystal balls, businesses have to prepare for the worst, and preparing for a recession means cutting costs and refocusing resources; however, they must ensure they do not end up creating an enormous risk.
Read more...
---
Security versus functionality: avoiding end user revolt
Business Connexion t/a BCX Security Services & Risk Management
When the business puts mechanisms in place to secure its infrastructure, but these hinder users from being productive, users will always find a way around them, inadvertently creating security risks.
Read more...
---
Security starts with a layered approach
Security Services & Risk Management
It is very easy to become completely overwhelmed when thinking about security options for your home or place of work. Wahl Bartmann suggests people think about their security plans in a layered approach.
Read more...
---