printer friendly version
New RFID handheld
June 2016 Products, Asset Management, EAS, RFID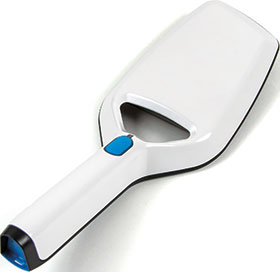 Nedap announced mass availability of its !D Hand 2 RFID handheld reader. The !D Hand 2 is available worldwide complying with the different regional ETSI and FCC regulations for UHF RFID (RAIN RFID) products. The reader offers a high reading performance, wireless charging and extensive software development kits (SDKs).
The !D Hand 2 is specifically designed for RFID applications in retail stores like cycle counts, goods receiving and tag commissioning. The handheld reader sets itself apart from traditional RFID handheld readers through a number of unique characteristics which makes the use of RFID more accessible and scalable: one-button operation, lightweight design, Bluetooth-enabled and equipped with a barcode scanner.
The !D Hand 2 works together with iOS and Android mobile devices, supporting the trend of a large increase in the amount of mobile devices already used in the store for other tasks. Whenever staff members want to perform an RFID-related task, they can simply take the !D Hand, pair it with their mobile device and start the task.

"We have already integrated the !D Hand into our ControlSpan application," states Kris Doane, director of product management at CONTROLTEK USA. "It was very easy to do the integration with the SDK supplied and best of all our customers are really impressed with the user-friendliness and performance of this Bluetooth reader."
The !D Hand 2 is available with a charging cradle for wireless charging of the !D Hand's battery using induction transfer, simply by placing it on a wireless pad with no need for additional cables or adaptors.
For more information contact Nedap, +31 544 471 904, janna.dirks@nedap.com, www.nedap-retail.com
Further reading:
Introducing adaptive active adversary
Cyber Security Products
New adaptive active adversary protection; Linux malware protection enhancements; account health check capabilities; an integrated zero trust network access (ZTNA) agent for Windows and macOS devices; and improved frontline defences against advanced cyberthreats and streamline endpoint security management.
Read more...
---
Qognify VMS adds support for Pelco IP camera series
CCTV, Surveillance & Remote Monitoring Products
The latest IP camera series from Pelco can now be used with Qognify's advanced video solution for corporate and enterprise projects, increasing the overall number of camera models and third-party devices supported in Qognify VMS to more than 6 500.
Read more...
---
Off-grid power solution for residential estate
Editor's Choice Security Services & Risk Management Residential Estate (Industry) Products
Coral Beach Estate, an upmarket residential estate based in East London, has been struggling with load shedding and power outages due to South Africa's energy crisis, as well as the vandalism of its power infrastructure.
Read more...
---
Choosing an inferior lithium battery can be detrimental and unsafe
Uniross Batteries Security Services & Risk Management Products
South Africans looking to mitigate the impact of load shedding by installing a solar system for their home must do so through an accredited installer or electrician to avoid insurance claims being rejected.
Read more...
---
VIVOTEK launches VAST Security Station
CCTV, Surveillance & Remote Monitoring Products
VIVOTEK officially launched its AI security system, VAST Security Station (VSS), in March, available to users in three flexible tiers: VSS Lite, VSS Standard, and VSS Professional.
Read more...
---
Converged infrastructure: Beyond the hype
IT infrastructure Products
Technical teams no longer have to sit and try to work through a magnum opus of manuals for every layer of computing, networking, and storage, largely thanks to the growing popularity and increasing success of converged infrastructure.
Read more...
---
Veeam launches Backup for Microsoft 365 v7
Products
Veeam Software has released Veeam Backup for Microsoft 365 v7, offering a backup and recovery solution for Microsoft 365, including Microsoft Exchange Online, SharePoint Online, OneDrive for Business ...
Read more...
---
Heightening physical security at military base
Turnstar Systems Access Control & Identity Management Government and Parastatal (Industry) Products
Turnstar Systems recently installed two 3-metre Velocity Raptor traffic spikes at the South African National Defence Force (SANDF) Randfontein military base on Gauteng's West Rand.
Read more...
---
Boosting digital-intelligent transformation and AI applications
Dahua Technology South Africa CCTV, Surveillance & Remote Monitoring Products
2022 has been a year full of development and innovation for Dahua. The company has launched various upgrades to its existing product portfolio as well as an artillery of new products and solutions that address specific needs/problems in society.
Read more...
---
Arcules and IMMIX announce integration
News CCTV, Surveillance & Remote Monitoring Products
Arcules has announced that its integration with Immix Central Station and Guard Force is available. The integration provides Central Station and Guard Force users a way to manage, verify, and respond to security events, while using Arcules-managed video feeds.
Read more...
---