printer friendly version
New RFID handheld
June 2016 Products, Asset Management, EAS, RFID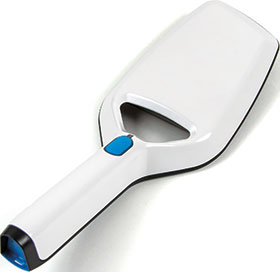 Nedap announced mass availability of its !D Hand 2 RFID handheld reader. The !D Hand 2 is available worldwide complying with the different regional ETSI and FCC regulations for UHF RFID (RAIN RFID) products. The reader offers a high reading performance, wireless charging and extensive software development kits (SDKs).
The !D Hand 2 is specifically designed for RFID applications in retail stores like cycle counts, goods receiving and tag commissioning. The handheld reader sets itself apart from traditional RFID handheld readers through a number of unique characteristics which makes the use of RFID more accessible and scalable: one-button operation, lightweight design, Bluetooth-enabled and equipped with a barcode scanner.
The !D Hand 2 works together with iOS and Android mobile devices, supporting the trend of a large increase in the amount of mobile devices already used in the store for other tasks. Whenever staff members want to perform an RFID-related task, they can simply take the !D Hand, pair it with their mobile device and start the task.

"We have already integrated the !D Hand into our ControlSpan application," states Kris Doane, director of product management at CONTROLTEK USA. "It was very easy to do the integration with the SDK supplied and best of all our customers are really impressed with the user-friendliness and performance of this Bluetooth reader."
The !D Hand 2 is available with a charging cradle for wireless charging of the !D Hand's battery using induction transfer, simply by placing it on a wireless pad with no need for additional cables or adaptors.
For more information contact Nedap, +31 544 471 904, janna.dirks@nedap.com, www.nedap-retail.com
Further reading:
Facial recognition in 0.3 seconds
Issue 2 2020, ZKTeco , Products
ProFace X offers a maximum of 50 000 facial templates and facial recognition speed of less than 0.3 sec per face.
Read more...
---
Facial access terminal
Issue 2 2020, ZKTeco , Products
ZKTeco has launched its second-generation facial recognition terminal, the Horus series, named after an Egyptian god who had the legendary 'all-seeing eye'.
Read more...
---
FaceDepot-7B
Issue 1 2020, ZKTeco , Products
The FaceDepot-7B is an indoor facial recognition station with a slim design and 7-inch display.
Read more...
---
SpeedFace-V5
Issue 1 2020, ZKTeco , Products
The SpeedFace-V5 is a starter facial recognition terminal with a 5-inch touch display, multiple verification options with fingerprint, RFID and facial recognition.
Read more...
---
Walk-through metal detector and turnstile
Issue 1 2020, ZKTeco , Products
The MST150 is a turnstile from ZKTeco, designed with a built-in metal detector which enhances security levels and boosts the efficiency of security checkpoints. By combining inspection and access control, ...
Read more...
---
Duxbury Networking launches Solar Switch
November 2019 , IT infrastructure, Products
Duxbury Networking has launched its Solar Switch with tailored capabilities for applications in less-accessible areas where electricity is not available or not reliable.
Read more...
---
TruVision licence plate cameras
November 2019, UTC Fire & Security SSA , Products, CCTV, Surveillance & Remote Monitoring
TruVision ANPR cameras offer functionality for applications where vehicle access management is required based on licence plate.
Read more...
---
Cable theft detection and alerting system
November 2019, Elvey Security Technologies , Products
Cable theft monitoring and alerting system makes use of Permaconn devices and the Pocket Secure app for real-time alerting.
Read more...
---
IP video intercom system
November 2019, Hikvision South Africa , Products
Hikvision has released its second-generation IP video intercom system designed for door entry communication including video and security access.
Read more...
---
Camera Nest enclosure improves accessibility
November 2019, Elvey Security Technologies , Products
The launch of the South African made Camera Nest fundamentally changes the surveillance mounting and installation method.
Read more...
---