printer friendly version
SA needs a dedicated IoT network
June 2016 Editor's Choice, Integrated Solutions, IT infrastructure, Security Services & Risk Management
The Internet of Things (IoT) will, as it grows, automate and inform an increasing number of operations, applications and processes. With no dedicated infrastructure in place for IoT – i.e., to send, receive or transport IoT signals – it is critical that first movers in South Africa begin to more fully explore the possibilities.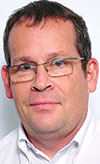 Eckart Zollner, head of business development, Jasco Group.
The decisions they make now may well impact the cost and longevity of the solutions they are developing, and help determine the robustness of the foundations the country puts in place for IoT.
In South Africa, IoT presents a huge opportunity in key sectors, but uptake and development of IoT-driven solutions is still low outside of security, vehicle and asset tracking, and point of sale applications.
In addition, the capacity to implement change is lacking – simple solutions, such as tracking of dustbin collection and emptying, is slow to happen because organisations battle to put in place the skills and technology processes needed. Clearly, more knowledge and awareness is needed in sectors to keep pace with opportunity – along with a sense of urgency.
Are you ready?
The slow pace of change in South Africa is likely to change quickly in the next few years as communication capabilities are built into more and more devices, the IoT cloud grows exponentially, and disruptive solutions with better value propositions begin to emerge to oust incumbents in various sectors. Quite simply, customers want better services and cost efficiencies, and IoT-driven applications and solutions offer exactly this.
First movers are already preparing for this future, but they need to focus on more than the development of the IoT solution and the integration of IoT to existing or new processes; they need to now take a careful look at the long-term implications of making use of IoT.
IoT signals vary from a field device sending tiny bits of information every few seconds or minutes, to devices that broadcast a signal every few hours or days. These are tiny bits of data, but for the IoT solution to work, the network that the data is sent along needs to be 100% reliable.
There are few dedicated IoT network solution providers in South Africa. The major telcos all offer their own solutions. But GSM is expensive for IoT, and with high congestion on most networks and limited remote coverage, it's not nearly as reliable as it needs to be. In addition, GSM is power hungry, requiring more bandwidth to move data. IoT data is characterised by small bursts of a few bytes of data. Thus, using GSM networks, the battery technologies used in field devices, which ideally need to last two to five years or more, are quickly depleted. This will add to the cost of the solution.
Find dedicated IoT network providers
In Europe, the Unite States and elsewhere, dedicated networks with new topologies are being developed for IoT. These networks are geared to low power devices and low volumes of data, and feature a mesh of repeater stations the ensure 100% throughput.
There are some options in South Africa. The globally defined Industrial Scientific and Medical (ISM) band which is also available in South Africa is open for use upon registration, but investment in developing such a network is not insignificant. As the IoT data payload is still low, this is not a very lucrative or attractive market yet and there are few players champing at the bit to offer these services.
At present, because network choices are limited, companies offering IoT solutions select their own channel partners and mandate use of these networks. Thus, when customers sign up for the service they may not have a choice of networks. Similarly, organisations developing proprietary solutions are currently making use of whatever network provider solutions they can find, without fully investigating their options or understanding the long-term impacts that network choices may impose – in terms of costs and management of devices.
What South Africa needs is a set of reliable dedicated IoT network providers that guarantee data throughput and conform to global standards. With IoT standards developing in China, the US and Europe, it will be important for South Africa to make a choice in terms of standards, not default to the one most commonly used by operators.
Choosing a provider – top three considerations
Key requirements for companies making use of IoT network providers include the following:
• Be specific in terms of defining requirements and needs.
- Is national or defined geographic coverage needed?
- How often will data need to be sent and received?
- What connect and control specifications are in play?
• Ensure the network provider is flexible.
- Can they adapt to your IoT application to, for example, easily connect more devices, send more data more or less frequently, improve reporting?
- Do they meet and incorporate key IoT standards?
• High service levels are critical.
- Does the network service provider have a network reserved and dedicated to IoT that offers high stability?
In South Africa, commercial applications of IoT are limited, but the opportunity and advantage that IoT presents across sectors is seeing a number of proprietary solutions emerge. If you are gearing to make use of IoT, consider your options carefully. Be aware of the limitations and challenges and make use of solution providers that are flexible, established and experienced, and demonstrate their understanding of IoT technologies. IoT technology is an emerging field but it's going to be one that plays a big role in our digital future.
For more information contact Jasco Group, +27 (0)11 266 1500, eckart.zollner@jasco.co.za, www.jasco.co.za
Credit(s)
Further reading:
Axis gives a brighter future for children
Issue 1 2020, Axis Communications SA , Editor's Choice
Fully networked camera solution provides visibility and accountability, letting orphanage focus on what's important – its children.
Read more...
---
SFP Security & Fire becomes ISF SFP
Issue 1 2020, ISF SFP , Editor's Choice
SFP Security & Fire was sold to ISF in 2019, becoming ISF SFP and attaining Level-1 BEE status.
Read more...
---
Janu-worry or Twenty-Plenty?
Issue 1 2020 , Editor's Choice
If the available security spend right now is somewhere between limited and non-existent, here are just a few suggestions.
Read more...
---
CCTV surveillance needs are critical in defining types of camera deployment
Issue 1 2020, Leaderware , Editor's Choice
Cameras by themselves do not reduce crime; they need to be implemented as part of a considered strategy of crime prevention and detection.
Read more...
---
Trends 2020
Issue 1 2020, Technews Publishing , Editor's Choice
Hi-Tech Security Solutions asked a few people from diverse companies to join us in a round-table discussion about what they expect to see happening in their environments in the coming year.
Read more...
---
Seven key trends for 2020
Issue 1 2020, Hikvision South Africa , Editor's Choice
Hikvision looks at a few trends that will affect the security industry in 2020 and beyond.
Read more...
---
Hundreds of millions to reskill
Issue 1 2020 , Editor's Choice
By 2022 alone, 75 million jobs will probably be displaced across 20 major economies, while 133 million new ones will spring up in industries that are only just gaining traction.
Read more...
---
Slow and steady wins the access race
Issue 1 2020, ZKTeco, Technews Publishing , Editor's Choice, Commercial (Industry)
The commercial sector is slow in migrating to new access control technologies, with the majority of companies remaining with card and fingerprint solutions.
Read more...
---
Client property access integrity
Issue 1 2020 , Editor's Choice
Blind or unquestioned trust is something that we all seem to willingly and unconditionally give our security service providers and their reaction officers.
Read more...
---
Looking ahead with mobile access technologies
Access & Identity Management Handbook 2020, Technews Publishing, HID Global, dormakaba South Africa, Salto Systems Africa, Suprema, Gallagher , Access Control & Identity Management, Integrated Solutions
Given the broad use of smartphones around the world and the numerous technologies packed into these devices, it was only a matter of time before the access control industry developed technology that would ...
Read more...
---