printer friendly version
SA needs a dedicated IoT network
June 2016 Editor's Choice, Integrated Solutions, IT infrastructure, Security Services & Risk Management
The Internet of Things (IoT) will, as it grows, automate and inform an increasing number of operations, applications and processes. With no dedicated infrastructure in place for IoT – i.e., to send, receive or transport IoT signals – it is critical that first movers in South Africa begin to more fully explore the possibilities.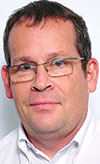 Eckart Zollner, head of business development, Jasco Group.
The decisions they make now may well impact the cost and longevity of the solutions they are developing, and help determine the robustness of the foundations the country puts in place for IoT.
In South Africa, IoT presents a huge opportunity in key sectors, but uptake and development of IoT-driven solutions is still low outside of security, vehicle and asset tracking, and point of sale applications.
In addition, the capacity to implement change is lacking – simple solutions, such as tracking of dustbin collection and emptying, is slow to happen because organisations battle to put in place the skills and technology processes needed. Clearly, more knowledge and awareness is needed in sectors to keep pace with opportunity – along with a sense of urgency.
Are you ready?
The slow pace of change in South Africa is likely to change quickly in the next few years as communication capabilities are built into more and more devices, the IoT cloud grows exponentially, and disruptive solutions with better value propositions begin to emerge to oust incumbents in various sectors. Quite simply, customers want better services and cost efficiencies, and IoT-driven applications and solutions offer exactly this.
First movers are already preparing for this future, but they need to focus on more than the development of the IoT solution and the integration of IoT to existing or new processes; they need to now take a careful look at the long-term implications of making use of IoT.
IoT signals vary from a field device sending tiny bits of information every few seconds or minutes, to devices that broadcast a signal every few hours or days. These are tiny bits of data, but for the IoT solution to work, the network that the data is sent along needs to be 100% reliable.
There are few dedicated IoT network solution providers in South Africa. The major telcos all offer their own solutions. But GSM is expensive for IoT, and with high congestion on most networks and limited remote coverage, it's not nearly as reliable as it needs to be. In addition, GSM is power hungry, requiring more bandwidth to move data. IoT data is characterised by small bursts of a few bytes of data. Thus, using GSM networks, the battery technologies used in field devices, which ideally need to last two to five years or more, are quickly depleted. This will add to the cost of the solution.
Find dedicated IoT network providers
In Europe, the Unite States and elsewhere, dedicated networks with new topologies are being developed for IoT. These networks are geared to low power devices and low volumes of data, and feature a mesh of repeater stations the ensure 100% throughput.
There are some options in South Africa. The globally defined Industrial Scientific and Medical (ISM) band which is also available in South Africa is open for use upon registration, but investment in developing such a network is not insignificant. As the IoT data payload is still low, this is not a very lucrative or attractive market yet and there are few players champing at the bit to offer these services.
At present, because network choices are limited, companies offering IoT solutions select their own channel partners and mandate use of these networks. Thus, when customers sign up for the service they may not have a choice of networks. Similarly, organisations developing proprietary solutions are currently making use of whatever network provider solutions they can find, without fully investigating their options or understanding the long-term impacts that network choices may impose – in terms of costs and management of devices.
What South Africa needs is a set of reliable dedicated IoT network providers that guarantee data throughput and conform to global standards. With IoT standards developing in China, the US and Europe, it will be important for South Africa to make a choice in terms of standards, not default to the one most commonly used by operators.
Choosing a provider – top three considerations
Key requirements for companies making use of IoT network providers include the following:
• Be specific in terms of defining requirements and needs.
- Is national or defined geographic coverage needed?
- How often will data need to be sent and received?
- What connect and control specifications are in play?
• Ensure the network provider is flexible.
- Can they adapt to your IoT application to, for example, easily connect more devices, send more data more or less frequently, improve reporting?
- Do they meet and incorporate key IoT standards?
• High service levels are critical.
- Does the network service provider have a network reserved and dedicated to IoT that offers high stability?
In South Africa, commercial applications of IoT are limited, but the opportunity and advantage that IoT presents across sectors is seeing a number of proprietary solutions emerge. If you are gearing to make use of IoT, consider your options carefully. Be aware of the limitations and challenges and make use of solution providers that are flexible, established and experienced, and demonstrate their understanding of IoT technologies. IoT technology is an emerging field but it's going to be one that plays a big role in our digital future.
For more information contact Jasco Group, +27 (0)11 266 1500, eckart.zollner@jasco.co.za, www.jasco.co.za
Further reading:
Off-grid power solution for residential estate
Editor's Choice Security Services & Risk Management Residential Estate (Industry) Products
Coral Beach Estate, an upmarket residential estate based in East London, has been struggling with load shedding and power outages due to South Africa's energy crisis, as well as the vandalism of its power infrastructure.
Read more...
---
SafeCity Guarding rolls out across 14 suburbs in Johannesburg
News Security Services & Risk Management
In a major drive to provide communities across Johannesburg with additional safety, Vumacam, in partnership with Fidelity ADT and other security providers across the region, rolled out the innovative SafeCity Guarding initiative in 14 suburbs.
Read more...
---
FleetDomain underpins Afrirent's value proposition
Logistics (Industry) Security Services & Risk Management
Afrirent, a 100% female black-owned fleet management company, has been relying on FleetDomain software for a number of years to help it deliver outstanding service to a growing number of clients.
Read more...
---
Eleven steps to an effective ransomware response checklist
Editor's Choice Cyber Security
Anyone is a viable target for ransomware attacks and should have a plan in place to deal with a worst-case scenario. Fortinet offers this ransomware attack response checklist to effectively deal with an active ransomware attack.
Read more...
---
Blurring the lines between data management and cybersecurity
Cyber Security IT infrastructure
In the past, data management and cybersecurity would fall under separate domains, but with more organisations making the shift to the cloud, data management and data protection have merged, essentially blurring the lines between the two.
Read more...
---
Keeping students, staff and communities safe
Vumacam News CCTV, Surveillance & Remote Monitoring Security Services & Risk Management
South African schools are facing increasing security challenges, making effective surveillance systems more important than ever. To address this issue, Vumacam is offering advanced security solutions with security partners, aimed at keeping students, staff, and the community safe.
Read more...
---
Technology is key to securing physical and cybersecurity
Education (Industry) Security Services & Risk Management
The interpretation of security in educational institutions depends on whom you are talking to and whether their focus is on the physical security of the institution, its assets and its people, or its information and communication technology perspective.
Read more...
---
Recession? Do not skimp on cybersecurity
Cyber Security Security Services & Risk Management
While economists are studying their crystal balls, businesses have to prepare for the worst, and preparing for a recession means cutting costs and refocusing resources; however, they must ensure they do not end up creating an enormous risk.
Read more...
---
Top seven trends for the security industry
Hikvision South Africa Editor's Choice
Expect security systems to become even more deeply integrated and comprehensive, expanding with capabilities that are now shouldering tasks that are more intelligent, to improve efficiency in security as well as other operational functions.
Read more...
---
AI's take on physical security trends
Technews Publishing Editor's Choice
In Issue 1 every year, Hi-Tech Security Solutions looks at expected trends in the security industry, incorporating views from different sources. This year is no different, except we have a new contributor, ChatGPT from OpenAI.
Read more...
---