printer friendly version
Guiding businesses through testing times
June 2016 Cyber Security, Security Services & Risk Management
BT announced the launch of Cyber Roadmap Consulting, a new consultancy programme designed to give large organisations a better understanding of their own cyber security risks and implement measures to mitigate these.
The new service uses consultants from BT's global security consulting team to work with customers to identify risks in existing systems and processes. The BT consultants are in an ideal position to create a bespoke cyber-threat mitigation and defence plan for each customer, providing detailed step-by-step guidance to help them improve security throughout their organisation, covering people, processes and technology.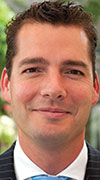 Guus van Es, BT's general manager for Security Consulting.
Guus van Es, BT's general manager for Security Consulting, said: "Our approach not only identifies gaps, it takes a broader view on how to help customers stay ahead of the threat curve. Based on our wealth of experience in protecting BT and our customers, it is an integral part of our security portfolio. This includes bespoke design, implementation and operate capabilities as well as delivery of managed services and help with transformation projects. Combined with our vendor-agnostic approach, this ensures we can deliver a set of realistic and cost efficient measures on a global scale while at the same time helping our customers make the most of their existing technology investments and stay closely aligned to their business goals."
Already delivered to one of the world's largest financial organisations, BT's Cyber Roadmap Consulting is fully compliant with ISO 27002, the U.S. Commerce Department's National Institute of Standards and Technology (NIST) Cyber Security Framework and the U.S. Federal Financial Institutions Examination Council (FFIEC) requirements for the financial services industry.
BT's global security consulting team consists of 500 highly skilled security specialists with expertise in every cyber area. Key accreditations available in the team include Certified Information Systems Security Professional (CISSP), Certified Information Systems Auditor/ Certified Information Security Manager (CISA/CISM), ISO 27001, ISO 27005 and ITIL.
The service is available worldwide.
For more information contact BT, +27 (0)11 798 5000.
Further reading:
Introducing adaptive active adversary
Cyber Security Products
New adaptive active adversary protection; Linux malware protection enhancements; account health check capabilities; an integrated zero trust network access (ZTNA) agent for Windows and macOS devices; and improved frontline defences against advanced cyberthreats and streamline endpoint security management.
Read more...
---
Off-grid power solution for residential estate
Editor's Choice Security Services & Risk Management Residential Estate (Industry) Products
Coral Beach Estate, an upmarket residential estate based in East London, has been struggling with load shedding and power outages due to South Africa's energy crisis, as well as the vandalism of its power infrastructure.
Read more...
---
SafeCity Guarding rolls out across 14 suburbs in Johannesburg
News Security Services & Risk Management
In a major drive to provide communities across Johannesburg with additional safety, Vumacam, in partnership with Fidelity ADT and other security providers across the region, rolled out the innovative SafeCity Guarding initiative in 14 suburbs.
Read more...
---
FleetDomain underpins Afrirent's value proposition
Logistics (Industry) Security Services & Risk Management
Afrirent, a 100% female black-owned fleet management company, has been relying on FleetDomain software for a number of years to help it deliver outstanding service to a growing number of clients.
Read more...
---
Eleven steps to an effective ransomware response checklist
Editor's Choice Cyber Security
Anyone is a viable target for ransomware attacks and should have a plan in place to deal with a worst-case scenario. Fortinet offers this ransomware attack response checklist to effectively deal with an active ransomware attack.
Read more...
---
Blurring the lines between data management and cybersecurity
Cyber Security IT infrastructure
In the past, data management and cybersecurity would fall under separate domains, but with more organisations making the shift to the cloud, data management and data protection have merged, essentially blurring the lines between the two.
Read more...
---
Keeping students, staff and communities safe
Vumacam News CCTV, Surveillance & Remote Monitoring Security Services & Risk Management
South African schools are facing increasing security challenges, making effective surveillance systems more important than ever. To address this issue, Vumacam is offering advanced security solutions with security partners, aimed at keeping students, staff, and the community safe.
Read more...
---
Technology is key to securing physical and cybersecurity
Education (Industry) Security Services & Risk Management
The interpretation of security in educational institutions depends on whom you are talking to and whether their focus is on the physical security of the institution, its assets and its people, or its information and communication technology perspective.
Read more...
---
Recession? Do not skimp on cybersecurity
Cyber Security Security Services & Risk Management
While economists are studying their crystal balls, businesses have to prepare for the worst, and preparing for a recession means cutting costs and refocusing resources; however, they must ensure they do not end up creating an enormous risk.
Read more...
---
Organisations are increasing modern data protection for cloud workloads
Cyber Security
The Veeam Cloud Protection Trends Report for 2023 identifies what is driving IT leaders to change strategies, roles and methods related to both production and protection of cloud-hosted workloads.
Read more...
---