printer friendly version
Guiding businesses through testing times
June 2016 Cyber Security, Security Services & Risk Management
BT announced the launch of Cyber Roadmap Consulting, a new consultancy programme designed to give large organisations a better understanding of their own cyber security risks and implement measures to mitigate these.
The new service uses consultants from BT's global security consulting team to work with customers to identify risks in existing systems and processes. The BT consultants are in an ideal position to create a bespoke cyber-threat mitigation and defence plan for each customer, providing detailed step-by-step guidance to help them improve security throughout their organisation, covering people, processes and technology.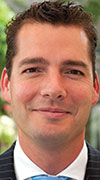 Guus van Es, BT's general manager for Security Consulting.
Guus van Es, BT's general manager for Security Consulting, said: "Our approach not only identifies gaps, it takes a broader view on how to help customers stay ahead of the threat curve. Based on our wealth of experience in protecting BT and our customers, it is an integral part of our security portfolio. This includes bespoke design, implementation and operate capabilities as well as delivery of managed services and help with transformation projects. Combined with our vendor-agnostic approach, this ensures we can deliver a set of realistic and cost efficient measures on a global scale while at the same time helping our customers make the most of their existing technology investments and stay closely aligned to their business goals."
Already delivered to one of the world's largest financial organisations, BT's Cyber Roadmap Consulting is fully compliant with ISO 27002, the U.S. Commerce Department's National Institute of Standards and Technology (NIST) Cyber Security Framework and the U.S. Federal Financial Institutions Examination Council (FFIEC) requirements for the financial services industry.
BT's global security consulting team consists of 500 highly skilled security specialists with expertise in every cyber area. Key accreditations available in the team include Certified Information Systems Security Professional (CISSP), Certified Information Systems Auditor/ Certified Information Security Manager (CISA/CISM), ISO 27001, ISO 27005 and ITIL.
The service is available worldwide.
For more information contact BT, +27 (0)11 798 5000.
Further reading:
Cyber futures in 2020
Issue 1 2020 , Cyber Security
MJ Strydom, managing director of cybersecurity specialist company, DRS, discusses what can be expected in 2020.
Read more...
---
Seven security trends for 2020
Issue 1 2020 , Cyber Security
What challenges await the security professional in 2020? Lukas van der Merwe looks at the trends for the year ahead.
Read more...
---
Security is not a single product solution
Issue 1 2020 , Cyber Security
Adopting a phased approach to security allows companies to develop a layered security posture to help control costs as well as the complexity.
Read more...
---
From physical security to cybersecurity
Access & Identity Management Handbook 2020, Genetec , Cyber Security, Security Services & Risk Management
Genetec discusses the security-of-security concept as a means to protect cameras, door controllers and other physical security devices and systems against cybercriminal activity.
Read more...
---
Biometrics in identity
Access & Identity Management Handbook 2020 , Access Control & Identity Management, Security Services & Risk Management
With multiple identity providers offering to manage digital identities for the general public, the root identity – the single sovereign trusted identity upon which all others are based – must start with government.
Read more...
---
Minding the gaps to protect industrial PLCs from cyber threats
November 2019, AVeS Cyber Security , Cyber Security
PLCs, designed to control machinery and specific processes, were never built with cybersecurity threats in mind and protecting PLCs against these threats requires healthy isolation from the Internet.
Read more...
---
African trust centre launches cyber division
November 2019 , Cyber Security
Advancing cybersecurity to more stringent heights, LAWtrust has launched a new division focusing on cybersecurity services to complement its identity, encryption and digital signature offerings.
Read more...
---
What are the cybersecurity issues in video surveillance?
November 2019, Axis Communications SA , Editor's Choice, CCTV, Surveillance & Remote Monitoring, Cyber Security
he importance of the data captured by surveillance cameras – and what can be done with it – has led to a new breed of cybercriminals, looking for insights to steal and sell.
Read more...
---
Protecting the outer perimeter with cloud services
November 2019 , Cyber Security
Business leaders now have a choice whether they want to continue using their trusted firewall or move to a next-generation firewall delivered by appliances or as cloud services.
Read more...
---
Information security outsourcing service
November 2019, Condyn , Cyber Security
SearchInform launches information security outsourcing service for companies that face the problem of corporate fraud and data leakage.
Read more...
---