printer friendly version
Smart, one-card student ID
June 2016 Access Control & Identity Management, Products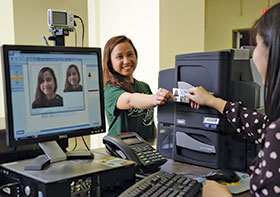 As the commonwealth of Virginia's largest public university, George Mason University has a population of more than 30 000 students with nearly 5000 facility members and 2000 contractors on campus. Showing no signs of slowing its student enrolment, George Mason is a rapidly expanding campus with new facilities and residential halls under construction, and new services being deployed each year.
However, an outdated and vulnerable Mason ID card system needed to be replaced with a more secure and comprehensive one-card solution that could provide better security, efficient end-to-end issuance capabilities and connect card holders to new services and departments on campus. Most importantly, the university needed a cost-effective migration plan if it were to completely replace its legacy student ID card system.
Needing to address today's increasing security challenges, George Mason also recognised that with any new technology deployment on campus, it had an opportunity to lay a foundation that would help the university meet the needs and the expectations of a very technology-savvy generation of students.
Greater campus security could be achieved by moving to a new contactless smartcard technology, but the greatest efficiency and convenience would come from leveraging the power of a flexible one-card solution that enabled the Mason ID to be used with not only access control systems, but other value-added applications and services on and off campus.
Determined to move to a new and comprehensive ID solution, George Mason was conscious of its limited budget and the time and cost associated with replacing existing card infrastructure and ultimately, rebadging its more than 30 000 card holders on campus.
End-to-end ID solution
By working with HID Global, George Mason was able to design a cost-effective and comprehensive, end-to-end ID solution that would enable university administrators to migrate their existing card system over an expected five years. Simultaneously compatible with the legacy student ID cards and the existing hardware on campus, this new solution would be deployed slowly and consist of the following:
• HID Global multiCLASS SE readers, as well as PERSONA Campus Software and SARGENT Passport locks from HID Global's parent company, ASSA ABLOY. Chosen for their built-in encryption and enhanced security, the multi-technology readers and locks also support the legacy magnetic stripe (magstripe) cards used on campus as well as newer, contactless card technology.
• Seos smartcards from HID Global were chosen for their advanced security, interoperability between the new locks and readers, and the multiple card applications enabled by its breakthrough technology. For instance, the university leveraged HID Global OMNIKEY desktop readers to extend the Seos card's use to check out library books and to pay for meals in the cafeteria.
• HID Global FARGO DTC4500e ID card printers and encoders along with its Asure ID card personalisation software were installed at the campus card office. Cards are personalised by printing student information to the card at the same time encoding and programming of both magstripe and Seos technologies.
"One of our goals is to get the students out of the card office as quickly as possible. We wanted something that was seamless, so staff could search for the person, verify the identity, print the card and hand it to the person, knowing that it would work right away," said Jerry Baugh, director of the Mason Card Office with George Mason University.
George Mason worked closely with HID Global and ASSA ABLOY to chart a three-year migration path for its new solution. To date, George Mason has installed about 3 500 new HID Global readers and ASSA ABLOY locks, and has issued more than 12 000 new Mason ID cards to incoming freshmen to start.
The multi-technology readers and locks ensure the total system also works with the older magstripe ID cards still in use. Potential applications for the new Mason ID include cashless payment for the Washington DC transit system, time and attendance when at the gym, and even generating one-time password (OTP) soft tokens to allow access to cloud applications, data and other services in the future.
Benefits delivered
The university now has state-of-the-art facility security as well as real-time control when a lock-down or other changes are needed. It can also quickly and easily modify the access control system, including updating card privileges, revoking and replacing lost or stolen cards, and adding or removing applications, while the new ID card also frees the students to easily access so many aspects of campus life.
The move to a Seos-based technology solution has provided the university with more freedom of choice and the ability to add more applications as it scales in the future, while providing the confidence that the university is receiving the best-in-class security and privacy protection for its students and staff. In the coming years, George Mason has positioned itself to take full advantage of its ID system to extend not only the many uses for the Mason ID, but the form factor of the student ID itself.
For more information contact HID Global, +27 (0)82 449 9398, rtruter@hidglobal.com, www.hidglobal.com
Credit(s)
Further reading:
Introducing adaptive active adversary
Cyber Security Products
New adaptive active adversary protection; Linux malware protection enhancements; account health check capabilities; an integrated zero trust network access (ZTNA) agent for Windows and macOS devices; and improved frontline defences against advanced cyberthreats and streamline endpoint security management.
Read more...
---
Qognify VMS adds support for Pelco IP camera series
CCTV, Surveillance & Remote Monitoring Products
The latest IP camera series from Pelco can now be used with Qognify's advanced video solution for corporate and enterprise projects, increasing the overall number of camera models and third-party devices supported in Qognify VMS to more than 6 500.
Read more...
---
Off-grid power solution for residential estate
Editor's Choice Security Services & Risk Management Residential Estate (Industry) Products
Coral Beach Estate, an upmarket residential estate based in East London, has been struggling with load shedding and power outages due to South Africa's energy crisis, as well as the vandalism of its power infrastructure.
Read more...
---
Choosing an inferior lithium battery can be detrimental and unsafe
Uniross Batteries Security Services & Risk Management Products
South Africans looking to mitigate the impact of load shedding by installing a solar system for their home must do so through an accredited installer or electrician to avoid insurance claims being rejected.
Read more...
---
VIVOTEK launches VAST Security Station
CCTV, Surveillance & Remote Monitoring Products
VIVOTEK officially launched its AI security system, VAST Security Station (VSS), in March, available to users in three flexible tiers: VSS Lite, VSS Standard, and VSS Professional.
Read more...
---
Converged infrastructure: Beyond the hype
IT infrastructure Products
Technical teams no longer have to sit and try to work through a magnum opus of manuals for every layer of computing, networking, and storage, largely thanks to the growing popularity and increasing success of converged infrastructure.
Read more...
---
Heightening physical security at military base
Turnstar Systems Access Control & Identity Management Government and Parastatal (Industry) Products
Turnstar Systems recently installed two 3-metre Velocity Raptor traffic spikes at the South African National Defence Force (SANDF) Randfontein military base on Gauteng's West Rand.
Read more...
---
Boosting digital-intelligent transformation and AI applications
Dahua Technology South Africa CCTV, Surveillance & Remote Monitoring Products
2022 has been a year full of development and innovation for Dahua. The company has launched various upgrades to its existing product portfolio as well as an artillery of new products and solutions that address specific needs/problems in society.
Read more...
---
Zero Trust to dominate 2023
Cyber Security Access Control & Identity Management
Traditional ways of safeguarding data are no longer sufficient in 2023. Zero Trust has emerged as a more proactive way for businesses to keep their systems, data, and networks protected against compromise.
Read more...
---
Arcules and IMMIX announce integration
News CCTV, Surveillance & Remote Monitoring Products
Arcules has announced that its integration with Immix Central Station and Guard Force is available. The integration provides Central Station and Guard Force users a way to manage, verify, and respond to security events, while using Arcules-managed video feeds.
Read more...
---