printer friendly version
Protecting remote mobile sites
June 2016 Editor's Choice, CCTV, Surveillance & Remote Monitoring, Access Control & Identity Management, Asset Management, EAS, RFID, Security Services & Risk Management
After an ODET Perimeter Intrusion Detection System (PIDS) has been installed for a period of one year, no incidence of theft and vandalism has occurred at a mobile operator's tower infrastructure site, located remotely on a hill.
This is remarkable, considering that this particular site was targeted by thieves more than once, destroying equipment shelters, removing batteries and cutting 'baseband' or 'IF' copper cables from the shelters to the radio equipment, located on the mast.

Cables to radio units cut and stolen.
The perpetrators always gained access to this site by forcing the palisade fencing apart. Because of the remoteness of this site, these criminals had enough time to completely ransack the installation. Alarm systems that were installed inside the enclosures only triggered after the enclosure was breached. This alarm was relayed to a security company, who blindly responded to this event not knowing the exact nature of this incident. Sending out a security officer and his colleague to such an alarm might be dangerous as they would not know the number of perpetrators involved in this break-in and the threat level they might pose.
ODET Systems Africa evaluated the situation at this site, considering the classic approach of the Five D's namely:
• Denying access by the visible barrier of the repaired palisade fence.
• Detecting tampering with the palisade fence and access gate to site (ODET PIDS).
• Deterring the perpetrator/s by activating a light/alarm in conjunction with a video camera, sending the alarm event detail with a picture to a network operation centre (NOC), as well as to other interested parties via an message on a smart phone (ODET PIDS).
• Delaying the perpetrator by making ingress into the site a difficult as possible thereby buying time to:
• Defend the site by sending out a security response team geared for the threat level posed by the alarm incident.
ODET's PIDS proved to be a reliable and valuable component to a layered security approach in countering this security treat.
The ODET system deployed in this application consists of an ODET 1 single zone processing unit, available in a nineteen inch rack mount format. A multimode fibre optical cable is used as a sensing medium, which is mounted on the fence and gate. The system also provides input/output contacts for further configurations if required. One such contact output, switch on a LED floodlight and alarm, if an alarm event is triggered (deterring function). The ODET system also connects to a fish-eye video camera, allowing control of the picture/video feed.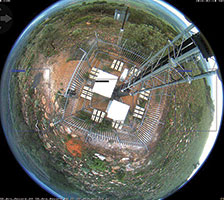 Perpetrator is left in picture at gate.
The alarm events, video feed and other functions are transmitted via an IP network connection to a security management system at the NOK. System maintenance and other analytics pertaining to this site, is also communicated via this network.
The image shows alarm events caught and recorded by the ODET system. All these events were of an unauthorised nature and these individuals were deterred by the alarm and lights the system triggered.
ODET is of the opinion that this particular system's configuration and deployment caused confusion and doubt in the minds of potential criminals, thereby completely deterring any further attempts at vandalising this site. The company says this technology can form an important part in the continuing fight against lawlessness in South Africa and elsewhere, especially regarding the threat mobile network operators, telecommunication companies and other infrastructure operators, having remote locations, face daily.
For more information contact ODET Systems Africa, +27 (0)10 492 0897, info@odetsa.com
Further reading:
Axis gives a brighter future for children
Issue 1 2020, Axis Communications SA , Editor's Choice
Fully networked camera solution provides visibility and accountability, letting orphanage focus on what's important – its children.
Read more...
---
SFP Security & Fire becomes ISF SFP
Issue 1 2020, ISF SFP , Editor's Choice
SFP Security & Fire was sold to ISF in 2019, becoming ISF SFP and attaining Level-1 BEE status.
Read more...
---
Janu-worry or Twenty-Plenty?
Issue 1 2020 , Editor's Choice
If the available security spend right now is somewhere between limited and non-existent, here are just a few suggestions.
Read more...
---
CCTV surveillance needs are critical in defining types of camera deployment
Issue 1 2020, Leaderware , Editor's Choice
Cameras by themselves do not reduce crime; they need to be implemented as part of a considered strategy of crime prevention and detection.
Read more...
---
Trends 2020
Issue 1 2020, Technews Publishing , Editor's Choice
Hi-Tech Security Solutions asked a few people from diverse companies to join us in a round-table discussion about what they expect to see happening in their environments in the coming year.
Read more...
---
Seven key trends for 2020
Issue 1 2020, Hikvision South Africa , Editor's Choice
Hikvision looks at a few trends that will affect the security industry in 2020 and beyond.
Read more...
---
Hundreds of millions to reskill
Issue 1 2020 , Editor's Choice
By 2022 alone, 75 million jobs will probably be displaced across 20 major economies, while 133 million new ones will spring up in industries that are only just gaining traction.
Read more...
---
Slow and steady wins the access race
Issue 1 2020, ZKTeco, Technews Publishing , Editor's Choice, Commercial (Industry)
The commercial sector is slow in migrating to new access control technologies, with the majority of companies remaining with card and fingerprint solutions.
Read more...
---
Client property access integrity
Issue 1 2020 , Editor's Choice
Blind or unquestioned trust is something that we all seem to willingly and unconditionally give our security service providers and their reaction officers.
Read more...
---
From physical security to cybersecurity
Access & Identity Management Handbook 2020, Genetec , Cyber Security, Security Services & Risk Management
Genetec discusses the security-of-security concept as a means to protect cameras, door controllers and other physical security devices and systems against cybercriminal activity.
Read more...
---