printer friendly version
Protecting remote mobile sites
June 2016 Editor's Choice, CCTV, Surveillance & Remote Monitoring, Access Control & Identity Management, Asset Management, EAS, RFID, Security Services & Risk Management
After an ODET Perimeter Intrusion Detection System (PIDS) has been installed for a period of one year, no incidence of theft and vandalism has occurred at a mobile operator's tower infrastructure site, located remotely on a hill.
This is remarkable, considering that this particular site was targeted by thieves more than once, destroying equipment shelters, removing batteries and cutting 'baseband' or 'IF' copper cables from the shelters to the radio equipment, located on the mast.

Cables to radio units cut and stolen.
The perpetrators always gained access to this site by forcing the palisade fencing apart. Because of the remoteness of this site, these criminals had enough time to completely ransack the installation. Alarm systems that were installed inside the enclosures only triggered after the enclosure was breached. This alarm was relayed to a security company, who blindly responded to this event not knowing the exact nature of this incident. Sending out a security officer and his colleague to such an alarm might be dangerous as they would not know the number of perpetrators involved in this break-in and the threat level they might pose.
ODET Systems Africa evaluated the situation at this site, considering the classic approach of the Five D's namely:
• Denying access by the visible barrier of the repaired palisade fence.
• Detecting tampering with the palisade fence and access gate to site (ODET PIDS).
• Deterring the perpetrator/s by activating a light/alarm in conjunction with a video camera, sending the alarm event detail with a picture to a network operation centre (NOC), as well as to other interested parties via an message on a smart phone (ODET PIDS).
• Delaying the perpetrator by making ingress into the site a difficult as possible thereby buying time to:
• Defend the site by sending out a security response team geared for the threat level posed by the alarm incident.
ODET's PIDS proved to be a reliable and valuable component to a layered security approach in countering this security treat.
The ODET system deployed in this application consists of an ODET 1 single zone processing unit, available in a nineteen inch rack mount format. A multimode fibre optical cable is used as a sensing medium, which is mounted on the fence and gate. The system also provides input/output contacts for further configurations if required. One such contact output, switch on a LED floodlight and alarm, if an alarm event is triggered (deterring function). The ODET system also connects to a fish-eye video camera, allowing control of the picture/video feed.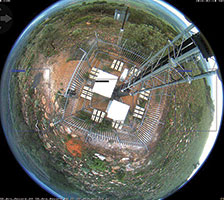 Perpetrator is left in picture at gate.
The alarm events, video feed and other functions are transmitted via an IP network connection to a security management system at the NOK. System maintenance and other analytics pertaining to this site, is also communicated via this network.
The image shows alarm events caught and recorded by the ODET system. All these events were of an unauthorised nature and these individuals were deterred by the alarm and lights the system triggered.
ODET is of the opinion that this particular system's configuration and deployment caused confusion and doubt in the minds of potential criminals, thereby completely deterring any further attempts at vandalising this site. The company says this technology can form an important part in the continuing fight against lawlessness in South Africa and elsewhere, especially regarding the threat mobile network operators, telecommunication companies and other infrastructure operators, having remote locations, face daily.
For more information contact ODET Systems Africa, +27 (0)10 492 0897, info@odetsa.com
Further reading:
Off-grid power solution for residential estate
Editor's Choice Security Services & Risk Management Residential Estate (Industry) Products
Coral Beach Estate, an upmarket residential estate based in East London, has been struggling with load shedding and power outages due to South Africa's energy crisis, as well as the vandalism of its power infrastructure.
Read more...
---
SafeCity Guarding rolls out across 14 suburbs in Johannesburg
News Security Services & Risk Management
In a major drive to provide communities across Johannesburg with additional safety, Vumacam, in partnership with Fidelity ADT and other security providers across the region, rolled out the innovative SafeCity Guarding initiative in 14 suburbs.
Read more...
---
FleetDomain underpins Afrirent's value proposition
Logistics (Industry) Security Services & Risk Management
Afrirent, a 100% female black-owned fleet management company, has been relying on FleetDomain software for a number of years to help it deliver outstanding service to a growing number of clients.
Read more...
---
Eleven steps to an effective ransomware response checklist
Editor's Choice Cyber Security
Anyone is a viable target for ransomware attacks and should have a plan in place to deal with a worst-case scenario. Fortinet offers this ransomware attack response checklist to effectively deal with an active ransomware attack.
Read more...
---
Keeping students, staff and communities safe
Vumacam News CCTV, Surveillance & Remote Monitoring Security Services & Risk Management
South African schools are facing increasing security challenges, making effective surveillance systems more important than ever. To address this issue, Vumacam is offering advanced security solutions with security partners, aimed at keeping students, staff, and the community safe.
Read more...
---
Technology is key to securing physical and cybersecurity
Education (Industry) Security Services & Risk Management
The interpretation of security in educational institutions depends on whom you are talking to and whether their focus is on the physical security of the institution, its assets and its people, or its information and communication technology perspective.
Read more...
---
Recession? Do not skimp on cybersecurity
Cyber Security Security Services & Risk Management
While economists are studying their crystal balls, businesses have to prepare for the worst, and preparing for a recession means cutting costs and refocusing resources; however, they must ensure they do not end up creating an enormous risk.
Read more...
---
Zero Trust to dominate 2023
Cyber Security Access Control & Identity Management
Traditional ways of safeguarding data are no longer sufficient in 2023. Zero Trust has emerged as a more proactive way for businesses to keep their systems, data, and networks protected against compromise.
Read more...
---
Arcules and IMMIX announce integration
News CCTV, Surveillance & Remote Monitoring Products
Arcules has announced that its integration with Immix Central Station and Guard Force is available. The integration provides Central Station and Guard Force users a way to manage, verify, and respond to security events, while using Arcules-managed video feeds.
Read more...
---
Top seven trends for the security industry
Hikvision South Africa Editor's Choice
Expect security systems to become even more deeply integrated and comprehensive, expanding with capabilities that are now shouldering tasks that are more intelligent, to improve efficiency in security as well as other operational functions.
Read more...
---