printer friendly version
360-degree panoramic CSI
June 2016
CCTV, Surveillance & Remote Monitoring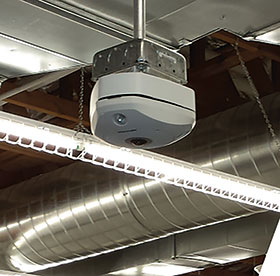 Hikvision has provided a state-of-the art surveillance solution to Colorado's Greenwood Village Police Department for use in its crime lab. This solution, which incorporates Video Content Analysis (VCA) as well as 360° fisheye technology, allows the Greenwood Village police to protect forensic evidence from external threats as well as improve employee accountability and monitor departmental procedure.
The Greenwood Village Police Department's crime lab is a vital facility inside which evidence from crime scenes is stored, including firearms, narcotics, and cash. The primary goals for the video surveillance solution were to integrate VCA into the critical areas of the crime lab to boost employee accountability, while creating new security capabilities as well.
"We had a system before but it was very archaic and outdated. There was no recording capability except for live viewing by the dispatch centre. It couldn't detect motion and was in limited areas," remarked Commander Joe Gutsgell, division commander of the Greenwood Village Police Department's Investigations Unit.
Safe Systems provided its technical expertise when installing the crime lab's new video surveillance system. It chose Hikvision products due to Hikvision's reliable performance, excellent customer support, and cost-effective product line. Hikvision's 6 MP fisheye camera allows for broad yet precise coverage of the evidence room. The fisheye is designed to capture images from every corner of a particular location and eliminate blind spots: a helpful, cost-effective solution for small, indoor spaces like this one. One camera takes on the job of what required three or more fixed cameras in the past.
High-resolution images up to 3072×2048 at 30 frames per second allow the Greenwood Village police a comprehensive view in real time. Infrared up to 15 m allows for visibility in low-or even zero-light conditions. The most notable features of the fisheye camera are its viewing modes – 360° or 180° panoramic views – perfect when comprehensive coverage is needed. Next are its dewarped views. This feature re-orients the rounded fisheye-lens perspective, making video appear much more lifelike.

Finally, a smooth ePTZ function lets lab workers easily pan, tilt, or zoom on any door, confiscated property, or personnel in the corridor. The 'e' in ePTZ stands for 'electronic' – the image captured by the camera appears to pan, tilt, and zoom, but the camera doesn't actually move. The movement happens electronically, or digitally, at the client.
"We're taking advantage of the 360° fisheye to look at three doors simultaneously: the exterior door, an interior door to another part of the office, and the evidence room," explained Mark Overland, senior safety and life security consultant of Safe Systems.
Hikvision's 1.3 MP mini dome cameras stand guard in the room where highly sensitive property confiscated by police is stored, and in the vehicle processing room, where Commander Gutsgell's team collects evidence from vehicles involved in investigations. Recorded video of this room also provides forensic accountability for the department's procedural integrity. Hikvision's professional series 16-channel NVR rounds out the solution. This high-performing,
48 TB recorder offers the ability to add cameras to the system as needed in the future. VCA features such as motion detection further maximise storage efficiency, reducing saved data when it isn't needed.
All said and done, Greenwood Village Police Department's crime lab is making good use of a comprehensive surveillance system with features that will serve them well for many years down the road. The powerful NVR offers the option to add cameras to the system if they are needed in the future, and the smart features are just a few clicks away. Commander Gutsgell was happy to report that the new system got the lab – in his own words – "out of the dark ages" in the surveillance area.
"From what we're used to, [the difference in image quality is] night and day. Before it was analogue and low quality, we had issues with the feed coming through to dispatch. From my perspective, it's an outstanding system in terms of quality and clarity." The Commander went on to say, "I can sit at my desk, which is in a different building from the crime lab, and look up anything that I need."
For more information contact Hikvision, +86 571 8735 6120, hanfei@hikvision.com, www.hikvision.com
Credit(s)
Further reading:
Qognify VMS adds support for Pelco IP camera series
CCTV, Surveillance & Remote Monitoring Products
The latest IP camera series from Pelco can now be used with Qognify's advanced video solution for corporate and enterprise projects, increasing the overall number of camera models and third-party devices supported in Qognify VMS to more than 6 500.
Read more...
---
VIVOTEK launches VAST Security Station
CCTV, Surveillance & Remote Monitoring Products
VIVOTEK officially launched its AI security system, VAST Security Station (VSS), in March, available to users in three flexible tiers: VSS Lite, VSS Standard, and VSS Professional.
Read more...
---
Keeping students, staff and communities safe
Vumacam News CCTV, Surveillance & Remote Monitoring Security Services & Risk Management
South African schools are facing increasing security challenges, making effective surveillance systems more important than ever. To address this issue, Vumacam is offering advanced security solutions with security partners, aimed at keeping students, staff, and the community safe.
Read more...
---
Helping to care for zoo animals
Hikvision South Africa CCTV, Surveillance & Remote Monitoring
Zoo keeps an eye on the safety of animals and visitors through the installation of Hikvision 4 MP turret, 12 MP Fisheye cameras, as well as PTZs, NVRs and central management system.
Read more...
---
Boosting digital-intelligent transformation and AI applications
Dahua Technology South Africa CCTV, Surveillance & Remote Monitoring Products
2022 has been a year full of development and innovation for Dahua. The company has launched various upgrades to its existing product portfolio as well as an artillery of new products and solutions that address specific needs/problems in society.
Read more...
---
Arcules and IMMIX announce integration
News CCTV, Surveillance & Remote Monitoring Products
Arcules has announced that its integration with Immix Central Station and Guard Force is available. The integration provides Central Station and Guard Force users a way to manage, verify, and respond to security events, while using Arcules-managed video feeds.
Read more...
---
Top seven trends for the security industry
Hikvision South Africa Editor's Choice
Expect security systems to become even more deeply integrated and comprehensive, expanding with capabilities that are now shouldering tasks that are more intelligent, to improve efficiency in security as well as other operational functions.
Read more...
---
Developing an effective CCTV control room culture
Leaderware Editor's Choice CCTV, Surveillance & Remote Monitoring Training & Education
Organisational culture in organisations can be seen as the set of values, practices, focus, standards and behaviours, and ways of interacting with others that are accepted and subscribed to by the people who work there.
Read more...
---
Eagle Eye Networks releases 2023 Video Surveillance Trends Report
Eagle Eye Networks News CCTV, Surveillance & Remote Monitoring
Eagle Eye Networks has released the 2023 Trends in Video Surveillance ebook, identifying five trends that will have the largest impact on businesses around the globe in 2023.
Read more...
---
Stainless steel 8 MP dome
Axis Communications SA Products CCTV, Surveillance & Remote Monitoring
Enclosed in marine-grade stainless steel (SS 316L) and DNV-certified, the AXIS Q3538-SLVE can withstand the corrosive effects of seawater and cleaning chemicals.
Read more...
---