printer friendly version
Theatres on the Bay protected
June 2016
CCTV, Surveillance & Remote Monitoring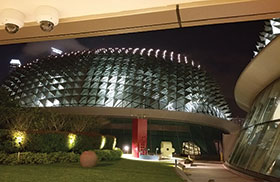 The stunning and iconic Esplanade – Theatres on the Bay, is a nearly 15-acre (60 000 square metre) performing arts centre located in Marina Bay, Singapore. One of the busiest concert halls in the world since its opening in 2002, the theatre has hosted more than 31 000 performances, drawing a total of 84 million visitors.
With its distinctive twin shells, this architectural masterpiece features world-class performance spaces in its two main venues – the Concert Hall and the Theatre – with capacities of 1800 and 2000 respectively. In March 2014, the Esplanade was listed as one of the "world's 15 most beautiful concert halls" by Hamburg-based building-data company Emporis.
Today, the Esplanade is renowned for possessing some of the best concert hall acoustics in the world. With its innovative and refined acoustic characteristics, the performance venue suits a wide range of Asian and Western arts and music. The hall regularly features renowned theatre companies and performers, contributing to Singapore's international and cultural vibrancy.
In 2014, after a decade of operation, management at the Theatres on the Bay, The Esplanade – a not-for-profit organisation and registered charity – decided to update its existing CCTV surveillance system. Working with Hikvision and solution provider ATT Systems Group (Singapore), a new surveillance system was designed to deliver effective internal and external surveillance, as well as perimeter protection for this prestigious arts centre.
The challenge
In partnership with Hikvision, and drawing on its experience in venue queue management and security systems integration, ATT Systems worked with the Esplanade management to provide an effective solution to the project's CCTV challenges.
The theatre's prominent façade directly faces the Singapore Merlion Park, Marina Floating Platform, and Singapore Financial Hub. In order to preserve the aesthetics of the iconic arts building, the new IP-over-fibre surveillance system carefully planned out locations for every camera.
Beyond providing effective video for general security, the new system also needed to provide 95% visual coverage of the entire site to assist with day-to-day management and visitor traffic flow, as well as the implementation of required health & safety practices.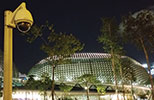 The solution
Using a mix of over 300 Hikvision 4-Series Smart Cameras and NVRs, along with Hikvision's video management software, ATT Systems specifically chose components that address the various needs of each internal and external area of the venue, depending on usage and desired scene content.
In the main hallway and inside the theatre, Hikvision's 2 MP Full HD Indoor Dome Network Cameras were installed to provide 1080p imaging; these cameras feature smart focus motorised VF lenses, BLC, smart audio, and intruder-detection functionality. Providing 24/7 coverage in the car park, 2 MP full HD outdoor dome network cameras were installed. Featuring built-in infrared (IR) LEDs, they can provide up to 30 m of nighttime viewing in complete darkness.
Preserving the internal aesthetics of the building's architecture, compact and unobtrusive IR mini dome network cameras were installed in the reception and ticket counter areas. To assist with any disputes in ticketing, the Hikvision Mini Domes, with their built-in microphones, were installed at the ticket counters and monitor all ticketing transactions while also observing any problems that might occur at the entry turnstiles. The surveillance footage from these dome cameras is a great asset in helping the theatre's management team speed-up the flow of visitor traffic by reducing queues and waiting times.
Providing an ideal surveillance solution to monitor the theatre's perimeter, surrounding driveways, and walkways, Hikvision's IP66-rated, 2 MP network PTZ dome cameras were installed, using their 30x optical and 16x digital zoom and smart tracking functionality.
Powerful control
In the control room, supporting live viewing, storage, playback and control of the over 300 network cameras are Hikvision's DS-9664NI-XT-Series NVRs using one of the possible RAID configurations. In order to support the large number of PTZ speed domes, general security and event management, the NVRs record both audio and video from each camera. The NVRs support hot-swappable HDDs and RAID 0, 1, 5, and 10 storage.
To control the smart camera functions, including smart search and playback, smart detection, and record backup, as well as smart applications such as people counting, heat mapping and interactive mapping, all system equipment is managed by Hikvision's open-platform iVMS-5200E Enterprise Video Management Software. Designed specifically for large-scale projects with multiple channel surveillance, this VMS offers video preview, video playback, and comprehensive alarm management. Fully integrated to the Hikvision array of NVRs, the iVMS-5200E also provides full control over the customisation of video tags, playback by tag and video searching; and for additional security of video footage, the locking and unlocking of any recorded files.
For more information contact Hikvision, +86 571 8735 6120, hanfei@hikvision.com, www.hikvision.com
Credit(s)
Further reading:
Qognify VMS adds support for Pelco IP camera series
CCTV, Surveillance & Remote Monitoring Products
The latest IP camera series from Pelco can now be used with Qognify's advanced video solution for corporate and enterprise projects, increasing the overall number of camera models and third-party devices supported in Qognify VMS to more than 6 500.
Read more...
---
VIVOTEK launches VAST Security Station
CCTV, Surveillance & Remote Monitoring Products
VIVOTEK officially launched its AI security system, VAST Security Station (VSS), in March, available to users in three flexible tiers: VSS Lite, VSS Standard, and VSS Professional.
Read more...
---
Keeping students, staff and communities safe
Vumacam News CCTV, Surveillance & Remote Monitoring Security Services & Risk Management
South African schools are facing increasing security challenges, making effective surveillance systems more important than ever. To address this issue, Vumacam is offering advanced security solutions with security partners, aimed at keeping students, staff, and the community safe.
Read more...
---
Helping to care for zoo animals
Hikvision South Africa CCTV, Surveillance & Remote Monitoring
Zoo keeps an eye on the safety of animals and visitors through the installation of Hikvision 4 MP turret, 12 MP Fisheye cameras, as well as PTZs, NVRs and central management system.
Read more...
---
Boosting digital-intelligent transformation and AI applications
Dahua Technology South Africa CCTV, Surveillance & Remote Monitoring Products
2022 has been a year full of development and innovation for Dahua. The company has launched various upgrades to its existing product portfolio as well as an artillery of new products and solutions that address specific needs/problems in society.
Read more...
---
Arcules and IMMIX announce integration
News CCTV, Surveillance & Remote Monitoring Products
Arcules has announced that its integration with Immix Central Station and Guard Force is available. The integration provides Central Station and Guard Force users a way to manage, verify, and respond to security events, while using Arcules-managed video feeds.
Read more...
---
Top seven trends for the security industry
Hikvision South Africa Editor's Choice
Expect security systems to become even more deeply integrated and comprehensive, expanding with capabilities that are now shouldering tasks that are more intelligent, to improve efficiency in security as well as other operational functions.
Read more...
---
Developing an effective CCTV control room culture
Leaderware Editor's Choice CCTV, Surveillance & Remote Monitoring Training & Education
Organisational culture in organisations can be seen as the set of values, practices, focus, standards and behaviours, and ways of interacting with others that are accepted and subscribed to by the people who work there.
Read more...
---
Eagle Eye Networks releases 2023 Video Surveillance Trends Report
Eagle Eye Networks News CCTV, Surveillance & Remote Monitoring
Eagle Eye Networks has released the 2023 Trends in Video Surveillance ebook, identifying five trends that will have the largest impact on businesses around the globe in 2023.
Read more...
---
Stainless steel 8 MP dome
Axis Communications SA Products CCTV, Surveillance & Remote Monitoring
Enclosed in marine-grade stainless steel (SS 316L) and DNV-certified, the AXIS Q3538-SLVE can withstand the corrosive effects of seawater and cleaning chemicals.
Read more...
---