printer friendly version
Protecting electronic devices
June 2016 Products, IT infrastructure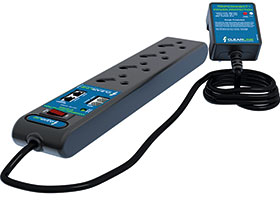 Most of our telephony infrastructure is made up of old copper-based technology. Telkom, however, has started investing in fibre technology along with some new players in the market. We all know fibre is a more sophisticated technology with greater data speeds, so the transition is welcome and much needed. Stopping cable theft is a big incentive for Telkom to transfer to fibre, but also the safety and protection against surges and lightning strikes. Where it's available, people are of course opting for a fibre line versus the traditional ADSL/VDSL copper options.
Fibre has changed the market tremendously. Traditional PABX systems have turned into IP phones or headsets now being used through existing networks and computer systems. Cloud computing is changing the way business's use and spend money on IT infrastructure. Online storage, video conferencing, the list goes on, all made possible with faster Internet technologies such as fibre!
Is fibre going to save our equipment from surges and lightning strikes. While it's true that an electrical surge cannot travel up a fibre cable, surge's can still affect your network through other sources. Eskom power will continue to be supplied on copper cabling, so moving your telecommunications over to fibre isn't going to solve the problem. Eskom's unstable grid and any up-and-down power outages leaves you vulnerable. Additionally, most business or small home networks still use copper CAT5e or CAT6 cabling internally. A nearby lightning strike could easily cause inductions of electrical current and damage your equipment.
Security & Communication Warehouse stocks a comprehensive range of power management solutions like Clearline products.
Credit(s)
Further reading:
FaceDepot-7B
Issue 1 2020, ZKTeco , Products
The FaceDepot-7B is an indoor facial recognition station with a slim design and 7-inch display.
Read more...
---
SpeedFace-V5
Issue 1 2020, ZKTeco , Products
The SpeedFace-V5 is a starter facial recognition terminal with a 5-inch touch display, multiple verification options with fingerprint, RFID and facial recognition.
Read more...
---
Walk-through metal detector and turnstile
Issue 1 2020, ZKTeco , Products
The MST150 is a turnstile from ZKTeco, designed with a built-in metal detector which enhances security levels and boosts the efficiency of security checkpoints. By combining inspection and access control, ...
Read more...
---
Duxbury Networking launches Solar Switch
November 2019 , IT infrastructure, Products
Duxbury Networking has launched its Solar Switch with tailored capabilities for applications in less-accessible areas where electricity is not available or not reliable.
Read more...
---
TruVision licence plate cameras
November 2019, UTC Fire & Security SSA , Products, CCTV, Surveillance & Remote Monitoring
TruVision ANPR cameras offer functionality for applications where vehicle access management is required based on licence plate.
Read more...
---
Cable theft detection and alerting system
November 2019, Elvey Security Technologies , Products
Cable theft monitoring and alerting system makes use of Permaconn devices and the Pocket Secure app for real-time alerting.
Read more...
---
IP video intercom system
November 2019, Hikvision South Africa , Products
Hikvision has released its second-generation IP video intercom system designed for door entry communication including video and security access.
Read more...
---
Camera Nest enclosure improves accessibility
November 2019, Elvey Security Technologies , Products
The launch of the South African made Camera Nest fundamentally changes the surveillance mounting and installation method.
Read more...
---
Live vehicle monitoring in estates
November 2019 , Products
The eTrac from BetaTrac allows estates to not only register vehicles as they enter the estate, but track their movements while there.
Read more...
---
Secutel's new bodycam
November 2019, Secutel Technologies , Products
The SecuTraq MP 5 all-in-one bodycam is a workforce tracking and management solution that empowers and protects your workforce.
Read more...
---