printer friendly version
Protecting electronic devices
June 2016 Products, IT infrastructure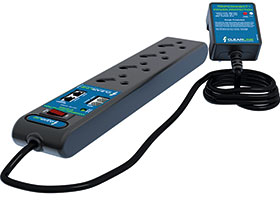 Most of our telephony infrastructure is made up of old copper-based technology. Telkom, however, has started investing in fibre technology along with some new players in the market. We all know fibre is a more sophisticated technology with greater data speeds, so the transition is welcome and much needed. Stopping cable theft is a big incentive for Telkom to transfer to fibre, but also the safety and protection against surges and lightning strikes. Where it's available, people are of course opting for a fibre line versus the traditional ADSL/VDSL copper options.
Fibre has changed the market tremendously. Traditional PABX systems have turned into IP phones or headsets now being used through existing networks and computer systems. Cloud computing is changing the way business's use and spend money on IT infrastructure. Online storage, video conferencing, the list goes on, all made possible with faster Internet technologies such as fibre!
Is fibre going to save our equipment from surges and lightning strikes. While it's true that an electrical surge cannot travel up a fibre cable, surge's can still affect your network through other sources. Eskom power will continue to be supplied on copper cabling, so moving your telecommunications over to fibre isn't going to solve the problem. Eskom's unstable grid and any up-and-down power outages leaves you vulnerable. Additionally, most business or small home networks still use copper CAT5e or CAT6 cabling internally. A nearby lightning strike could easily cause inductions of electrical current and damage your equipment.
Security & Communication Warehouse stocks a comprehensive range of power management solutions like Clearline products.
Further reading:
Introducing adaptive active adversary
Cyber Security Products
New adaptive active adversary protection; Linux malware protection enhancements; account health check capabilities; an integrated zero trust network access (ZTNA) agent for Windows and macOS devices; and improved frontline defences against advanced cyberthreats and streamline endpoint security management.
Read more...
---
Qognify VMS adds support for Pelco IP camera series
CCTV, Surveillance & Remote Monitoring Products
The latest IP camera series from Pelco can now be used with Qognify's advanced video solution for corporate and enterprise projects, increasing the overall number of camera models and third-party devices supported in Qognify VMS to more than 6 500.
Read more...
---
Off-grid power solution for residential estate
Editor's Choice Security Services & Risk Management Residential Estate (Industry) Products
Coral Beach Estate, an upmarket residential estate based in East London, has been struggling with load shedding and power outages due to South Africa's energy crisis, as well as the vandalism of its power infrastructure.
Read more...
---
Choosing an inferior lithium battery can be detrimental and unsafe
Uniross Batteries Security Services & Risk Management Products
South Africans looking to mitigate the impact of load shedding by installing a solar system for their home must do so through an accredited installer or electrician to avoid insurance claims being rejected.
Read more...
---
VIVOTEK launches VAST Security Station
CCTV, Surveillance & Remote Monitoring Products
VIVOTEK officially launched its AI security system, VAST Security Station (VSS), in March, available to users in three flexible tiers: VSS Lite, VSS Standard, and VSS Professional.
Read more...
---
Converged infrastructure: Beyond the hype
IT infrastructure Products
Technical teams no longer have to sit and try to work through a magnum opus of manuals for every layer of computing, networking, and storage, largely thanks to the growing popularity and increasing success of converged infrastructure.
Read more...
---
Blurring the lines between data management and cybersecurity
Cyber Security IT infrastructure
In the past, data management and cybersecurity would fall under separate domains, but with more organisations making the shift to the cloud, data management and data protection have merged, essentially blurring the lines between the two.
Read more...
---
Veeam launches Backup for Microsoft 365 v7
Products
Veeam Software has released Veeam Backup for Microsoft 365 v7, offering a backup and recovery solution for Microsoft 365, including Microsoft Exchange Online, SharePoint Online, OneDrive for Business ...
Read more...
---
Heightening physical security at military base
Turnstar Systems Access Control & Identity Management Government and Parastatal (Industry) Products
Turnstar Systems recently installed two 3-metre Velocity Raptor traffic spikes at the South African National Defence Force (SANDF) Randfontein military base on Gauteng's West Rand.
Read more...
---
Boosting digital-intelligent transformation and AI applications
Dahua Technology South Africa CCTV, Surveillance & Remote Monitoring Products
2022 has been a year full of development and innovation for Dahua. The company has launched various upgrades to its existing product portfolio as well as an artillery of new products and solutions that address specific needs/problems in society.
Read more...
---