printer friendly version
New UPS range for the SME
June 2016
Products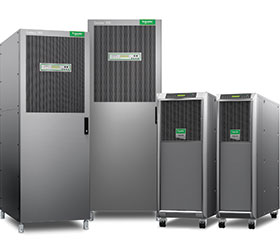 Schneider Electric has announced the expansion of its Galaxy 300 uninterruptible power supply (UPS) system, which now includes 60 kVA and 80 kVA models. Ideal for small and medium businesses, commercial buildings and technical facilities with small server rooms, the Galaxy 300 60 kVA and 80 kVA UPS systems provide effective and reliable three-phase power protection to prevent downtime and data loss for mission critical applications in a robust, simple-to-install and cost-effective configuration.
The new UPS systems also enable users to lower operational and cooling costs with power efficiency and total harmonic distortion of current at less than 3,5% with full load.
To ensure uptime and availability, the Galaxy 300 10 to 80 kVA portfolio allows for standard installation of one or two independent power sources, and utilises an online double conversion topology to provide true isolation between input and output with zero transfer time.
A built-in 100% rated bypass static switch prevents interruption by allowing load transfer to utility power during heavy overloads. Connected equipment can be powered with two UPSs united in parallel to increase system redundancy. In addition, the system provides users with options for an integrated battery backup with up to 10 minutes of runtime, or a robust charger for external batteries on rack or in external cabinets that provides run times of up to four hours.
Designed for ease-of-use, users are able to monitor and manage power requirements locally and remotely through a simple web/ simple network management protocol interface. The simple-to-read and highly graphical user interface provides mimic diagrams, audible alarms and is available in 18 languages.
The Galaxy 300 10 to 80 kVA UPS systems are also equipped with several features that enable simple installation as well as tools to streamline compliance, maintenance and serviceability over the system's service life. An accessible maintenance bypass allows for complete isolation of each part of the system without power interruption, and the system features push-open doors and slide out boards for effortless maintenance in confined spaces. For timesaving installation, the compact wide or narrow tower configurations can easily be rolled into new or existing facilities, and all wiring connections are easily identifiable. Step-by-step guidance and intuitive menu screens enable fast setup and system navigation.
Additional features of the systems include:
• A dual mains input that allows for stand installation of one or two independent power sources.
• A power factor corrected input that prevents the need for oversizing cables, circuit breakers and generators.
• Runtime options for UPS systems with integrated and external batteries.
• Availability of three to three and three to single phase power configurations for convenient power distribution.
• Restriction of the use of Hazardous Substances (RoHS) compliant.
For more information contact Isabel Mwale, Schneider Electric, +27 (0)11 254 6400, isabel.mwale@schneider-electric.com, www.schneider-electric.com
Further reading:
FaceDepot-7B
Issue 1 2020, ZKTeco , Products
The FaceDepot-7B is an indoor facial recognition station with a slim design and 7-inch display.
Read more...
---
SpeedFace-V5
Issue 1 2020, ZKTeco , Products
The SpeedFace-V5 is a starter facial recognition terminal with a 5-inch touch display, multiple verification options with fingerprint, RFID and facial recognition.
Read more...
---
Walk-through metal detector and turnstile
Issue 1 2020, ZKTeco , Products
The MST150 is a turnstile from ZKTeco, designed with a built-in metal detector which enhances security levels and boosts the efficiency of security checkpoints. By combining inspection and access control, ...
Read more...
---
Duxbury Networking launches Solar Switch
November 2019 , IT infrastructure, Products
Duxbury Networking has launched its Solar Switch with tailored capabilities for applications in less-accessible areas where electricity is not available or not reliable.
Read more...
---
TruVision licence plate cameras
November 2019, UTC Fire & Security SSA , Products, CCTV, Surveillance & Remote Monitoring
TruVision ANPR cameras offer functionality for applications where vehicle access management is required based on licence plate.
Read more...
---
Cable theft detection and alerting system
November 2019, Elvey Security Technologies , Products
Cable theft monitoring and alerting system makes use of Permaconn devices and the Pocket Secure app for real-time alerting.
Read more...
---
IP video intercom system
November 2019, Hikvision South Africa , Products
Hikvision has released its second-generation IP video intercom system designed for door entry communication including video and security access.
Read more...
---
Camera Nest enclosure improves accessibility
November 2019, Elvey Security Technologies , Products
The launch of the South African made Camera Nest fundamentally changes the surveillance mounting and installation method.
Read more...
---
Live vehicle monitoring in estates
November 2019 , Products
The eTrac from BetaTrac allows estates to not only register vehicles as they enter the estate, but track their movements while there.
Read more...
---
Secutel's new bodycam
November 2019, Secutel Technologies , Products
The SecuTraq MP 5 all-in-one bodycam is a workforce tracking and management solution that empowers and protects your workforce.
Read more...
---