printer friendly version
New UPS range for the SME
June 2016
Products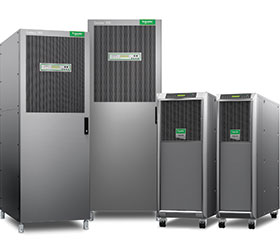 Schneider Electric has announced the expansion of its Galaxy 300 uninterruptible power supply (UPS) system, which now includes 60 kVA and 80 kVA models. Ideal for small and medium businesses, commercial buildings and technical facilities with small server rooms, the Galaxy 300 60 kVA and 80 kVA UPS systems provide effective and reliable three-phase power protection to prevent downtime and data loss for mission critical applications in a robust, simple-to-install and cost-effective configuration.
The new UPS systems also enable users to lower operational and cooling costs with power efficiency and total harmonic distortion of current at less than 3,5% with full load.
To ensure uptime and availability, the Galaxy 300 10 to 80 kVA portfolio allows for standard installation of one or two independent power sources, and utilises an online double conversion topology to provide true isolation between input and output with zero transfer time.
A built-in 100% rated bypass static switch prevents interruption by allowing load transfer to utility power during heavy overloads. Connected equipment can be powered with two UPSs united in parallel to increase system redundancy. In addition, the system provides users with options for an integrated battery backup with up to 10 minutes of runtime, or a robust charger for external batteries on rack or in external cabinets that provides run times of up to four hours.
Designed for ease-of-use, users are able to monitor and manage power requirements locally and remotely through a simple web/ simple network management protocol interface. The simple-to-read and highly graphical user interface provides mimic diagrams, audible alarms and is available in 18 languages.
The Galaxy 300 10 to 80 kVA UPS systems are also equipped with several features that enable simple installation as well as tools to streamline compliance, maintenance and serviceability over the system's service life. An accessible maintenance bypass allows for complete isolation of each part of the system without power interruption, and the system features push-open doors and slide out boards for effortless maintenance in confined spaces. For timesaving installation, the compact wide or narrow tower configurations can easily be rolled into new or existing facilities, and all wiring connections are easily identifiable. Step-by-step guidance and intuitive menu screens enable fast setup and system navigation.
Additional features of the systems include:
• A dual mains input that allows for stand installation of one or two independent power sources.
• A power factor corrected input that prevents the need for oversizing cables, circuit breakers and generators.
• Runtime options for UPS systems with integrated and external batteries.
• Availability of three to three and three to single phase power configurations for convenient power distribution.
• Restriction of the use of Hazardous Substances (RoHS) compliant.
For more information contact Isabel Mwale, Schneider Electric, +27 (0)11 254 6400, isabel.mwale@schneider-electric.com, www.schneider-electric.com
Credit(s)
Further reading:
Introducing adaptive active adversary
Cyber Security Products
New adaptive active adversary protection; Linux malware protection enhancements; account health check capabilities; an integrated zero trust network access (ZTNA) agent for Windows and macOS devices; and improved frontline defences against advanced cyberthreats and streamline endpoint security management.
Read more...
---
Qognify VMS adds support for Pelco IP camera series
CCTV, Surveillance & Remote Monitoring Products
The latest IP camera series from Pelco can now be used with Qognify's advanced video solution for corporate and enterprise projects, increasing the overall number of camera models and third-party devices supported in Qognify VMS to more than 6 500.
Read more...
---
Off-grid power solution for residential estate
Editor's Choice Security Services & Risk Management Residential Estate (Industry) Products
Coral Beach Estate, an upmarket residential estate based in East London, has been struggling with load shedding and power outages due to South Africa's energy crisis, as well as the vandalism of its power infrastructure.
Read more...
---
Choosing an inferior lithium battery can be detrimental and unsafe
Uniross Batteries Security Services & Risk Management Products
South Africans looking to mitigate the impact of load shedding by installing a solar system for their home must do so through an accredited installer or electrician to avoid insurance claims being rejected.
Read more...
---
VIVOTEK launches VAST Security Station
CCTV, Surveillance & Remote Monitoring Products
VIVOTEK officially launched its AI security system, VAST Security Station (VSS), in March, available to users in three flexible tiers: VSS Lite, VSS Standard, and VSS Professional.
Read more...
---
Converged infrastructure: Beyond the hype
IT infrastructure Products
Technical teams no longer have to sit and try to work through a magnum opus of manuals for every layer of computing, networking, and storage, largely thanks to the growing popularity and increasing success of converged infrastructure.
Read more...
---
Veeam launches Backup for Microsoft 365 v7
Products
Veeam Software has released Veeam Backup for Microsoft 365 v7, offering a backup and recovery solution for Microsoft 365, including Microsoft Exchange Online, SharePoint Online, OneDrive for Business ...
Read more...
---
Heightening physical security at military base
Turnstar Systems Access Control & Identity Management Government and Parastatal (Industry) Products
Turnstar Systems recently installed two 3-metre Velocity Raptor traffic spikes at the South African National Defence Force (SANDF) Randfontein military base on Gauteng's West Rand.
Read more...
---
Boosting digital-intelligent transformation and AI applications
Dahua Technology South Africa CCTV, Surveillance & Remote Monitoring Products
2022 has been a year full of development and innovation for Dahua. The company has launched various upgrades to its existing product portfolio as well as an artillery of new products and solutions that address specific needs/problems in society.
Read more...
---
Arcules and IMMIX announce integration
News CCTV, Surveillance & Remote Monitoring Products
Arcules has announced that its integration with Immix Central Station and Guard Force is available. The integration provides Central Station and Guard Force users a way to manage, verify, and respond to security events, while using Arcules-managed video feeds.
Read more...
---