printer friendly version
Golfing for charity
June 2016 Editor's Choice, News
The South African Institute of Security (SAIS) held its Annual Charity Golf Day on Friday 6th May 2015 at the impressive and challenging Gary Player designed Blue Valley Golf Club in Midrand. The event was fully subscribed with a field of 120 golfers ranging from top professionals to equally enthusiastic part-timers.
Left to right: Reggie Marimuthu, Rien ne dit Kasongo, Loide Ndemueda and Mellisa Mutetwa.
The beneficiary of the day was the Children of Fire charity which helps young survivors of burn injuries (whether by fire, chemicals, electricity or hot liquids) in Africa, and helps educate the communities in which they live, providing both prevention and cure. This is the third year that the SAIS event has supported this charity and some of the children were able to attend the evening prize-giving dinner to meet, and thank, the golfers and sponsors for their participation and generous donations.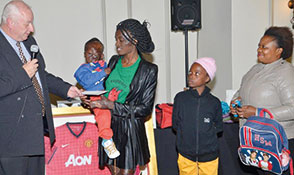 Left to right: Dave Dodge, Rien ne dit Kasongo (age 2½), Loide Ndemueda (19), Mellisa Mutetwa (10) and Jemina Masiteng.
SAIS chair, Dave Dodge, presented the prizes to the winning team of Aeonova, consisting of Ettienne Knipe, Chris Christie, Sasha Ash and Archie Cassim, and addressed the dinner together with fire survivor, 19-year-old Loide Ndemueda. Dodge praised event organiser, and former SAIS chairman, Reggie Marimuthu, the various sponsors and the Blue Valley Golf Club for once again making the day such a huge success in support of a charity which he described as "providing essential support for some of the most vulnerable children in southern Africa, which SAIS has been proud to be associated with for the past three years".
Further information regarding the Children of Fire charity is available at www.childrenoffire.org and more about SAIS can be found at www.instituteofsecurity.co.za
Further reading:
Off-grid power solution for residential estate
Editor's Choice Security Services & Risk Management Residential Estate (Industry) Products
Coral Beach Estate, an upmarket residential estate based in East London, has been struggling with load shedding and power outages due to South Africa's energy crisis, as well as the vandalism of its power infrastructure.
Read more...
---
Eleven steps to an effective ransomware response checklist
Editor's Choice Cyber Security
Anyone is a viable target for ransomware attacks and should have a plan in place to deal with a worst-case scenario. Fortinet offers this ransomware attack response checklist to effectively deal with an active ransomware attack.
Read more...
---
ALX sponsored learning programmes for 2023
Training & Education News
With a mission to harness Africa's abundant human capital by developing two million ethical and entrepreneurial young leaders from the continent by 2030, ALX has launched four fully sponsored (at no cost) tech programmes for 2023.
Read more...
---
Top seven trends for the security industry
Hikvision South Africa Editor's Choice
Expect security systems to become even more deeply integrated and comprehensive, expanding with capabilities that are now shouldering tasks that are more intelligent, to improve efficiency in security as well as other operational functions.
Read more...
---
AI's take on physical security trends
Technews Publishing Editor's Choice
In Issue 1 every year, Hi-Tech Security Solutions looks at expected trends in the security industry, incorporating views from different sources. This year is no different, except we have a new contributor, ChatGPT from OpenAI.
Read more...
---
Developing an effective CCTV control room culture
Leaderware Editor's Choice CCTV, Surveillance & Remote Monitoring Training & Education
Organisational culture in organisations can be seen as the set of values, practices, focus, standards and behaviours, and ways of interacting with others that are accepted and subscribed to by the people who work there.
Read more...
---
Women in Security
Technews Publishing Editor's Choice News
Hi-Tech Security Solutions together with ASIS International's South Africa Chapter, will be focusing on women working within the South African physical security services and information technology sectors during 2023.
Read more...
---
Enter the 2023 South African OSPA Awards
Editor's Choice News
Nominations for the 2023 South African Outstanding Security Performance Awards (OSPAs) in six categories have been extended and entries can be submitted until 18 April 2023.
Read more...
---
Hardening physical security against cyberattacks
Genetec Editor's Choice Cyber Security IT infrastructure
As the world becomes increasingly interconnected through the move to cloud computing and Internet of Things (IoT) devices, cybercrime has risen steadily, along with tools to combat it. Geopolitical tensions have the potential to rapidly unleash devastating cyberattacks worldwide.
Read more...
---
Fast, reliable and secure cloud services
Technews Publishing Editor's Choice Cyber Security IT infrastructure
Security and speed are critical components of today's cloud-based services infrastructure. Cloudflare offers a range of services supporting these goals beyond what most people think it does.
Read more...
---