printer friendly version
Golfing for charity
June 2016 Editor's Choice, News
The South African Institute of Security (SAIS) held its Annual Charity Golf Day on Friday 6th May 2015 at the impressive and challenging Gary Player designed Blue Valley Golf Club in Midrand. The event was fully subscribed with a field of 120 golfers ranging from top professionals to equally enthusiastic part-timers.
Left to right: Reggie Marimuthu, Rien ne dit Kasongo, Loide Ndemueda and Mellisa Mutetwa.
The beneficiary of the day was the Children of Fire charity which helps young survivors of burn injuries (whether by fire, chemicals, electricity or hot liquids) in Africa, and helps educate the communities in which they live, providing both prevention and cure. This is the third year that the SAIS event has supported this charity and some of the children were able to attend the evening prize-giving dinner to meet, and thank, the golfers and sponsors for their participation and generous donations.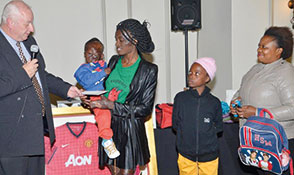 Left to right: Dave Dodge, Rien ne dit Kasongo (age 2½), Loide Ndemueda (19), Mellisa Mutetwa (10) and Jemina Masiteng.
SAIS chair, Dave Dodge, presented the prizes to the winning team of Aeonova, consisting of Ettienne Knipe, Chris Christie, Sasha Ash and Archie Cassim, and addressed the dinner together with fire survivor, 19-year-old Loide Ndemueda. Dodge praised event organiser, and former SAIS chairman, Reggie Marimuthu, the various sponsors and the Blue Valley Golf Club for once again making the day such a huge success in support of a charity which he described as "providing essential support for some of the most vulnerable children in southern Africa, which SAIS has been proud to be associated with for the past three years".
Further information regarding the Children of Fire charity is available at www.childrenoffire.org and more about SAIS can be found at www.instituteofsecurity.co.za
Further reading:
New algorithm for OT cybersecurity risk management
Industrial (Industry) Cyber Security News Commercial (Industry)
OTORIO's new risk management model and attack graph analysis algorithm technology, calculates OT cybersecurity threats and provides risk mitigation actions, prioritised according to actual exposure and potential impact on operations.
Read more...
---
Robots: a security opportunity or a threat?
Editor's Choice News Conferences & Events
Professor Martin Gill, Director of Perpetuity Research & Consultancy International and the School of Criminal Justice at the University of South Africa (UNISA), will be holding a Global Thought Leadership Security webinar on 22 June 2023 to discuss the contentious issue of robots operating in the security industry.
Read more...
---
UNISA sponsors Securex seminars
Editor's Choice News Conferences & Events
As part of UNISA's 150-year birthday celebrations, UNISA has sponsored the Securex Theatre Seminar Programme, which will include a number of prominent industry specialists, academics and security practitioners focusing on a number of themes.
Read more...
---
Sustainability School opens for enrolment
Education (Industry) News Security Services & Risk Management
Three-part programme, first developed for Schneider Electric employees, is now available for free for companies worldwide. Attendees learn how to future-proof their businesses and accelerate their decarbonisation journeys.
Read more...
---
Accenture Technology Vision 2023
Editor's Choice News
New report states that generative AI is expected to usher in a 'bold new future' for business, merging physical and digital worlds, transforming the way people work and live.
Read more...
---
Cyber attackers used over 500 tools and tactics in 2022
Cyber Security News
The most common root causes of attacks were unpatched vulnerabilities and compromised credentials, while ransomware continues to be the most common 'end game' and attacker dwell time is shrinking – for better or worse.
Read more...
---
Economists divided on global economic recovery
Editor's Choice News
Growth outlook has strengthened in all regions, but chief economists are divided on the likelihood of a global recession in 2023; experts are concerned about trade-off between managing inflation and maintaining financial stability, with 76% anticipating central banks to struggle to bring down inflation.
Read more...
---
Success in business process best practices
Technews Publishing Kleyn Change Management Editor's Choice Integrated Solutions Security Services & Risk Management
This month we commandeer time with the woman who is spearheading our national conversation on Women in Security, Lesley-Anne Kleyn, to get to know the lady herself a little better.
Read more...
---
Recession or stress?
Cyber Security News
The economic landscape has seen many technology companies lay off vast numbers of employees, but for cybersecurity, the picture looks very different – a dynamic mixture of excitement, challenges and toxicity.
Read more...
---
SAFPS to launch a platform to combat fraud
Editor's Choice News Security Services & Risk Management
In response to the growing need for a proactive approach to fraud prevention, the SAFPS is developing a product called Yima, which will be a one-stop-shop for South Africans to report scams, secure their identity, and scan any website for vulnerabilities.
Read more...
---