printer friendly version
H.265 IP surveillance portfolio
May 2016 Products, CCTV, Surveillance & Remote Monitoring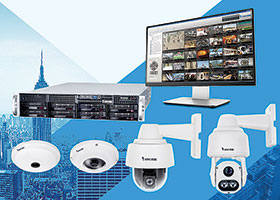 After announcing its H.265/HEVC surveillance solutions at the end of 2015, VIVOTEK is adding 10 new H.265/HEVC surveillance products. These include three Full HD long distance IR speed dome cameras adopting the latest VAIR (Vari-Angle IR) technology, three outdoor Full HD speed dome network cameras, two 5-megapixel fisheye network cameras and two network video recorders. These new products allow VIVOTEK to expand its H.265/HEVC product portfolio and enable more growth in diversified vertical markets. By employing H.265 compression technology and using VIVOTEK's Smart Stream II technology, these cameras can reduce both bandwidth and storage consumption by up to 80% while retaining the highest standards in image quality.
The H.265 5 MP fisheye network cameras deliver panoramic views with 5-megapixel CMOS sensors, and add WDR Pro technology to enhance coverage in areas of contrasting light. Further enhancing its versatility, the H.265 fisheye camera FE9381-EHV is full EN50155 compliant, IK10 and IP66-rated housing, ensuring the camera can withstand shock, vibration, humidity, dust, and temperature fluctuations.
The two H.265 compatible NVRs, the 64-channel NR9681, and 32-channel NR9581 support H.265 video compression technology, RAID and up to 48 TB storage capacity with 8 hard disk trays, offering 30% to 50% more recording capacity compared to similar systems using H.264 compression. Furthermore, a de-warping function enables a panoramic image to be recorded while areas of interest are displayed in fine detail.
For more information contact VIVOTEK, +886 2 8245 5282, pr@vivotek.com, www.vivotek.com.
Further reading:
Three new portable power stations to ease load shedding
News Security Services & Risk Management Products
EcoFlow has launched three portable power stations that provide sufficient power for consumers wherever they are; the DELTA 2 and RIVER 2 Series are feature-filled power solutions to the volatile electricity supply.
Read more...
---
Recharge and top up for pre-paid SIM cards
Asset Management, EAS, RFID Products
Businesses of all sizes are challenged by the administrative nightmare of reporting on the costs associated with airtime recharges on pre-paid and top-up SIM cards, which are often procured from multiple sources, including carriers and retail outlets.
Read more...
---
Introducing adaptive active adversary
Cyber Security Products
New adaptive active adversary protection; Linux malware protection enhancements; account health check capabilities; an integrated zero trust network access (ZTNA) agent for Windows and macOS devices; and improved frontline defences against advanced cyberthreats and streamline endpoint security management.
Read more...
---
Qognify VMS adds support for Pelco IP camera series
CCTV, Surveillance & Remote Monitoring Products
The latest IP camera series from Pelco can now be used with Qognify's advanced video solution for corporate and enterprise projects, increasing the overall number of camera models and third-party devices supported in Qognify VMS to more than 6 500.
Read more...
---
Off-grid power solution for residential estate
Editor's Choice Security Services & Risk Management Residential Estate (Industry) Products
Coral Beach Estate, an upmarket residential estate based in East London, has been struggling with load shedding and power outages due to South Africa's energy crisis, as well as the vandalism of its power infrastructure.
Read more...
---
Choosing an inferior lithium battery can be detrimental and unsafe
Uniross Batteries Security Services & Risk Management Products
South Africans looking to mitigate the impact of load shedding by installing a solar system for their home must do so through an accredited installer or electrician to avoid insurance claims being rejected.
Read more...
---
VIVOTEK launches VAST Security Station
CCTV, Surveillance & Remote Monitoring Products
VIVOTEK officially launched its AI security system, VAST Security Station (VSS), in March, available to users in three flexible tiers: VSS Lite, VSS Standard, and VSS Professional.
Read more...
---
Converged infrastructure: Beyond the hype
IT infrastructure Products
Technical teams no longer have to sit and try to work through a magnum opus of manuals for every layer of computing, networking, and storage, largely thanks to the growing popularity and increasing success of converged infrastructure.
Read more...
---
Veeam launches Backup for Microsoft 365 v7
Products
Veeam Software has released Veeam Backup for Microsoft 365 v7, offering a backup and recovery solution for Microsoft 365, including Microsoft Exchange Online, SharePoint Online, OneDrive for Business ...
Read more...
---
Keeping students, staff and communities safe
Vumacam News CCTV, Surveillance & Remote Monitoring Security Services & Risk Management
South African schools are facing increasing security challenges, making effective surveillance systems more important than ever. To address this issue, Vumacam is offering advanced security solutions with security partners, aimed at keeping students, staff, and the community safe.
Read more...
---