printer friendly version
Black box incident management
May 2016 Editor's Choice, CCTV, Surveillance & Remote Monitoring
The introduction of what is commonly referred to as a 'black box' marked an important milestone in aviation history. The black box or to use the more precise term flight data recorder (FDR), is used to preserve a flight's recent history by collecting multiple parameters several times per second. The FDR, combined with the cockpit voice recorder (CVR), which captures the audio including pilot conversations, provide an accurate testimony of a flight's history, and assists in any further investigation.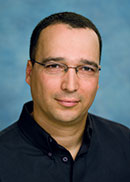 Udi Segall, director of business development, Qognify.
A painful lesson that has been learned during investigations of aviation accidents and incidents. In order to accurately compose the sequence of events that led to an incident, it is critical to capture all flight data parameters together with the pilots' conversations. In other words to gain insight from past events it is critical to examine the data parameters of various systems as well as human conduct.
This theme is very much aligned with the findings of the Abnormal Situation Management (ASM) consortium that argues that there are three principal types of sources or causes of abnormal situations:
• People and work context factors.
• Equipment and technology factors.
• Process factors.
Figure 1. Flight recorder aka black box (no longer black, but orange).
How is that relevant to incident management solutions?
Continuous improvement enabled through process excellence and a culture of high performance are key attributes for organisations wishing to maintain a leadership position in today's markets. To this end, incident management solutions should provide tools that analyse an incident's complete data, as shown in Figure 2.
Mining an organisation's incident performance data allows organisations to detect inefficiencies in processes and/or SOP (standard operating procedures). It can also identify sub-par performance of both individuals and teams relative to an organisation's benchmarks, and discover anomalies in system performance as reported by IoT (Internet of Things) sensors.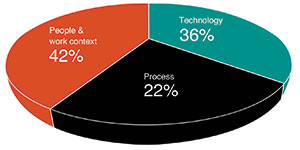 Figure 2: Incident data breakdown.
Conducting an analysis with methodologies that have been proven to provide continuous improvement, such as Six Sigma, is critical for organisations that want to create and maintain an adaptive culture.
Black boxes have played an invaluable role in improving aviation safety by dramatically reducing the volume and magnitude of incidents and accidents. Today's incident management solutions should capture all incident data to provide organisations visibility into how incidents have unfolded. In addition, with the right analytical tools, they should allow them to extract valuable insights that can transform the way these organisations work. In the same way that that black box has transformed the aviation industry.
Further reading:
Off-grid power solution for residential estate
Editor's Choice Security Services & Risk Management Residential Estate (Industry) Products
Coral Beach Estate, an upmarket residential estate based in East London, has been struggling with load shedding and power outages due to South Africa's energy crisis, as well as the vandalism of its power infrastructure.
Read more...
---
Eleven steps to an effective ransomware response checklist
Editor's Choice Cyber Security
Anyone is a viable target for ransomware attacks and should have a plan in place to deal with a worst-case scenario. Fortinet offers this ransomware attack response checklist to effectively deal with an active ransomware attack.
Read more...
---
Keeping students, staff and communities safe
Vumacam News CCTV, Surveillance & Remote Monitoring Security Services & Risk Management
South African schools are facing increasing security challenges, making effective surveillance systems more important than ever. To address this issue, Vumacam is offering advanced security solutions with security partners, aimed at keeping students, staff, and the community safe.
Read more...
---
Arcules and IMMIX announce integration
News CCTV, Surveillance & Remote Monitoring Products
Arcules has announced that its integration with Immix Central Station and Guard Force is available. The integration provides Central Station and Guard Force users a way to manage, verify, and respond to security events, while using Arcules-managed video feeds.
Read more...
---
Top seven trends for the security industry
Hikvision South Africa Editor's Choice
Expect security systems to become even more deeply integrated and comprehensive, expanding with capabilities that are now shouldering tasks that are more intelligent, to improve efficiency in security as well as other operational functions.
Read more...
---
AI's take on physical security trends
Technews Publishing Editor's Choice
In Issue 1 every year, Hi-Tech Security Solutions looks at expected trends in the security industry, incorporating views from different sources. This year is no different, except we have a new contributor, ChatGPT from OpenAI.
Read more...
---
Developing an effective CCTV control room culture
Leaderware Editor's Choice CCTV, Surveillance & Remote Monitoring Training & Education
Organisational culture in organisations can be seen as the set of values, practices, focus, standards and behaviours, and ways of interacting with others that are accepted and subscribed to by the people who work there.
Read more...
---
Women in Security
Technews Publishing Editor's Choice News
Hi-Tech Security Solutions together with ASIS International's South Africa Chapter, will be focusing on women working within the South African physical security services and information technology sectors during 2023.
Read more...
---
Eagle Eye Networks releases 2023 Video Surveillance Trends Report
Eagle Eye Networks News CCTV, Surveillance & Remote Monitoring
Eagle Eye Networks has released the 2023 Trends in Video Surveillance ebook, identifying five trends that will have the largest impact on businesses around the globe in 2023.
Read more...
---
Enter the 2023 South African OSPA Awards
Editor's Choice News
Nominations for the 2023 South African Outstanding Security Performance Awards (OSPAs) in six categories have been extended and entries can be submitted until 18 April 2023.
Read more...
---