printer friendly version
Surveillance storage is booming
May 2016 Editor's Choice, Surveillance
In 2013 IHS announced the rise of HD video surveillance was leading to an astonishing 413 petabytes of data a day produced by newly installed video surveillance cameras. Now, the proliferation of higher and higher resolution cameras means that the data deluge continues to increase.
566 petabytes was the amount of data produced in just one day by all the new video surveillance cameras installed worldwide in 2015. (One petabyte = 1024 terabytes, or around one million gigabytes.)

Josh Woodhouse.
Just how much data is 566 petabytes:
• 11.3 million standard double-layer Blu-Ray movie disks.
• All Netflix's current (as of December 2015) users streaming 1.2 hours of ultra-high definition content simultaneously.
• Approaching twice the amount of all user data stored by Facebook.
Why this increase?
Globally speaking, the video surveillance market is still not saturated. A recent IHS report on the installed base for video surveillance equipment suggested that there was one camera installed for every twenty-nine people on the planet. However, camera density varied drastically by country. The mature markets of the US and the UK had one camera installed for every eight and eleven people respectively. Emerging markets such as India (one for every 150) or Middle East and Africa (one for every 200) will see many new installations.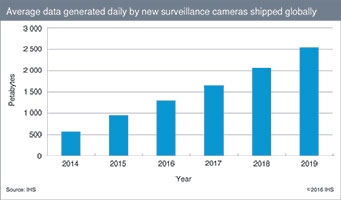 Figure 1.
As well as new installations, retrofits and upgrades are a significant part of the market, a market which globally is expected to see a CAGR of 20% in new camera unit shipments from 2014 to 2019. In addition to the high demand for surveillance cameras, the following is also true:
• HD compliant 1080p 25/30 fps cameras have established themselves as the minimum expected from new cameras. This is not now limited to network cameras, HD CCTV has emerged as the replacement for many remaining standard definition analogue cameras.
• Panoramic and 4K cameras are two further storage hungry high-growth product categories.
• When video surveillance footage is being stored, it is generally being retained for an increasing period of time. Aside from out-and-out security purposes, video surveillance footage is being increasingly retained longer for anti-litigation, insurance and operational purposes too.
The amount of data produced by video surveillance cameras is huge, yet it is often overlooked in analyses of general worldwide data production and storage. The video surveillance industry is still somewhat below the radar for those involved in data storage, perhaps due to its challenges and characteristics.
Management and storage of potentially hundreds of high resolution video streams can be one such challenge. A large throughput capacity and a heavy write focus are just two characteristics of enterprise storage tailored for video surveillance workloads.
The traditional separation of security and IT has meant convergence between the two has been slow. However, increased surveillance storage demands may force many end-users to re-assess their storage solutions as previous approaches will no longer be sufficient. If enterprise storage is used, the majority of demand at present is being fulfilled by IP SANs.
Chinese video surveillance vendors are well positioned to ramp-up their offerings of low-priced, high capacity SAN systems to meet the capacity requirements of the mass video surveillance market. This approach, previously reserved for only the largest installations, is filtering down to smaller systems. However, the market is also evolving.
Concurrently, some larger installations have progressed to the use of smarter storage architectures integrating moving data between edge and core storage, between multiple tiers (in some cases storage media) within single platforms which are all viewable in the VMS. Current IT megatrends such as hyper-convergence, virtualisation and software defined storage are still a long way off from affecting the majority of video surveillance installations.
Yet, improvements in the efficiency of how recorded footage is managed throughout its lifetime are beginning to drive new approaches to video surveillance storage design. This is critical to keep up with the video surveillance data deluge.
For more information contact Josh Woodhouse, senior market analyst - video surveillance, IHS Technology, +44 1933 402 255, josh.woodhouse@ihs.com
Further reading:
Pentagon appointed as Milestone distributor
Elvey Security Technologies News & Events Surveillance
Milestone Systems appointed Pentagon Distribution (an Elvey Group company within the Hudaco Group of Companies) as a distributor. XProtect's open architecture means no lock-in and the ability to customise the connected video solution that will accomplish the job.
Read more...
---
Hik-Connect for Teams released
Hikvision South Africa Products & Solutions Surveillance
Hikvision has released an update for its security management platform; Hik-Connect for Teams not only meets the specific needs of individual users, but also caters to various medium-sized businesses (SMBs) and multi-site management scenarios.
Read more...
---
The human factor side of video management systems
Leaderware Editor's Choice Surveillance Risk Management & Resilience
A video management system (VMS) is central to, and the most vital element to any control room operation using CCTV as part of its service delivery, however, all too often, it is seen as a technical solution rather than an operational solution.
Read more...
---
Get the basics right to win more business
ServCraft Editor's Choice Risk Management & Resilience
The barriers to entry in security are not high. More people are adding CCTV and fencing to their repertoire every year. Cowboys will not last long in a space where customers trust you with their safety.
Read more...
---
Revolutionise your security with integrated solutions
Secutel Technologies Products & Solutions Surveillance
By merging the capabilities of SecuVue and Secutraq, Secutel has forged a robust system empowering users to fine-tune analytics and harness facial recognition, pose detection, and XFS, among other features.
Read more...
---
All aspects of data protection
Technews Publishing Editor's Choice Information Security Infrastructure AI & Data Analytics
SMART Security Solutions spoke to Kate Mollett, Senior Director, Commvault Africa, about the company and its evolution from a backup specialist to a full data protection specialist, as well as the latest announcements from the company.
Read more...
---
Global strength, local craft
Impro Technologies Editor's Choice
Impro Technologies is a resounding success story. Started in South Africa, the company remains true to its roots and still designs and manufactures its access control systems and solutions in the country.
Read more...
---
From damage management to false alarm prevention
Dallmeier Electronic Southern Africa Transport (Industry) Surveillance Logistics (Industry)
Video surveillance is undergoing an exciting evolution; today's IP-based solutions can be fully integrated into digital systems. With the increasing integration of artificial intelligence (AI); logistics, in particular, can make processes more transparent and exploit previously untapped potential.
Read more...
---
South Africans play a role in becoming scam victims
Editor's Choice Risk Management & Resilience
The South African fraud landscape is becoming increasingly risky as fraudsters and scammers look to target individuals with highly sophisticated scams, in an environment where it is becoming increasingly difficult for lawmakers and authorities to bring these criminals to justice.
Read more...
---
Service orientation and attention to detail
Technews Publishing Editor's Choice Risk Management & Resilience
Lianne Mc Hendry evolved from working for an accounting firm to an accomplished all-rounder familiar with the manufacturing, distribution, and system integration aspects of the security industry value chain.
Read more...
---