printer friendly version
Storage designed for surveillance improves the entire system
May 2016 CCTV, Surveillance & Remote Monitoring, IT infrastructure
When the first event music, "Video Killed the Radio Star" premiered on MTV in 1981, it started a video revolution. A lot has changed since then, but video's relevance in our culture has increased, and our lives and security have come to depend on it.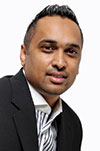 Kalvin Subbadu, WD Storage Technology sales manager for South Africa.
With our obsession over video and corresponding camera capabilities such as HD and 4K, it's easy to miss an equally crucial component that can make or break the effectiveness of an entire surveillance system: storage. Unfortunately, many surveillance professionals are using the wrong drive. Rather than being designed for continuous capture of HD or FHD video from multiple cameras, a drive that is not optimised for surveillance systems can drop frames or even consume more power, generating more heat and create major reliability issues. This could drastically reduce the life of a drive, adversely affecting the read and write operations in a surveillance system. These solutions may cost the customer less upfront, but could eventually affect a business when performance, reliability and reputation are compromised.
The right surveillance storage solution should offer high performance, efficiency and capacity that has been tested in harsh surveillance environments. How can you tell the difference?
The good, the bad and the ugly
There are several specific things to look for when evaluating whether a drive has been designed with surveillance in mind:
• Always on: A surveillance system works 24x7. If the storage drive hasn't been designed for constant, never-ending read/write operations, it won't be able to keep up.
• Performance reliability: Some drives, like WD's Purple surveillance-class hard drive family, include special technology (called AllFrame in this case) that improves playback performance and works with ATA streaming to reduce errors and frame loss.
• RAID-enabled: To increase peace-of-mind for customers, you may also want to look for a drive with RAID or Redundant Array of Inexpensive Disk capabilities. A drive with this capability can use two or more hard disks to create a safety net for failed hardware by ensuring that the image is still being captured even if one drive isn't working. This lessens interruptions in productivity and decreases the chances of data loss.
• Low power consumption: While 'low power consumption' might not be first on your list of things to look for in a hard drive, the need for always-on capability makes this crucial. Having a drive that calculates the optimum seek speeds won't generate as much heat, even in passively-cooled storage enclosures, making it more reliable and friendlier to your wallet.
• High camera count support: A high number of cameras, an NVR system or a longer retention period will require higher storage use and an even greater need to ensure you have chosen a drive that will meet the customer's needs. Look for one with up to 6 TB of capacity on a single drive.
• High system bay count support: The right drive will include hardware vibration sensors to enable higher drive-count systems as well as higher system and hard drive workloads.
• Extensive compatibility with cameras: Needless to say, the drive you select needs to work with the cameras you are planning to install. One that works with most of the different cameras you could install will make it even easier to keep the right drive on-hand, regardless of your current installation scenario.
• Rugged exterior: In some cases, the drive may need to live and perform continuously in harsh environments. In this case, you'll want one with tarnish-resistant PCBA protection.
• Easily upgradable: In an ideal world, your customer occasionally asks to upgrade or expand their existing surveillance system. A drive that scales with a system when the need arises makes the job easier.
Considering the importance of storage in surveillance systems, it is also helpful to use a capacity calculator to help determine how much storage is needed for the length of time data is to be maintained for a particular surveillance system. Vendors like WD ( www.wd.com) offer calculators and drive selection tools to help find the right drive and capacity that best suits your needs.
Rather than selecting the inappropriate drive for your surveillance solution, spend additional time conducting research into which drive is engineered for a surveillance environment and is able to meet the specific demands of the application. It can save hassle, money and even guarantee conviction of a perpetrator of a crime in the long run.
For more information contact WD, +27 (0)83 277 7634, kalvin.subbadu@wdc.com
Credit(s)
Further reading:
Drones and cybersecurity?
October 2019 , CCTV, Surveillance & Remote Monitoring
Hacker drones can eavesdrop electronically on conversations, can perform network attacks, or can create fake wireless access points.
Read more...
---
Digitising Maslow's Hierarchy of Needs
October 2019 , Integrated Solutions, IT infrastructure
Mobile technology has the potential to change how Africa approaches patient and healthcare, says Phathizwe Malinga, managing director, SqwidNet.
Read more...
---
Body-worn cameras transforming security
October 2019 , CCTV, Surveillance & Remote Monitoring, Security Services & Risk Management
Police Service Northern Ireland now has over 7 000 officers using 2 500 cameras covering approximately 173 000 incidents each year.
Read more...
---
Camera Selection Guide 2019
CCTV Handbook 2019 , CCTV, Surveillance & Remote Monitoring
The Camera Selection Guide 2019 includes a range of IP, analogue, thermal and speciality cameras aimed at a broad range of surveillance functions.
Read more...
---
Intelligent analytics and the brains to match
September 2019, Bosch Building Technologies , CCTV, Surveillance & Remote Monitoring, Integrated Solutions
What if the brains behind our security cameras could be trained to improve their cognitive ability to pay attention, learn, and problem-solve according to specific rules and situations?
Read more...
---
AI-powered autonomous Drone-in-a-Box
September 2019 , CCTV, Surveillance & Remote Monitoring, Integrated Solutions
Organisations in the mining, energy and industrial, oil and gas, ports and terminals sectors can optimise security and business operations, whilst reducing risks and operational costs
Read more...
---
Cybersecurity for video surveillance systems
September 2019 , Cyber Security, CCTV, Surveillance & Remote Monitoring
Video surveillance systems are increasingly accessible over any IP network, which has led to the rise of potential cyberattack.
Read more...
---
A platform approach to innovation and value
CCTV Handbook 2019, Technews Publishing , Editor's Choice, CCTV, Surveillance & Remote Monitoring, Integrated Solutions, IT infrastructure
Moving to the platform model of doing business holds tremendous advantages for end users and smaller developers, but also for the whole technology supply chain.
Read more...
---
Back to manufacturer uniformity?
CCTV Handbook 2019, Dallmeier Electronic Southern Africa , CCTV, Surveillance & Remote Monitoring
Decision makers often have to choose between an all-inclusive, complete solution from one manufacturer and the products and services of several different providers.
Read more...
---
Open does not always mean easy integration
CCTV Handbook 2019, VERACITECH, Technews Publishing , Editor's Choice, CCTV, Surveillance & Remote Monitoring, Integrated Solutions
Customers who opt for best-of-breed solutions will have to rely on their integrators to develop customised integrated solutions for them.
Read more...
---