printer friendly version
16 MP 360° panoramic PTZ
May 2016 Products, CCTV, Surveillance & Remote Monitoring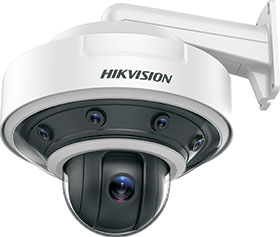 The New Hikvision PanoVu series DS-2DP1636Z-D panoramic hybrid PTZ cameras offer an integrated design enabling users to capture both high definition panoramic imaging as well as optical zoomed images simultaneously. This technology will allow operators to monitor both panorama and detailed events at the same time. The panoramic images are captured by eight advanced high definition sensors that will offer a full 360° panorama view at a resolution of up to 2 x 4096 x 1800 @30fps. The DS-2DP1636Z-D will be suited for larger open areas such as warehousing and production plants where general view and detail are a necessity.
The panoramic hybrid PTZ camera is fitted with a powerful, high speed 36X optical zoom lens, which zooms from wide open to fully zoomed in less than five seconds. This high-powered lens is capable of rotating endlessly through a full 360-degrees and tilting from -15 to 90 degrees and the day/night optical zoom lens provides more detail over expansive areas with its advanced wide dynamic feature (WDR). The PTZ offers the function of fast detail positioning over the panoramic area. Designed with the 'One-touch Link' feature operators will be empowered by a simple click of a digital button or selecting a region on the panoramic image the tracking camera will automatically adjust to the selected area at the centre of the image.
Furthermore, with its advanced video analysis and multiple targets tracking algorithm, PanoVu cameras also feature a wide range of smart functions for multiple targets within the panoramic view field, including intrusion detection, line crossing detection, region entrance detection, region exiting detection.
For more information contact Regal Distributors, +27 (0)11 553 3300, [email protected], www.regalsecurity.co.za
Credit(s)
Further reading:
Rack-mounted, three-phase online UPS
Security Services & Risk Management IT infrastructure Products
The new Eaton 93PX 15-20 kVA UPS combines high efficiency with a compact footprint, lower TCO, and improved cybersecurity to provide stable power for critical IT, industrial, manufacturing, and medical applications.
Read more...
---
Protect your financial assets from unknown online threats
Products Cyber Security Financial (Industry)
Malicious actors employ a myriad of sophisticated techniques, such as hacking, phishing, spamming, card theft, online fraud, vishing, and keylogging, among others, to exploit unsuspecting individuals and gain unauthorised access to their financial resources.
Read more...
---
Automated, real-time traffic analysis and ML-based mitigation
IT infrastructure Products
NetScout Systems has launched Adaptive DDoS Protection for its Arbor Threat Mitigation System (TMS) to dramatically improve the detection of distributed attacks that dynamically change vectors and target numerous destination IP addresses at once.
Read more...
---
Stadium security with Panomera
Editor's Choice CCTV, Surveillance & Remote Monitoring Integrated Solutions Entertainment and Hospitality (Industry)
To be able to better identify and track perpetrators and thus reduce financial and non-material damage in a soccer stadium, the operator opted for a video security solution from Dallmeier.
Read more...
---
Automated ransomware recovery
Products Cyber Security
Organisations can now automatically recover from ransomware attacks with the capabilities in Cisco XDR, where the company is adding recovery to the response process by including infrastructure and enterprise data backup and recovery vendors.
Read more...
---
Turkish university installs IDIS surveillance
CCTV, Surveillance & Remote Monitoring Products
IDIS video streamlines complex surveillance systems for learning institution, upgrading a 350-camera system with 24/7 control room monitoring to transform security for Social Sciences University of Ankara (ASBU).
Read more...
---
Brighter, greener, and smarter
Dahua Technology South Africa Products CCTV, Surveillance & Remote Monitoring
Dahua Technology released its new Dahua CH II Series Indoor Fine Pixel Pitch LED display, providing visual clarity and promoting energy efficiency and sustainability.
Read more...
---
Helping retailers optimise monitoring and security
Guardian Eye Retail (Industry) CCTV, Surveillance & Remote Monitoring
From a smart retail perspective, it is crucial to understand that monitoring stock and other assets through camera surveillance and a variety of Internet of Things (IoT) sensors stretches further than the stores themselves.
Read more...
---
Long-distance connectivity with Simplex ES Net Life Safety
Johnson Controls Global Products Fire & Safety Products
ES Net Network Bridge allows fire alarm system data to be transmitted across distant buildings via a customer's existing network infrastructure, improving system-wide monitoring and control in facilities and campuses where life safety networks are often widely dispersed.
Read more...
---
Visitor management via QR code
ATG Digital Access Control & Identity Management Products
ATG Digital has launched its QR Code Reader to enhance access control's security and efficiency. The new QR Code Reader enables seamless, contactless access control, creating an efficient user journey.
Read more...
---