printer friendly version
Hybrid alarm and automation
May 2016 Perimeter Security, Alarms & Intruder Detection, Products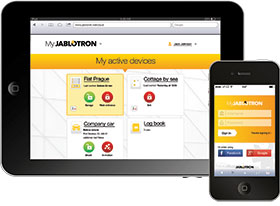 Jablotron is an Eastern European company with more than 20 years' experience in selling alarm and related products to the EU market. The company set up a South African division with systems tailored for the local market. Hi-Tech Security Solutions spoke to Bruce Lang from Jablotron SA.
Lang says the difference Jablotron offers is it is designed to be far more than simply an alarm system. Its control panels and keypads are designed to be easy to use and to provide critical information at a glance. Moreover, the system is designed to empower users to use home automation features in the same solution.
Lang says the Jablotron system offers a hybrid combination of wired and wireless components which can be mixed-and-matched as the customer desires. Wired components are connected by one 4-core cable which transmits data and power, with a range of up to 500 m.
The wireless components use the 868 MHz frequency and include built-in diagnostics to detect and notify users of attempts at jamming. The wireless signal can be transmitted over 300 m, although that is a line-of-sight range. Up to three radio modules can be used per system, each supporting a range of up to 300 m.
The top of the range system supports up to 120 zones which can be divided into 15 sections, and has 32 built-in programmable outputs that installers can set to manage electronic components such as garage doors, lights, geysers etc. for home automation tasks.
All the communications components, for example GSM or LAN, are built into the panel and available to the user. Lang says the company has its own cloud platform, including in South Africa, through which it transmits alarm and other data. The service is free and clients won't need to pay for SMS or email transfers.
Jablotron also produces a range of components to use with the system, including keypads with red and green lights to indicate the status of various parts of the system. It produces indoor and outdoor passive motion detectors, RFID readers, window and door magnetic detectors, as well as glassbreak and tilt detectors. Fire, smoke, temperature and flood detectors are also available, as are a range of sirens and remote controls. In most cases, there is a choice of wired or wireless configurations.
Lang says there is also a 360° ceiling passive which can be installed at a height of 5 m and covers a 5 m x 5 m area. One component Jablotron does not make itself is an outdoor beam, but the system is designed to work with Optec beams out of the box.
Photo verification
The company also caters for photo verification through a passive motion detector that has a high resolution camera built-in. When motion is detected, the device takes three photos of the event. The images are stored on the onboard SD card in high resolution, and one is sent in low resolution via the GSM interface as an alert to the user and/or a guarding company. Lang says the image will be sent within three seconds, ensuring no time is lost in what could be a potential emergency.
Once received on their smartphone app, users can request a high-resolution image be sent to them and alert their armed response company to take further action, if required.
The PIR also includes a flash for capturing images in poor lighting conditions, ensuring the user gets a good look at whomever or whatever is moving around where they shouldn't be. The latest version causes the flash to go off on its own after the initial three images have been captured. This will naturally make the intruder look towards the flash, when another photo will be taken – presumably of a startled intruder looking at the camera.
The images taken can also be viewed on the MyJablotron website as well as copied to a computer from the SD card. Users can use the smartphone app to get the device to take a picture at any time, such as when they want to ensure their kids are home from school etc.
The indoor camera covers an area of about 55o and has a range of about 12 metres. Jablotron offers both a wireless and a wired version and an outdoor version will soon be available.
For more information, contact Bruce Lang, Jablotron Alarms SA, +27 (0)11 615 3675, bruce@jablotronsa.co.za, www.jablonet.net
Further reading:
The importance of XDR for cyber protection
October 2019 , Cyber Security, Products
35% of South African organisations are expecting an imminent cyberattack and a further 31% are bracing for it to happen within a year, according to local research conducted by Trend Micro.
Read more...
---
Arteco launches new management platform
September 2019, Arteco Global, Technews Publishing , CCTV, Surveillance & Remote Monitoring, Products
Arteco has released its latest management platform, Omnia, designed to be faster and more responsive to operators? needs.
Read more...
---
Edwards Public Address & Voice Alarm System
October 2019 , Security Services & Risk Management, Products
Carrier has added the Public Address & Voice Alarm (PAVA) range to its fire product offerings.
Read more...
---
Your business needs synchronised security
September 2019 , Cyber Security, Products
This complete security portfolio from Sophos offers endpoint, servers, firewall, Wi-Fi, mobile, email and encryption that is fully scalable to grow as your business does.
Read more...
---
Sarix Professional Series 3 IP cameras
September 2019, Pelco by Schneider Electric , CCTV, Surveillance & Remote Monitoring, Products
Offered in mini-dome, bullet, box, and wedge configurations, the Sarix Professional (Pro) Series 3 Fixed IP cameras deliver a set of features and performance at affordable price points.
Read more...
---
The future of connectivity in South Africa
September 2019 , IT infrastructure, Products
Next-generation technologies will drive real transformation in companies. Organisations across all industries must prepare to enter the next phase of the digital future, says Matthew Hall, product director at Rectron.
Read more...
---
Improving access in mines
October 2019, Astra Fasteners , Mining (Industry), Access Control & Identity Management, Products
The VP1 controller provides full access control and remote monitoring of intelligent locks without having to wire into a network or install, manage and maintain software.
Read more...
---
Perimeter protection in Ghana
October 2019, AcoustAlert , Mining (Industry), Perimeter Security, Alarms & Intruder Detection
A gold mine in Ghana has erected a dual fence with AcoustAlert PIDS fence detection on both inner and outer fence lines.
Read more...
---
Johnson Controls introduces Verasys
October 2019, Johnson Controls , Integrated Solutions, Products
Johnson Controls introduces a flexible solution to the South African market - ensures low field installation costs and new level of insight into building operations.
Read more...
---
A committed service provider
October 2019, Elf Rentals - Electronic Security Solutions , Perimeter Security, Alarms & Intruder Detection, Residential Estate (Industry)
The theme Elf promoted through its sponsorship was that it offers clients its own financial commitment and willingness to accept the risk of equipment failure.
Read more...
---