printer friendly version
Knowledge and control
May 2016 Security Services & Risk Management, Integrated Solutions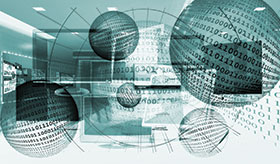 Today, building owners and facility managers are using building management systems (BMS) in ways that could only be dreamed of in the past, and the demand for the technology is poised for growth. In fact, the global commercial BMS market is predicted to double between 2013 and 2021, according to a November 2013 report by Navigant Research, highlighting the anticipated increase of adoption of BMS technology.
It's not surprising that the BMS has become an essential tool for many facility managers. An advanced BMS serves as the command and control centre for the facility. Information pours in from all parts of the building: settings, current readings, and alarms from occupied spaces and from inside complex equipment. An open BMS not only controls heating ventilation and air-conditioning (HVAC) equipment from a variety of manufacturers, but also connects to the lighting, security, fire, and other systems, putting even more power at the fingertips of building managers.
In South Africa, there is an increase in interest in integrated, feature rich BMS, largely due to the ever-increasing cost of electricity. Enhanced functionality within BMS can assist companies to monitor and manage their energy consumption more effectively. Importantly, it can reduce their energy consumption. This is particularly relevant when considering that buildings use about 40% of global energy.
Today's BMS is delivering in ways that seemed out of reach even a few short years ago. For example, in 2012, 'The Future of BMS' survey from the Building Efficiency Panel, a group of more than 3000 building owners, operators, contractors, and equipment specifiers, less than 25% of respondents were using such basic BMS features as energy demand limiting, which cuts back on non-essential loads to reduce building demand. Advanced features were used even less oft­en.
The issue wasn't with BMS technology – in the same survey, 71% of respondents said that their BMS was keeping up with technological developments. Rather, the challenge was in taking advantage of the capabilities of the BMS. The primary users of BMS simply don't have the time, staff, budget, and resources to become experts in the technology; their resources are focused on actually managing their facilities. 
Johnson Controls has made significant technology advances and the current generation of BMS is focused on leveraging new and existing technologies to deliver a system that works the way facility owners and operators work. The BMS is now more accessible and harnesses the power of advanced analytics and data collection with a focus on more sophisticated and user-friendly interfaces and data visualisation.
We are seeing the trend of integration into more third-party systems and devices. In addition, data collection and analysis is enabling companies to make predictions and base decisions on this information, delivering additional value. We are also seeing an increase in plug and play devices, further improving interconnectivity. This all forms part of the Machine 2 Machine (M2M) and Internet of Things (IoT) movement where data is extracted and communicated via the Internet.
It is these advancements in BMS that have unleashed the insights into building performance that enable even further reductions in energy use and operational costs, while still delivering a comfortable and safe environment.
For more information contact Johnson Controls, +27 (0)11 921 7141, neil.cameron@jci.com, www.johnsoncontrols.com
Credit(s)
Further reading:
Off-grid power solution for residential estate
Editor's Choice Security Services & Risk Management Residential Estate (Industry) Products
Coral Beach Estate, an upmarket residential estate based in East London, has been struggling with load shedding and power outages due to South Africa's energy crisis, as well as the vandalism of its power infrastructure.
Read more...
---
SafeCity Guarding rolls out across 14 suburbs in Johannesburg
News Security Services & Risk Management
In a major drive to provide communities across Johannesburg with additional safety, Vumacam, in partnership with Fidelity ADT and other security providers across the region, rolled out the innovative SafeCity Guarding initiative in 14 suburbs.
Read more...
---
FleetDomain underpins Afrirent's value proposition
Logistics (Industry) Security Services & Risk Management
Afrirent, a 100% female black-owned fleet management company, has been relying on FleetDomain software for a number of years to help it deliver outstanding service to a growing number of clients.
Read more...
---
Choosing an inferior lithium battery can be detrimental and unsafe
Uniross Batteries Security Services & Risk Management Products
South Africans looking to mitigate the impact of load shedding by installing a solar system for their home must do so through an accredited installer or electrician to avoid insurance claims being rejected.
Read more...
---
Employee screening, a hiring necessity or an invasion of privacy?
Security Services & Risk Management
There is a fine line between checking a potential employee's qualifications and references, and investigating aspects of their lives that have nothing to do with their job application.
Read more...
---
Keeping students, staff and communities safe
Vumacam News CCTV, Surveillance & Remote Monitoring Security Services & Risk Management
South African schools are facing increasing security challenges, making effective surveillance systems more important than ever. To address this issue, Vumacam is offering advanced security solutions with security partners, aimed at keeping students, staff, and the community safe.
Read more...
---
Technology is key to securing physical and cybersecurity
Education (Industry) Security Services & Risk Management
The interpretation of security in educational institutions depends on whom you are talking to and whether their focus is on the physical security of the institution, its assets and its people, or its information and communication technology perspective.
Read more...
---
Recession? Do not skimp on cybersecurity
Cyber Security Security Services & Risk Management
While economists are studying their crystal balls, businesses have to prepare for the worst, and preparing for a recession means cutting costs and refocusing resources; however, they must ensure they do not end up creating an enormous risk.
Read more...
---
Security versus functionality: avoiding end user revolt
Business Connexion t/a BCX Security Services & Risk Management
When the business puts mechanisms in place to secure its infrastructure, but these hinder users from being productive, users will always find a way around them, inadvertently creating security risks.
Read more...
---
Innovation and service, 37 years and counting
Technews Publishing Impro Technologies Access Control & Identity Management Integrated Solutions
Innovation, simplicity and trust underpin the nearly 40 years of success of local access control brand, Impro Technologies, which is still run as an independent entity despite being acquired by ASSA ABLOY in 2016.
Read more...
---