printer friendly version
Knowledge and control
May 2016 Security Services & Risk Management, Integrated Solutions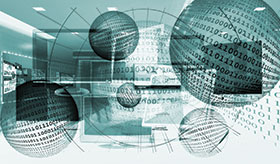 Today, building owners and facility managers are using building management systems (BMS) in ways that could only be dreamed of in the past, and the demand for the technology is poised for growth. In fact, the global commercial BMS market is predicted to double between 2013 and 2021, according to a November 2013 report by Navigant Research, highlighting the anticipated increase of adoption of BMS technology.
It's not surprising that the BMS has become an essential tool for many facility managers. An advanced BMS serves as the command and control centre for the facility. Information pours in from all parts of the building: settings, current readings, and alarms from occupied spaces and from inside complex equipment. An open BMS not only controls heating ventilation and air-conditioning (HVAC) equipment from a variety of manufacturers, but also connects to the lighting, security, fire, and other systems, putting even more power at the fingertips of building managers.
In South Africa, there is an increase in interest in integrated, feature rich BMS, largely due to the ever-increasing cost of electricity. Enhanced functionality within BMS can assist companies to monitor and manage their energy consumption more effectively. Importantly, it can reduce their energy consumption. This is particularly relevant when considering that buildings use about 40% of global energy.
Today's BMS is delivering in ways that seemed out of reach even a few short years ago. For example, in 2012, 'The Future of BMS' survey from the Building Efficiency Panel, a group of more than 3000 building owners, operators, contractors, and equipment specifiers, less than 25% of respondents were using such basic BMS features as energy demand limiting, which cuts back on non-essential loads to reduce building demand. Advanced features were used even less oft­en.
The issue wasn't with BMS technology – in the same survey, 71% of respondents said that their BMS was keeping up with technological developments. Rather, the challenge was in taking advantage of the capabilities of the BMS. The primary users of BMS simply don't have the time, staff, budget, and resources to become experts in the technology; their resources are focused on actually managing their facilities. 
Johnson Controls has made significant technology advances and the current generation of BMS is focused on leveraging new and existing technologies to deliver a system that works the way facility owners and operators work. The BMS is now more accessible and harnesses the power of advanced analytics and data collection with a focus on more sophisticated and user-friendly interfaces and data visualisation.
We are seeing the trend of integration into more third-party systems and devices. In addition, data collection and analysis is enabling companies to make predictions and base decisions on this information, delivering additional value. We are also seeing an increase in plug and play devices, further improving interconnectivity. This all forms part of the Machine 2 Machine (M2M) and Internet of Things (IoT) movement where data is extracted and communicated via the Internet.
It is these advancements in BMS that have unleashed the insights into building performance that enable even further reductions in energy use and operational costs, while still delivering a comfortable and safe environment.
For more information contact Johnson Controls, +27 (0)11 921 7141, neil.cameron@jci.com, www.johnsoncontrols.com
Credit(s)
Further reading:
Convergence of cyber and physical security
Integrated Solutions Security Services & Risk Management
The overlap between cybersecurity and physical security will necessitate the integration of cyber and physical security in order to enable the sharing of events to the same security operations centre.
Read more...
---
Reduce electrical risks in commercial and industrial buildings
Security Services & Risk Management
Eaton's new whitepaper aims to help professionals reduce electrical risks in commercial and industrial buildings and prevent faults that can endanger workers, damage property and disrupt business continuity.
Read more...
---
Sustainability School opens for enrolment
Education (Industry) News Security Services & Risk Management
Three-part programme, first developed for Schneider Electric employees, is now available for free for companies worldwide. Attendees learn how to future-proof their businesses and accelerate their decarbonisation journeys.
Read more...
---
Success in business process best practices
Technews Publishing Kleyn Change Management Editor's Choice Integrated Solutions Security Services & Risk Management
This month we commandeer time with the woman who is spearheading our national conversation on Women in Security, Lesley-Anne Kleyn, to get to know the lady herself a little better.
Read more...
---
Security awareness training
Training & Education Security Services & Risk Management
It is critically important to have a security awareness solution that uses the limited time available to train effectively, and one that provides targeted education that is relevant to users.
Read more...
---
Technology to thwart solar panel thieves
Asset Management, EAS, RFID Security Services & Risk Management Products
A highly efficient industrial network is coming to the rescue of the solar industry, as solar panels, inverters and batteries are being targeted by thieves and threaten to destabilise the industry.
Read more...
---
Banking the unbanked comes with security risks
Financial (Industry) Security Services & Risk Management
As grim as it was, the pandemic of recent years and its resultant global economic crisis were a prime catalyst for record number of first-time bank users, the previously unbanked.
Read more...
---
Security is like infinity
Alwinco Security Services & Risk Management
Security needs constant attention, dedication and input. The scary thing is that most people think that security is something that you buy, install, and then forget about.
Read more...
---
Vulnerabilities in industrial cellular routers' cloud management platforms
Industrial (Industry) Cyber Security Security Services & Risk Management
Research from OTORIO, a provider of operational technology cyber and digital risk management solutions, unveils cyber risks in M2M protocols and asset registration that expose hundreds of thousands of devices and OT networks to attack
Read more...
---
SAFPS to launch a platform to combat fraud
Editor's Choice News Security Services & Risk Management
In response to the growing need for a proactive approach to fraud prevention, the SAFPS is developing a product called Yima, which will be a one-stop-shop for South Africans to report scams, secure their identity, and scan any website for vulnerabilities.
Read more...
---