printer friendly version
Ground-based stationary surveillance system
May 2016 Mining (Industry), CCTV, Surveillance & Remote Monitoring, Perimeter Security, Alarms & Intruder Detection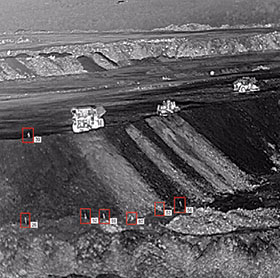 With the rise of attacks on infrastructure assets such as gas and oil pipelines, insurgent activity in warzones and national security threats, the need to improve situational awareness and increase protection on military and commercial sites and borders, has steadily grown.
Panoptes Land is a ground-based surveillance system that automatically detects movement and changes in electro-optical (EO) full motion video (FMV) imagery captured by platforms such as stationary vehicles and surveillance towers.
The system processes the real-time video feed from a stationary, panoramic camera. As the camera sweeps the area of observation, Panoptes Land automatically detects moving targets in the camera's field of view. With subsequent sweeps it can also detect stationary objects that have been added or moved.
Smart enough to ignore environmental effects such as the waving trees, moving cloud shadows and changes in lighting effects, Panoptes Land detects and highlights targets that are effectively invisible to the human observer.
Panoptes Land is an off-the-shelf application that has been part of numerous operational evaluations with the Australian Defence Force and other international border protection organisations.
Panoptes' capabilities
Real-time operation
Panoptes enables video to be analysed automatically in real-time as well as after action for forensic analysis. Panoptes enhances any sensor with 24/7/365 situational awareness by autonomous and highly effective detection and tracking of targets.
Small object detection
Panoptes detects moving objects, often too small for fatigued human eyes to see. By increasing the probability of detection and reducing the rate of false alarms, it allows the operator to focus on targets more quickly.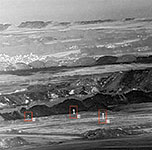 Detection tracking
Panoptes displays breadcrumbs indicating where each detected target has previously been in the image area. This gives the operator a visible history of the target's movements.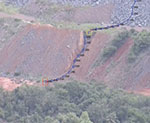 Long-range detection
Object detection at great distances (demonstrated up to 4 km distance), depending on hardware.
Wide-area surveillance
360-degree coverage (depending on camera configuration), providing wide-area situational awareness.
Real-time and forensic operation
Real-time processing of high definition (HD) imagery, ability to detect, record, visualise and disseminate targeted information to downstream PED applications.
Geolocation data
Disseminating detection locations to downstream applications including meta data.
Plug and play
Standard Windows, off-the-shelf software with low training cycle.
Panoptes has the power to solve your top intelligence, surveillance and reconnaissance challenges by:
• Being able to identify very small and slow-moving targets well beyond the capabilities of a human operator.
• Enabling operators to detect multiple targets in a field of view because Panoptes does the detecting work for them.
• Panoptes' ability to detect targets down to two pixels in size allows the field of view to be 20 times greater than with a human operator doing the detecting.
• With this increased field of view ISR operations are able to cover exponentially greater ground in the same mission duration, with multiple target detection and no loss of situational awareness by eliminating the soda straw effect.
• Operating in real-time, you increase the usefulness of on-ground reaction units.
• By using Panoptes the information turns into intelligence.
Application areas
Panoptes Land's capability to detect moving and stationary objects at great distances allows for rapid response to emerging threats. It is particularly effective at managing large areas of ground where wide area persistent surveillance is required to both detect and manage ingress and sensitive areas, both from a security and health and safety perspective. As such it is widely used in:
• Mining operations.
• Key infrastructure including pipelines and downstream processing plants.
• Secure estates.
• Anti-poaching operations.
• Forward operating base (FOB) security.
• Tactical battlefield surveillance.
• Route reconnaissance.
• Overwatch of concealed enemy traffic routes.
For more information contact ISDS, 27 (0)11 326 4571, carrie@isds.co.za, www.isds.co.za
Further reading:
Securing perimeters of secure locations
November 2019, Axis Communications SA, Modular Communications, Hikvision South Africa, Nemtek Electric Fencing Products, Technews Publishing, Stafix , Government and Parastatal (Industry), Perimeter Security, Alarms & Intruder Detection, Integrated Solutions
Hi-Tech Security Solutions asked a number of companies offering perimeter security solutions for their insights into protecting the boundaries of national key points.
Read more...
---
What are the cybersecurity issues in video surveillance?
November 2019, Axis Communications SA , Editor's Choice, CCTV, Surveillance & Remote Monitoring, Cyber Security
he importance of the data captured by surveillance cameras – and what can be done with it – has led to a new breed of cybercriminals, looking for insights to steal and sell.
Read more...
---
The safe city and its need for interoperability
November 2019 , Integrated Solutions, CCTV, Surveillance & Remote Monitoring
Interoperability continues to present one of the greatest challenges, particularly with video management systems, video recording devices and cameras.
Read more...
---
TruVision licence plate cameras
November 2019, UTC Fire & Security SSA , Products, CCTV, Surveillance & Remote Monitoring
TruVision ANPR cameras offer functionality for applications where vehicle access management is required based on licence plate.
Read more...
---
A platform approach to innovation and value
CCTV Handbook 2019, Technews Publishing , Editor's Choice, CCTV, Surveillance & Remote Monitoring, Integrated Solutions, IT infrastructure
Moving to the platform model of doing business holds tremendous advantages for end users and smaller developers, but also for the whole technology supply chain.
Read more...
---
Open does not always mean easy integration
CCTV Handbook 2019, Veracitech, Technews Publishing , Editor's Choice, CCTV, Surveillance & Remote Monitoring, Integrated Solutions
Customers who opt for best-of-breed solutions will have to rely on their integrators to develop customised integrated solutions for them.
Read more...
---
The impact of AI on the surveillance industry
CCTV Handbook 2019, G4S South Africa, Hikvision South Africa, Myertal Tactical Security, Technews Publishing , Editor's Choice, CCTV, Surveillance & Remote Monitoring
What the impact of AI will be on companies, the services and solutions they supply, as well as on the jobs people do.
Read more...
---
Video analytics and AI
CCTV Handbook 2019, Axis Communications SA, Dallmeier Electronic Southern Africa , Hikvision South Africa, Technews Publishing, Dahua Technology South Africa , Editor's Choice, CCTV, Surveillance & Remote Monitoring, Integrated Solutions
Artificial intelligence has the potential to deliver real benefits in the world of video analytics and many companies are already delivering customer benefits.
Read more...
---
Cloudy with a chance of AI
CCTV Handbook 2019 , Editor's Choice, CCTV, Surveillance & Remote Monitoring, Integrated Solutions
One local company has developed an AI solution that can be added to existing surveillance installations, offering 24-hour intelligence.
Read more...
---
Security surveillance architecture
CCTV Handbook 2019, Technews Publishing , Editor's Choice, CCTV, Surveillance & Remote Monitoring
IP video surveillance solutions typically have two distinctive surveillance architectures: centralised and distributed. Dean Coleman explains the difference.
Read more...
---