printer friendly version
Ground-based stationary surveillance system
May 2016 Mining (Industry), CCTV, Surveillance & Remote Monitoring, Perimeter Security, Alarms & Intruder Detection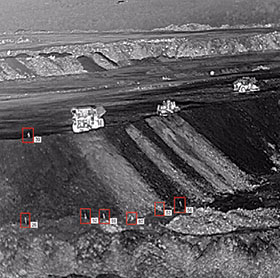 With the rise of attacks on infrastructure assets such as gas and oil pipelines, insurgent activity in warzones and national security threats, the need to improve situational awareness and increase protection on military and commercial sites and borders, has steadily grown.
Panoptes Land is a ground-based surveillance system that automatically detects movement and changes in electro-optical (EO) full motion video (FMV) imagery captured by platforms such as stationary vehicles and surveillance towers.
The system processes the real-time video feed from a stationary, panoramic camera. As the camera sweeps the area of observation, Panoptes Land automatically detects moving targets in the camera's field of view. With subsequent sweeps it can also detect stationary objects that have been added or moved.
Smart enough to ignore environmental effects such as the waving trees, moving cloud shadows and changes in lighting effects, Panoptes Land detects and highlights targets that are effectively invisible to the human observer.
Panoptes Land is an off-the-shelf application that has been part of numerous operational evaluations with the Australian Defence Force and other international border protection organisations.
Panoptes' capabilities
Real-time operation
Panoptes enables video to be analysed automatically in real-time as well as after action for forensic analysis. Panoptes enhances any sensor with 24/7/365 situational awareness by autonomous and highly effective detection and tracking of targets.
Small object detection
Panoptes detects moving objects, often too small for fatigued human eyes to see. By increasing the probability of detection and reducing the rate of false alarms, it allows the operator to focus on targets more quickly.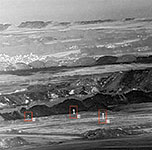 Detection tracking
Panoptes displays breadcrumbs indicating where each detected target has previously been in the image area. This gives the operator a visible history of the target's movements.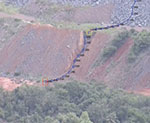 Long-range detection
Object detection at great distances (demonstrated up to 4 km distance), depending on hardware.
Wide-area surveillance
360-degree coverage (depending on camera configuration), providing wide-area situational awareness.
Real-time and forensic operation
Real-time processing of high definition (HD) imagery, ability to detect, record, visualise and disseminate targeted information to downstream PED applications.
Geolocation data
Disseminating detection locations to downstream applications including meta data.
Plug and play
Standard Windows, off-the-shelf software with low training cycle.
Panoptes has the power to solve your top intelligence, surveillance and reconnaissance challenges by:
• Being able to identify very small and slow-moving targets well beyond the capabilities of a human operator.
• Enabling operators to detect multiple targets in a field of view because Panoptes does the detecting work for them.
• Panoptes' ability to detect targets down to two pixels in size allows the field of view to be 20 times greater than with a human operator doing the detecting.
• With this increased field of view ISR operations are able to cover exponentially greater ground in the same mission duration, with multiple target detection and no loss of situational awareness by eliminating the soda straw effect.
• Operating in real-time, you increase the usefulness of on-ground reaction units.
• By using Panoptes the information turns into intelligence.
Application areas
Panoptes Land's capability to detect moving and stationary objects at great distances allows for rapid response to emerging threats. It is particularly effective at managing large areas of ground where wide area persistent surveillance is required to both detect and manage ingress and sensitive areas, both from a security and health and safety perspective. As such it is widely used in:
• Mining operations.
• Key infrastructure including pipelines and downstream processing plants.
• Secure estates.
• Anti-poaching operations.
• Forward operating base (FOB) security.
• Tactical battlefield surveillance.
• Route reconnaissance.
• Overwatch of concealed enemy traffic routes.
For more information contact ISDS, 27 (0)11 326 4571, carrie@isds.co.za, www.isds.co.za
Further reading:
Milestone partners prove their skills
August 2019, Milestone Systems , News, CCTV, Surveillance & Remote Monitoring, Training & Education
Within the span of one week in mid-May, the Milestone Learning & Performance group celebrated important benchmarks: 200 000 course registrations and tutorial views, and 10 000 certifications.
Read more...
---
ONVIF Hosts 20th Developers' Plugfest
August 2019 , News, CCTV, Surveillance & Remote Monitoring
ONVIF, the global standardisation initiative for IP-based physical security products, hosted its twentieth ONVIF Developers' Plugfest in early June in Tokyo.
Read more...
---
Licence plate recognition camera
August 2019 , Products, CCTV, Surveillance & Remote Monitoring
VIVOTEK has introduced a new licence plate recognition camera featuring built-in licence plate recognition software and edge-computing capability.
Read more...
---
Securing Savannah Hills Estate
August 2019, Rhyco Risk Projects , CCTV, Surveillance & Remote Monitoring, Perimeter Security, Alarms & Intruder Detection
Savannah Hills Estate in Midrand planned a security upgrade which was awarded to Rhyco Risk Projects. The project started in March 2019 and was completed in May 2019.
Read more...
---
How far are we really at with artificial intelligence?
August 2019, Axis Communications SA , Editor's Choice, CCTV, Surveillance & Remote Monitoring, IT infrastructure, Residential Estate (Industry)
Justin Ludik unpacks exactly how far AI has come and what it potentially can do for society and more importantly, surveillance.
Read more...
---
The importance of effective perimeter security
August 2019, Elf Rentals - Electronic Security Solutions, Stafix , Editor's Choice, CCTV, Surveillance & Remote Monitoring, Residential Estate (Industry)
Protecting the perimeter is critical for any residential estate; how does one go about making sure your perimeter is as secure as possible?
Read more...
---
CathexisVision video management software
August 2019, Cathexis Technologies , Products, CCTV, Surveillance & Remote Monitoring
The CathexisVision IP video management software (VMS) helps clients get the most out of their surveillance investment and reap rewards for their companies.
Read more...
---
Capture every detail with Smart PIR kits
August 2019, Longse Distribution , Home Security, CCTV, Surveillance & Remote Monitoring, Residential Estate (Industry)
Longse Technology offers DIY smart security kits that are easy to install and offer a Wi-Fi range that can reach up to 300 metres.
Read more...
---
Future-facing cameras
August 2019, Bosch Building Technologies , Products, CCTV, Surveillance & Remote Monitoring
All FLEXIDOME IP starlight 8000i cameras feature built-in Intelligent Video Analytics, making them intuitive, and elevates their importance far beyond security alone.
Read more...
---
Integrated residential estate surveillance
August 2019, Forbatt SA , Integrated Solutions, CCTV, Surveillance & Remote Monitoring, Residential Estate (Industry)
Integrated solutions bring the best-of-breed out of each technology to give personnel all the tools they need for access control management and security.
Read more...
---