printer friendly version
Ground-based stationary surveillance system
May 2016 Mining (Industry), CCTV, Surveillance & Remote Monitoring, Perimeter Security, Alarms & Intruder Detection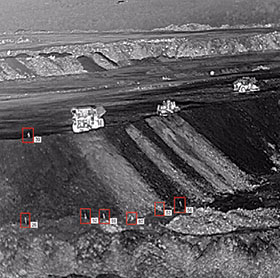 With the rise of attacks on infrastructure assets such as gas and oil pipelines, insurgent activity in warzones and national security threats, the need to improve situational awareness and increase protection on military and commercial sites and borders, has steadily grown.
Panoptes Land is a ground-based surveillance system that automatically detects movement and changes in electro-optical (EO) full motion video (FMV) imagery captured by platforms such as stationary vehicles and surveillance towers.
The system processes the real-time video feed from a stationary, panoramic camera. As the camera sweeps the area of observation, Panoptes Land automatically detects moving targets in the camera's field of view. With subsequent sweeps it can also detect stationary objects that have been added or moved.
Smart enough to ignore environmental effects such as the waving trees, moving cloud shadows and changes in lighting effects, Panoptes Land detects and highlights targets that are effectively invisible to the human observer.
Panoptes Land is an off-the-shelf application that has been part of numerous operational evaluations with the Australian Defence Force and other international border protection organisations.
Panoptes' capabilities
Real-time operation
Panoptes enables video to be analysed automatically in real-time as well as after action for forensic analysis. Panoptes enhances any sensor with 24/7/365 situational awareness by autonomous and highly effective detection and tracking of targets.
Small object detection
Panoptes detects moving objects, often too small for fatigued human eyes to see. By increasing the probability of detection and reducing the rate of false alarms, it allows the operator to focus on targets more quickly.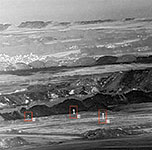 Detection tracking
Panoptes displays breadcrumbs indicating where each detected target has previously been in the image area. This gives the operator a visible history of the target's movements.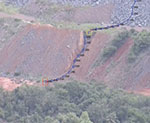 Long-range detection
Object detection at great distances (demonstrated up to 4 km distance), depending on hardware.
Wide-area surveillance
360-degree coverage (depending on camera configuration), providing wide-area situational awareness.
Real-time and forensic operation
Real-time processing of high definition (HD) imagery, ability to detect, record, visualise and disseminate targeted information to downstream PED applications.
Geolocation data
Disseminating detection locations to downstream applications including meta data.
Plug and play
Standard Windows, off-the-shelf software with low training cycle.
Panoptes has the power to solve your top intelligence, surveillance and reconnaissance challenges by:
• Being able to identify very small and slow-moving targets well beyond the capabilities of a human operator.
• Enabling operators to detect multiple targets in a field of view because Panoptes does the detecting work for them.
• Panoptes' ability to detect targets down to two pixels in size allows the field of view to be 20 times greater than with a human operator doing the detecting.
• With this increased field of view ISR operations are able to cover exponentially greater ground in the same mission duration, with multiple target detection and no loss of situational awareness by eliminating the soda straw effect.
• Operating in real-time, you increase the usefulness of on-ground reaction units.
• By using Panoptes the information turns into intelligence.
Application areas
Panoptes Land's capability to detect moving and stationary objects at great distances allows for rapid response to emerging threats. It is particularly effective at managing large areas of ground where wide area persistent surveillance is required to both detect and manage ingress and sensitive areas, both from a security and health and safety perspective. As such it is widely used in:
• Mining operations.
• Key infrastructure including pipelines and downstream processing plants.
• Secure estates.
• Anti-poaching operations.
• Forward operating base (FOB) security.
• Tactical battlefield surveillance.
• Route reconnaissance.
• Overwatch of concealed enemy traffic routes.
For more information contact ISDS, 27 (0)11 326 4571, carrie@isds.co.za, www.isds.co.za
Further reading:
Keeping students, staff and communities safe
Vumacam News CCTV, Surveillance & Remote Monitoring Security Services & Risk Management
South African schools are facing increasing security challenges, making effective surveillance systems more important than ever. To address this issue, Vumacam is offering advanced security solutions with security partners, aimed at keeping students, staff, and the community safe.
Read more...
---
Arcules and IMMIX announce integration
News CCTV, Surveillance & Remote Monitoring Products
Arcules has announced that its integration with Immix Central Station and Guard Force is available. The integration provides Central Station and Guard Force users a way to manage, verify, and respond to security events, while using Arcules-managed video feeds.
Read more...
---
Developing an effective CCTV control room culture
Leaderware Editor's Choice CCTV, Surveillance & Remote Monitoring Training & Education
Organisational culture in organisations can be seen as the set of values, practices, focus, standards and behaviours, and ways of interacting with others that are accepted and subscribed to by the people who work there.
Read more...
---
Eagle Eye Networks releases 2023 Video Surveillance Trends Report
Eagle Eye Networks News CCTV, Surveillance & Remote Monitoring
Eagle Eye Networks has released the 2023 Trends in Video Surveillance ebook, identifying five trends that will have the largest impact on businesses around the globe in 2023.
Read more...
---
Stainless steel 8 MP dome
Axis Communications SA Products CCTV, Surveillance & Remote Monitoring
Enclosed in marine-grade stainless steel (SS 316L) and DNV-certified, the AXIS Q3538-SLVE can withstand the corrosive effects of seawater and cleaning chemicals.
Read more...
---
Axis launches P3265-LVE dome camera
Axis Communications SA Products CCTV, Surveillance & Remote Monitoring
Based on ARTPEC-8 — the latest Axis system-on-chip (SoC) — Axis' latest dome high-performance camera includes a deep learning processing unit (DLPU), and cybersecurity features.
Read more...
---
Smart home security
Olarm Smart Home Automation Perimeter Security, Alarms & Intruder Detection Products
The applied use of smart technology within the Olarm ecosystem, through smart features coupled with existing systems, extends the benefits of technology into different spheres.
Read more...
---
The future of AIoT
Hikvision South Africa News CCTV, Surveillance & Remote Monitoring
Hikvision hosted its 2022 Shaping Intelligence Summit in Bali, Indonesia, on 29-30 November, where the company, its customers, and technology and solution partners, looked into the future of AIoT and explored paths to shared success.
Read more...
---
Be cautious when receiving deliveries at home
News Perimeter Security, Alarms & Intruder Detection Security Services & Risk Management
Community reports of residents being held up at their gate when collecting fast food deliveries at home are once again surfacing.
Read more...
---
Future-proofed intrusion detection for retail
Elvey Security Technologies Retail (Industry) Perimeter Security, Alarms & Intruder Detection Products
One of the ongoing challenges that has faced retailers during their adoption of security technology is the issues caused by non-standardisation of technology.
Read more...
---