printer friendly version
Creating a Pan-African CCTV network
May 2016 Mining (Industry), CCTV, Surveillance & Remote Monitoring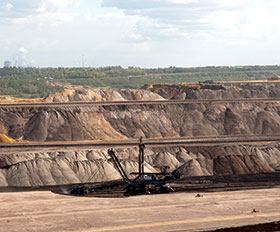 One of the challenges multinational mining companies face is how to consolidate their security efforts in order to monitor multiple sites in different countries from a central point in bandwidth-constrained environments.
The end-to-end SerVision offering provides the solution by bridging the communications infrastructure hurdle that remote locations typically present. With its direct or advanced proxy server option and proprietary compression technology, it enables live video transmission over cellular and other low bandwidth networks, making remote surveillance possible from a central location anywhere in the world via multiple channels, including mobile devices.
This means that you can set up your CCTV infrastructure at various mining sites and offices in, say Ghana, Malawi, Botswana and Tanzania, connect them all directly or using a proxy server and bring the video across the continent into Johannesburg (or any chosen location) through either a GSM network or whatever IP networks are available. You can then distribute the transmitted footage throughout your network and distribute it to as many people as you like, in any location. And this can happen live, while also retaining the ability to record footage for future use.
The infrastructure
A standard CCTV camera may record three to 30 frames per second, requiring up to 1 Megabyte per second (MBps) to feed this video stream to a control room or other location. Compression of a video stream to 4 frames per second (fps) at 8 KBps means you can theoretically stream surveillance from 1000 cameras over a 1 Megabyte (MB) link relatively easily. With the SerVision technology, you can use a cabled, wireless, cellular or satellite link without losing in the quality of the video.
For mobile sites, the MVG400 mobile recorders enable streaming of live footage from four cameras mounted in and around the vehicle over cellular (3G) or wireless connections using compression technology. This enables transmission of video at four frames per second (4fps) at data rates as low as 8 Kilobits per second (Kbps). The UVG400 camera range works equally well for fixed and remote sites.
In addition to the digital video recorder (DVR) and/or streaming solutions, the CCTV infrastructure could include an enterprise-level control centre solution to monitor the footage. SerVision's DVRs come in sizes ranging from two to 16 channels and the control centre can monitor up to 5000 SerVision Video Gateway units.
The SerVision network video recorder (SNVR) units make ideal management centres for a multi-site, multi-country network. SVBackup, which is part of SNVR, is a configurable client application that automatically connects to SerVision video gateways, such as UVG400 and MVG400, through their IP addresses. It then downloads recorded video from them, and saves the video in files in the file system of the SNVR unit.
Centralised management
Operators stationed in control rooms can use the system to view live and recorded video from multiple sites, geofence, locate and monitor fleets of commercial vehicles via GPS and receive immediate notifications about circumstances that require their attention.
The benefits from a mining security perspective are immense. In terms of mining security, it would improve intruder capture, as well as reducing stock loss, while also keeping the risk for security personnel lower. It can also help the company monitor incidents such as cave-ins, wage strikes or political unrest, enabling the mining management to monitor the situation remotely and react promptly.
As all footage is recorded, the mine can ensure that a security incident such as illegal mining – from capture to hand-over of the intruder – is handled strictly according to company security policy. The security benefits of CCTV in multiple mining sites have already been realised with the implementation of SerVision technology at mining sites in Ghana and Tanzania, where the technology reduced illegal mining incidents by up to 50%.
Footage from sites can also help the company with planning, monitoring and analysis to identify the issues at problem sites and learning from sites that are performing exceptionally well. At a human resource management level, remote monitoring can also help organisations to identify employees who are not adhering to policies and procedures, in real-time, so that corrective action can be taken quickly. It is also possible to monitor when staff arrive and leave, so that time sheets can be verified, along with numerous other applications.
For more information contact Graphic Image Technologies, +27 (0)11 483 0333, markc@git.co.za, www.git.co.za
Credit(s)
Further reading:
Keeping students, staff and communities safe
Vumacam News CCTV, Surveillance & Remote Monitoring Security Services & Risk Management
South African schools are facing increasing security challenges, making effective surveillance systems more important than ever. To address this issue, Vumacam is offering advanced security solutions with security partners, aimed at keeping students, staff, and the community safe.
Read more...
---
Arcules and IMMIX announce integration
News CCTV, Surveillance & Remote Monitoring Products
Arcules has announced that its integration with Immix Central Station and Guard Force is available. The integration provides Central Station and Guard Force users a way to manage, verify, and respond to security events, while using Arcules-managed video feeds.
Read more...
---
Developing an effective CCTV control room culture
Leaderware Editor's Choice CCTV, Surveillance & Remote Monitoring Training & Education
Organisational culture in organisations can be seen as the set of values, practices, focus, standards and behaviours, and ways of interacting with others that are accepted and subscribed to by the people who work there.
Read more...
---
Eagle Eye Networks releases 2023 Video Surveillance Trends Report
Eagle Eye Networks News CCTV, Surveillance & Remote Monitoring
Eagle Eye Networks has released the 2023 Trends in Video Surveillance ebook, identifying five trends that will have the largest impact on businesses around the globe in 2023.
Read more...
---
Stainless steel 8 MP dome
Axis Communications SA Products CCTV, Surveillance & Remote Monitoring
Enclosed in marine-grade stainless steel (SS 316L) and DNV-certified, the AXIS Q3538-SLVE can withstand the corrosive effects of seawater and cleaning chemicals.
Read more...
---
Axis launches P3265-LVE dome camera
Axis Communications SA Products CCTV, Surveillance & Remote Monitoring
Based on ARTPEC-8 — the latest Axis system-on-chip (SoC) — Axis' latest dome high-performance camera includes a deep learning processing unit (DLPU), and cybersecurity features.
Read more...
---
The future of AIoT
Hikvision South Africa News CCTV, Surveillance & Remote Monitoring
Hikvision hosted its 2022 Shaping Intelligence Summit in Bali, Indonesia, on 29-30 November, where the company, its customers, and technology and solution partners, looked into the future of AIoT and explored paths to shared success.
Read more...
---
A comprehensive video solution for retail
LD Africa Retail (Industry) CCTV, Surveillance & Remote Monitoring Products
Retail Intellect is a comprehensive, flexible solution for retailers that matches technologies to ensure point-of-sale safety and security with video analytics.
Read more...
---
Understanding customers better using AI
Secutel Technologies Retail (Industry) CCTV, Surveillance & Remote Monitoring Products
With in-store analytics of consumer behaviour, retailers can improve store performance and boost the productivity of their business.
Read more...
---
No supply chain delays from Germany
Dallmeier Electronic Southern Africa News CCTV, Surveillance & Remote Monitoring Products
Dallmeier announces that its complete Domera single-sensor camera family is available without delivery problems for installers and channel partners.
Read more...
---