printer friendly version
Subscription-based model for VMS
May 2016
CCTV, Surveillance & Remote Monitoring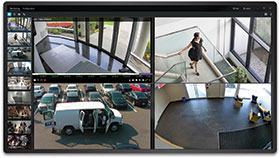 Genetec has introduced a new subscription model for its unified security platform, Genetec Security Center. Security Center Subscription introduces new flexible ownership and payment options that allow customers to get access to Security Center on a 'pay-as-you-go' basis.
Subscribing customers receive the same local, on-premises version of Security Center and pay for it on a monthly or annual basis, as opposed to purchasing the entire system upfront. When purchasing on subscription,
customers also benefit from the Genetec online support resources and qualified support professionals by phone or through live chat, as well as access to Security Center Cloud services with risk-free trials included in the price. Security Center Subscription is available immediately through the new Genetec self-service portal ( http://www.genetec.com/solutions/all-products/security-center/security-center-subscription).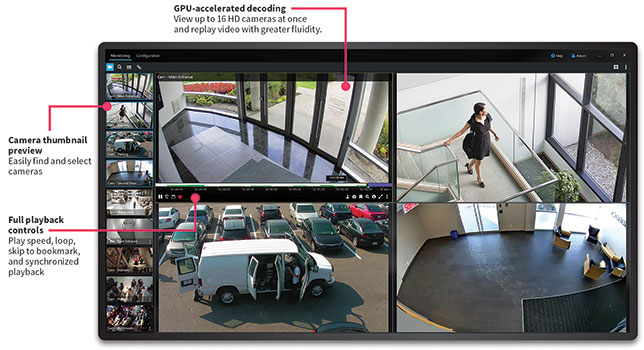 A recent Gartner Inc. industry report noted that by 2020, more than 80% of software vendors will change their business model from traditional licence and maintenance to subscription, regardless of whether the software resides on-premises or in the cloud. Along with the flexibility and affordability of a subscription model, the Gartner report finds that the value of short-term predictability trumps long-term costs, particularly when the ease of adding or relinquishing licences is included in the picture. The subscription model also moves the purchases from capital expenditure (CAPEX) to operational expenditure (OPEX). This enables customers who are looking to upgrade their systems to Security Center to do so from operational budgets allocated to their older, less capable security software.
"In the past few years, companies like Adobe, IBM, Oracle, Netflix and many other software companies have adopted flexible buying models with impressive success, offered as Technology-as-a-Service (XaaS) via the cloud, or as a traditional on-premises installation with monthly-or-annual renewals," said Andrew Elvish, VP of product management and marketing at Genetec. "Genetec is offering customers an alternative ownership option for our video surveillance platform. Not only will customers enjoy the same fully-featured version of Security Center, but they will do so with lower upfront expenditures, predictable recurring costs, and access to the latest releases and Genetec support resources, at no additional charge."
Introducing Security Center Compact
As part of its new subscription model, Genetec is introducing Security Center Compact, a new entry-level edition of Security Center. This new edition of Security Center supports up to 25 cameras and provides an easy, no training required option for customers with basic video management requirements. A good fit for smaller sites, Security Center Compact systems can also be linked to larger systems through the Genetec Federation feature, allowing for centralised monitoring as seen with citywide surveillance and multi-site businesses or campuses. The Compact edition features all of the camera integrations available in the enterprise edition of the software, so customers can choose the vendors they want to work with and design a system that suits their business.
In addition to providing smaller-site video surveillance, Security Center Compact offers a clear path as an organisation's security needs evolve over time; Security Center Compact users can simply update their subscription and purchase a higher edition of Security Center as their system grows, avoiding the need to install and/or re-deploy new system software.
Beginning in April 2016, Genetec certified channel partners can sign up for a 90-day trial of Security Center Compact. To take advantage of this limited-time promotion, channel partners should visit the Genetec Channel Partner Portal ( https://portal.genetec.com) for an instant download.
For more information about Genetec Security Center Subscription and Genetec Security Center Compact visit: http://www.genetec.com
Further reading:
Drones and cybersecurity?
October 2019 , CCTV, Surveillance & Remote Monitoring
Hacker drones can eavesdrop electronically on conversations, can perform network attacks, or can create fake wireless access points.
Read more...
---
Body-worn cameras transforming security
October 2019 , CCTV, Surveillance & Remote Monitoring, Security Services & Risk Management
Police Service Northern Ireland now has over 7 000 officers using 2 500 cameras covering approximately 173 000 incidents each year.
Read more...
---
Camera Selection Guide 2019
CCTV Handbook 2019 , CCTV, Surveillance & Remote Monitoring
The Camera Selection Guide 2019 includes a range of IP, analogue, thermal and speciality cameras aimed at a broad range of surveillance functions.
Read more...
---
Intelligent analytics and the brains to match
September 2019, Bosch Building Technologies , CCTV, Surveillance & Remote Monitoring, Integrated Solutions
What if the brains behind our security cameras could be trained to improve their cognitive ability to pay attention, learn, and problem-solve according to specific rules and situations?
Read more...
---
AI-powered autonomous Drone-in-a-Box
September 2019 , CCTV, Surveillance & Remote Monitoring, Integrated Solutions
Organisations in the mining, energy and industrial, oil and gas, ports and terminals sectors can optimise security and business operations, whilst reducing risks and operational costs
Read more...
---
Cybersecurity for video surveillance systems
September 2019 , Cyber Security, CCTV, Surveillance & Remote Monitoring
Video surveillance systems are increasingly accessible over any IP network, which has led to the rise of potential cyberattack.
Read more...
---
A platform approach to innovation and value
CCTV Handbook 2019, Technews Publishing , Editor's Choice, CCTV, Surveillance & Remote Monitoring, Integrated Solutions, IT infrastructure
Moving to the platform model of doing business holds tremendous advantages for end users and smaller developers, but also for the whole technology supply chain.
Read more...
---
Back to manufacturer uniformity?
CCTV Handbook 2019, Dallmeier Electronic Southern Africa , CCTV, Surveillance & Remote Monitoring
Decision makers often have to choose between an all-inclusive, complete solution from one manufacturer and the products and services of several different providers.
Read more...
---
Open does not always mean easy integration
CCTV Handbook 2019, VERACITECH, Technews Publishing , Editor's Choice, CCTV, Surveillance & Remote Monitoring, Integrated Solutions
Customers who opt for best-of-breed solutions will have to rely on their integrators to develop customised integrated solutions for them.
Read more...
---
The impact of AI on the surveillance industry
CCTV Handbook 2019, G4S South Africa, Hikvision South Africa, Myertal Tactical Security, Technews Publishing , Editor's Choice, CCTV, Surveillance & Remote Monitoring
What the impact of AI will be on companies, the services and solutions they supply, as well as on the jobs people do.
Read more...
---