printer friendly version
Subscription-based model for VMS
May 2016
CCTV, Surveillance & Remote Monitoring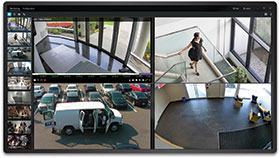 Genetec has introduced a new subscription model for its unified security platform, Genetec Security Center. Security Center Subscription introduces new flexible ownership and payment options that allow customers to get access to Security Center on a 'pay-as-you-go' basis.
Subscribing customers receive the same local, on-premises version of Security Center and pay for it on a monthly or annual basis, as opposed to purchasing the entire system upfront. When purchasing on subscription,
customers also benefit from the Genetec online support resources and qualified support professionals by phone or through live chat, as well as access to Security Center Cloud services with risk-free trials included in the price. Security Center Subscription is available immediately through the new Genetec self-service portal ( http://www.genetec.com/solutions/all-products/security-center/security-center-subscription).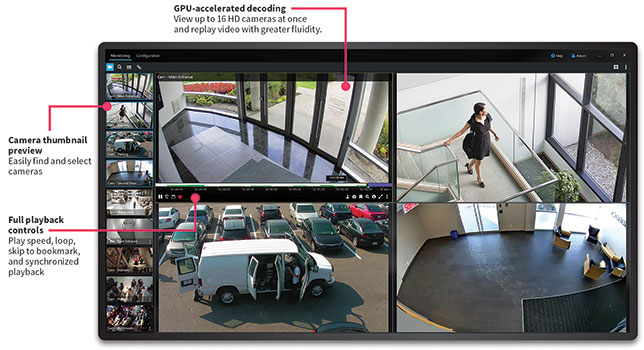 A recent Gartner Inc. industry report noted that by 2020, more than 80% of software vendors will change their business model from traditional licence and maintenance to subscription, regardless of whether the software resides on-premises or in the cloud. Along with the flexibility and affordability of a subscription model, the Gartner report finds that the value of short-term predictability trumps long-term costs, particularly when the ease of adding or relinquishing licences is included in the picture. The subscription model also moves the purchases from capital expenditure (CAPEX) to operational expenditure (OPEX). This enables customers who are looking to upgrade their systems to Security Center to do so from operational budgets allocated to their older, less capable security software.
"In the past few years, companies like Adobe, IBM, Oracle, Netflix and many other software companies have adopted flexible buying models with impressive success, offered as Technology-as-a-Service (XaaS) via the cloud, or as a traditional on-premises installation with monthly-or-annual renewals," said Andrew Elvish, VP of product management and marketing at Genetec. "Genetec is offering customers an alternative ownership option for our video surveillance platform. Not only will customers enjoy the same fully-featured version of Security Center, but they will do so with lower upfront expenditures, predictable recurring costs, and access to the latest releases and Genetec support resources, at no additional charge."
Introducing Security Center Compact
As part of its new subscription model, Genetec is introducing Security Center Compact, a new entry-level edition of Security Center. This new edition of Security Center supports up to 25 cameras and provides an easy, no training required option for customers with basic video management requirements. A good fit for smaller sites, Security Center Compact systems can also be linked to larger systems through the Genetec Federation feature, allowing for centralised monitoring as seen with citywide surveillance and multi-site businesses or campuses. The Compact edition features all of the camera integrations available in the enterprise edition of the software, so customers can choose the vendors they want to work with and design a system that suits their business.
In addition to providing smaller-site video surveillance, Security Center Compact offers a clear path as an organisation's security needs evolve over time; Security Center Compact users can simply update their subscription and purchase a higher edition of Security Center as their system grows, avoiding the need to install and/or re-deploy new system software.
Beginning in April 2016, Genetec certified channel partners can sign up for a 90-day trial of Security Center Compact. To take advantage of this limited-time promotion, channel partners should visit the Genetec Channel Partner Portal ( https://portal.genetec.com) for an instant download.
For more information about Genetec Security Center Subscription and Genetec Security Center Compact visit: http://www.genetec.com
Further reading:
Qognify VMS adds support for Pelco IP camera series
CCTV, Surveillance & Remote Monitoring Products
The latest IP camera series from Pelco can now be used with Qognify's advanced video solution for corporate and enterprise projects, increasing the overall number of camera models and third-party devices supported in Qognify VMS to more than 6 500.
Read more...
---
VIVOTEK launches VAST Security Station
CCTV, Surveillance & Remote Monitoring Products
VIVOTEK officially launched its AI security system, VAST Security Station (VSS), in March, available to users in three flexible tiers: VSS Lite, VSS Standard, and VSS Professional.
Read more...
---
Keeping students, staff and communities safe
Vumacam News CCTV, Surveillance & Remote Monitoring Security Services & Risk Management
South African schools are facing increasing security challenges, making effective surveillance systems more important than ever. To address this issue, Vumacam is offering advanced security solutions with security partners, aimed at keeping students, staff, and the community safe.
Read more...
---
Helping to care for zoo animals
Hikvision South Africa CCTV, Surveillance & Remote Monitoring
Zoo keeps an eye on the safety of animals and visitors through the installation of Hikvision 4 MP turret, 12 MP Fisheye cameras, as well as PTZs, NVRs and central management system.
Read more...
---
Boosting digital-intelligent transformation and AI applications
Dahua Technology South Africa CCTV, Surveillance & Remote Monitoring Products
2022 has been a year full of development and innovation for Dahua. The company has launched various upgrades to its existing product portfolio as well as an artillery of new products and solutions that address specific needs/problems in society.
Read more...
---
Arcules and IMMIX announce integration
News CCTV, Surveillance & Remote Monitoring Products
Arcules has announced that its integration with Immix Central Station and Guard Force is available. The integration provides Central Station and Guard Force users a way to manage, verify, and respond to security events, while using Arcules-managed video feeds.
Read more...
---
Developing an effective CCTV control room culture
Leaderware Editor's Choice CCTV, Surveillance & Remote Monitoring Training & Education
Organisational culture in organisations can be seen as the set of values, practices, focus, standards and behaviours, and ways of interacting with others that are accepted and subscribed to by the people who work there.
Read more...
---
Eagle Eye Networks releases 2023 Video Surveillance Trends Report
Eagle Eye Networks News CCTV, Surveillance & Remote Monitoring
Eagle Eye Networks has released the 2023 Trends in Video Surveillance ebook, identifying five trends that will have the largest impact on businesses around the globe in 2023.
Read more...
---
Stainless steel 8 MP dome
Axis Communications SA Products CCTV, Surveillance & Remote Monitoring
Enclosed in marine-grade stainless steel (SS 316L) and DNV-certified, the AXIS Q3538-SLVE can withstand the corrosive effects of seawater and cleaning chemicals.
Read more...
---
Enhanced image clarity and enriched AI functions
Dahua Technology South Africa CCTV, Surveillance & Remote Monitoring Products
The IPC WizMind S series is equipped with multiple intelligent functions, offers adaptability, and comes in plastic-free packaging, enabling better image performance, promoting environmental sustainability, and providing global clients with smarter vision with a stronger surveillance shield.
Read more...
---